Austin Peay at Kennesaw State
Saturday, December 12th, 2015 | 1:00pm CT
Kennesaw, GA |  KSU Convocation Center

Kennesaw, GA – With finals and its longest break between games to date behind it, Austin Peay State University women's basketball team returns to the court when it meets Kennesaw State in a 1:00pm (CT), Saturday contest at the KSU Convocation Center.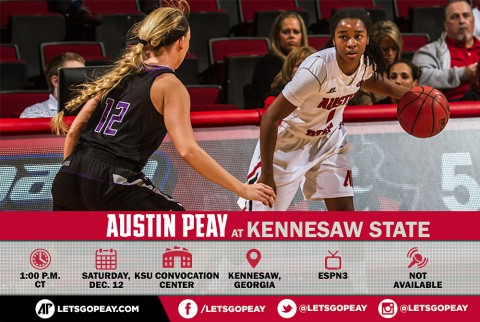 The Govs seven-day break between games is its longest this season and follows a 28-day span that saw it play 10 games, including nine games in an 18-day stretch to begin the season.
Combined with one of the nation's toughest schedules, the wear-and-tear may have been on display as Austin Peay has been outscored in the second half in each of its last five games (127-78 in the third quarter and 225-151 in the second half).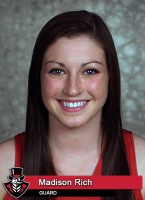 Austin Peay did a better job of keeping up in the second half during its 88-69 loss at Western Kentucky, last Saturday. The Govs lost the second half battle by just four points, 40-36, in the 19-point decision.
However, Austin Peay's defense was a concern in the contest as it allowed the Hilltoppers to shoot a season-best 60.3 percent from the floor. It was the highest field-goal percentage allowed by an APSU team since February 7th, 2009 when it allowed Murray State to shoot 62.5 percent.
Five Govs players reached double-digit scoring territory in the loss. Senior Tiasha Gray posted a team-best 17 points along with eight assists, five steals and four rebounds.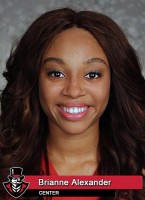 Sophomore Madison Rich added a season-best 15 points and sophomore Brianne Alexander chipped in 15 points. Austin Peay shot a season-best 48.3 percent for the game.
Kennesaw State brings a two-game losing streak into Saturday's matchup. The Owls fell to Georgia and Mercer during December's opening week and return to action for the first time since last Saturday. Kennesaw State has also played Ohio Valley Conference member Jacksonville State this season, dropping a 61-52 decision in Jacksonville, November 19th.
The More You Know
Gray Milestone Watch Continues
Senior guard Tiasha Gray became Austin Peay's all-time steals leader at Miami University, November 19th. She also is within sight of the following milestones during her final season in an Austin Peay uniform: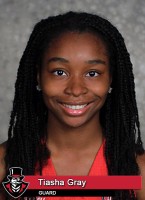 OVC Career Steals | Currently 7th (259)
Next: 288 by Danielle Carson (YSU, 1982-86)
APSU Career Steals | Currently 1st (259)
Previous Record: 243 by Tracie Mason (1987-91)
APSU Career Points | Currently 7th (1,453)
Next: 1,497 by Ashley Haynes (2002-06)
APSU Career Assists | Currently 4th (406)
Next: 435 by Paige Smith (1999-03)
Midlick Musings
The biggest story line during the Austin Peay offseason was the hiring of David Midlick as the program's 15th head coach. He is a familiar face to Austin Peay fans, returning to Clarksville after previous stints as a men's basketball graduate assistant (2003-06) and women's basketball assistant coach (2010-12).
Midlick was involved in the recruiting for the current senior class, but did not have the opportunity to coach them, departing to become head coach at Delta State in 2012.
Lady Govs Ledger
Midlick inherited an Austin Peay women's basketball team largely unchanged from its 2014-15 edition. Four starters and 11 letterwinners return from a team that posted the program's best record since 2010-11. Senior guard Tiasha Gray highlights the returning group after earning Ohio Valley Conference Defensive Player of the Year honors last season.
Also returning are junior Tearra Banks, sophomore Brianne Alexander, senior Jennifer Nwokocha and junior Beth Rates – composing five of the team's top six in both scoring and rebounding.
About the Owls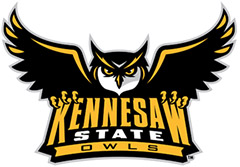 Kennesaw State concludes a brief two-game homestand with Saturday's contest. The Owls are 3-2 at the KSU Convocation Center this season with wins against Presbyterian, Western Carolina and New Orleans. KSU returns seven letterwinners from last season's squad that went 17-13, including a 10-4 mark at home. Leading scorers Jasmine McAllister and Deandrea Sawyers return from that team and are again the team's top two scorers this season.
However, the duo are combining to average just 17.7 points per game this season against last season's 27.1 combined points per game.
An Austin Peay Win Would
End its seven-game losing streak… Be its first road win this season… End a 14-game losing streak in road nonconference tilts that dates back to November 12th, 2013… Be its second straight win against Kennesaw State… Make it 2-0 at KSU's Convocation Center… Be its first win against a Division I opponent this season… Make head coach David Midlick 3-8 in his first season at Austin Peay and 48-24 in his third season as a head coach overall… Make the Govs 454-658 overall since 1976-77.
Broadcast Information
TV: ESPN3