Tennessee Representative Curtis Johnson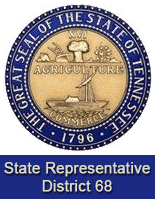 Nashville, TN – The 2016 session of the 109th General Assembly reconvened on Capitol Hill this week to begin work on a number of important issues facing Tennessee. I was pleased to officially be named as Chairman of the House Finance, Ways and Means Subcommittee.
On Monday, the Brig. Gen. Wendell H. Gilbert Tennessee State Veterans Home was officially opened with a ribbon-cutting ceremony attended by Governor Bill Haslam. This project was years in the making, and I am pleased that it is finally opened to serve our veterans.
Among the top priorities this year is continuing the state's forward momentum on job development and education attainment to further improve the state's economy, while managing state government as efficiently and effectively as possible.
Some of the other key issues expected to be on the 2016 legislative agenda are criminal justice reform, truth in sentencing, school choice, transportation, prescription drug abuse and taxes.
Budget – Revenues in Tennessee have shown a healthy trend over the last several months. The state collected about $353 million over budget estimates for the 2014-2015 fiscal year which ended in July. The excess revenue will most likely be used to finance projects that can be funded as one-time expenditures.
The State Funding Board met in November and projected that revenues could grow by up to $348 million during the current 2015-2016 fiscal year. The board predicted next year's growth will range from $376 to $525 million. Although the legislature will continue a conservative fiscal approach to spending taxpayer dollars, the healthy revenue growth is very good news as the General Assembly looks ahead at the 2016-17 budget year.
Education – Among the top education issues for discussion this year is Governor Bill Haslam's plan to ensure that colleges and universities are organized, supported and empowered in efforts to increase the number of Tennesseans with a postsecondary credential to 55 percent by 2025. The "Focus On College and University Success (FOCUS) Act" includes key strategies to provide more focused support for community and technical colleges, increase autonomy and local control for Tennessee Board of Regents (TBR) universities and strengthen the Tennessee Higher Education Commission (THEC).
For the 2015-2016 school year – the first year of Tennessee Promise and Reconnect – there was a 24.7 percent increase in first-time freshmen enrollment at community colleges and a 20 percent increase in first-time freshmen at Tennessee colleges of applied technology (TCATs).
Tennessee's Labor Education Alignment Program (LEAP) also plays an important role in the effort to graduate more students with post-secondary degrees. LEAP helps students get a high quality job by working proactively with education and industry to identify and then fill skills gaps across the state. A recent report by the Tennessee Higher Education Commission (THEC) said the program had shown "major growth and success in just the first year of implementation. THEC is asking lawmakers to expand the successful $10 million grant program this year to develop academic programs tailored to the needs of local job markets.
On the K-12 level, the latest test scores show Tennessee students made significant gains in all high school subjects and in the majority of subjects in grades 3-8 in 2015 as a result of reforms passed by the General Assembly over the last several years. High school scores on the Tennessee Comprehensive Assessment Program (TCAP) continued to show strong growth for the third consecutive year, increasing in all seven subjects tested.
Since 2011, 131,000 more students are on grade level in math, and nearly 60,000 more students are on grade level in science. Continuing forward movement in improving scores will be a priority for the legislature in 2016.
Jobs – In addition to preparing students for the 21st century marketplace, the General Assembly has also worked diligently over the past several years to create a business-friendly climate which draws new and better paying jobs Tennessee.  These efforts include passage of a number of job creation initiatives such as tort reform and workers' compensation reform. Expect legislators to continue the state's job producing momentum through legislation passed in 2016.
In 2015, Tennessee landed 161 company commitments which represented 25,837 new job commitments, setting a new record. The state's unemployment rate at 5.6 percent has dropped by approximately 50 percent from June of 2009 when it was 11.1 percent.
Other issues expected to come before the General Assembly in 2016 include:
Judicial Confirmation – A top issue for consideration by the General Assembly this year stems from the constitutional amendment adopted by voters in 2014 calling for legislative confirmation of appellate court nominees. Under the constitutional amendment, appellate judges are appointed by the governor and confirmed by the legislature. The voters of Tennessee then retain the ability to remove judges at the end of their 8-year terms. Legislation was introduced last year to put into place the framework to fulfill the constitutional mandate. An agreement, however, was not met on how the confirmation vote should be handled. Due to the pending vacancy on the State Supreme Court, expect a proposal on this matter to be one of the first issues taken up in the 2016 legislative session. On January 7th, Governor Bill Haslam appointed Judge Roger Page of Jackson to the Tennessee Supreme Court, replacing Justice Gary Wade who retired in September. If the legislature does not reach resolution of the issue by March 12th, Page will be confirmed by default on March 13th.
Truth in Sentencing – Governor Bill Haslam's Task Force on Sentencing and Recidivism has recommended longer prison stays for more serious offenders and people convicted repeated times for home burglary, drug trafficking and domestic violence. In their report, the Governor's Task Force on Sentencing and Recidivism also recommended changing state law to provide "truth in sentencing" for felony convicts that result in a clear minimum period of incarceration known to victims, defenders and everyone else at the time of sentencing. Currently, convicts are given a release eligibility date that is a minimum 30 percent of the sentence but good-behavior credits earned in prison can shave more time off that prison time.
Repeat Offenders – The Sentencing and Recidivism Task Force also focused on ways to reduce the number of repeat offenders in Tennessee through transitional programming and treatment services both during and after incarceration.   They recommend an individualized case management plan for felony offenders after they leave prison to help them integrate back into the community and break the cycle of crime and punishment. They also suggest developing additional alternative responses for non-compliance with conditions of probation and parole when it does not rise to the level of a new criminal offense. Forty percent of offenders in jail are people with technical violations of their probation.
The task force favors continuing to support recovery through drug treatment and other specialty courts as well.
Juvenile Justice Reform – Expect criminal justice reform efforts to provide alternatives for juvenile offenders to keep them from reoffending. This includes keeping juvenile offenders in school so they receive an education to help them gain the skills they need to put them on a productive career path, rather than a life of crime.
Opioid Addiction — Prescription drug abuse will be a key topic for discussion in the Tennessee General Assembly this year as the state continues to be one of the worst in the nation in this regard. More people die from overdoses in Tennessee than are killed in car crashes or gun-related deaths. Over the last several years, Tennessee has passed legislation to help prevent abuse by "pill mills" and to strengthen the state's drug monitoring database. Expect this year's legislation to further crack down on prescribers and others who abuse the system.
Medical Malpractice / Tort Reform – The Tennessee Medical Association has asked the legislature to consider an amendment to the State Constitution clarifying that the General Assembly has authority to set caps on noneconomic damages such as pain and suffering cases involving medical malpractice liability. The proposal is aimed at preventing a court from eventually striking down the Tennessee Civil Justice Act of 2011 law capping jury awards in such cases.
Patients Compensation System
– The Patients for Fair Compensation organization is asking the General Assembly to replace the medical malpractice litigation system with one that is modeled after the Worker's Compensation system.  The group believes the state's current tort system does not go far enough to reduce litigation costs and does not serve those patients who are injured, but who will not receive large enough settlements for an attorney to be willing take their case.
They advocate for a state-administered "Patient's Compensation System" (PCS) where physicians and hospitals would no longer be sued for medical malpractice.  Instead, hearings would be held in front of a panel of healthcare experts.  Should the panel find that patient did indeed suffer a medical injury, the patient would receive compensation for that injury.
Marriage — There could be several proposals discussed by the General Assembly this year that would push back on the June 2015 Supreme Court ruling on same-sex marriage. These include the Tennessee Natural Marriage Defense Act to nullify the decision, a proposal to protect pastors and clerks based on their faith-based beliefs, and a measure that would get the state out of the "marriage licensing business."
Elder Abuse – The General Assembly created an Elder Abuse Task Force comprised of a variety of departments and agencies which has made recommendations on how to better protect vulnerable adults and the elderly.   The Tennessee Commission on Aging has reported that assaults on the elderly have grown over the last three years. In addition, under reporting of abuse may also occur due to incapacitation or abuse that may be mistaken for "usual aging."
Right to Die – Tennessee was one of two dozen states that considered legislation in 2015 to allow terminally ill patients to end their own lives with the assistance of their physician.   Currently five states: Oregon, Washington, California, Vermont and Montana allow some form of aid-in-dying.   John Jay Hooker, a longtime political activist who has terminal cancer, is leading the charge for passage of the bill which is pending action in 2016. Others, like the Tennessee Disability Coalition, have said that a right-to-die law would lead to coercion and discrimination.
Medical Cannabis – Legislation is pending from the 2015 legislative session that would legalize marijuana for limited medicinal purposes. The bill introduced last year would create a system for people to grow, process, distribute and regulate medical marijuana in Tennessee. The oil form of the plant could then be used for specific debilitating medical conditions as listed in the legislation.
Nurses / Physicians – The Tennessee Nurses Association is asking the General Assembly to give them full practice authority to diagnose and treat patients, including the ability to prescribe drugs.   Physicians, on the other hand, are calling for a health care delivery model with doctors as the team leader in patient care coordination. Both proposals will likely come before lawmakers this year.
Abortion – Legislation will be considered in 2016 to help ensure that abortion clinics abide by the state law banning the sale of fetal tissue and organs. The Health Department is making required inspections of abortion clinics but there is no tracking of what is done with fetal remains after an abortion. A hearing was held in the General Assembly after videos showed Planned Parenthood officials in other states were profiting from the sale of fetal tissue.
Corrections / Prison Safety – The Senate Corrections Subcommittee of the State and Local Government Committee met in the fall to examine issues in Tennessee's prisons. Legislation could be proposed this year as a result of their work. Pay increases have also been suggested for inclusion in the 2016-2017 budget to help retain and recruit prison guards. The starting pay for a correctional officer in Tennessee is $27,060.
National Guard – Legislation has been proposed to give personal and civil immunity to guardsmen if they return fire during a terrorist attack. State law does not provide immunity or personal liability protection in the event of damage or injury sustained in defense of the service member or others during a terrorist attack. Under the proposal, the Governor or the President would be responsible for declaring that an attack was an act of terrorism. Legislation has also been introduced which would enhance protection at Tennessee National Guard facilities, including installation of barriers, security cameras and magnetic locks.
School Choice – Legislation to provide opportunity scholarships for students on free and reduced lunch is expected to come back to the General Assembly this session. The scholarships, which are similar to vouchers, would be offered to low income students, who are assigned to low-performing public schools.
Budget / Education – Improving teacher salaries might also be on the legislative agenda this year. Governor Haslam has prioritized teacher salary improvements over the last several years. The 2016-2017 budget proposal might also include the 12th month of funding for teacher health insurance through the Basic Education Program. In 2015, the legislature added $30.4 million to cover the 11th month.
Testing Transparency – Legislation could be discussed this year that would allow teachers and parents to see both answers and questions of state tests so they have more information to help their students/children.
Transportation Funding – The legislature will discuss Tennessee's current $6 billion backlog in road projects during the 2016 legislative session. Debate on the matter began in 2015 after State Comptroller Justin Wilson released a report which showed that Tennessee's fuel taxes have stagnated and are not expected to be sufficient to maintain existing infrastructure and meet long-term transportation demands.
Although Governor Bill Haslam has called for a permanent solution to the road funding deficit, he has not said whether a proposal will be submitted this year. Some legislators have called for using some of the state's $353 million in excess revenues to help fund backlogged highway projects, including a proposal that calls for paying back $261 million taken from the road fund to pay for general expenses during the recession years.
Other proposals that might be debated this year include a bill to add $150.00 to the state's registration fee for electric cars and $75.00 to the cost for hybrids and legislation to place the state's 7 percent sales tax revenue collected from the sale of tires into the highway fund.
Hands-Free Cell Phone While Driving – Expect to see legislation in the Tennessee General Assembly about whether it should be illegal to use a telephone without a hands-free device while driving. According to the Insurance Institute for Highway Safety, 14 states and the District of Columbia ban hand-held cell phone use while driving.
Hall Income Tax – Expect proposals to continue to raise exemptions on the Hall Income Tax, phase it out or cut it out altogether. The Hall tax brings in approximately $260 million for the state with 3/8ths of it going to local government.
Certificate of Need – The legislature will revisit legislation that would remove the Certificate of Need (CON) process for burn, neo-natal, MRI, open heart surgery, cardiac care and other selected health services.  CON is a legal document required in many states and some federal jurisdictions before proposed acquisitions, expansions, or creations of healthcare facilities are allowed.  They are necessary for the construction of medical facilities in 35 states and are issued by state health care agencies.  Tennessee is one of four states tied for the seventh most regulated certificate of need programs, according to a recent study by Mercatus Center at George Mason University. The state's program has been in place for more than 40 years.