APSU Sports Information

Clarksville, TN – Saturday nights at the Dunn Center have been something special for Austin Peay State University women's basketball team and the trend held true in an 80-70 upset win of Ohio Valley Conference leader UT Martin.
Austin Peay (8-18, 6-7 OVC), which improved to 5-0 in home Saturday dates, took control of the contest with a 16-3 run in the opening 4:31 of the second quarter.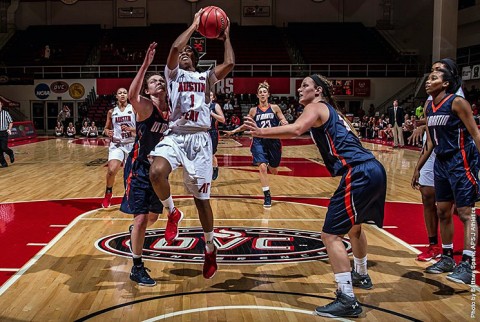 The burst was spurred by the trio of senior guard
Tiasha Gray
, junior center
Tearra Banks
and freshman guard
Falon Baker
who combined for all 16 APSU points.
The Govs, who held a one point lead after the first quarter, held a 44-30 advantage after the opening run.
The Govs would see that lead shrink during the rest of the second quarter, UT Martin closing to within three points on a Jessy Ward three-pointer with 52 seconds left. But Banks would strike again with a layup on the next APSU possession for a 53-48 halftime lead.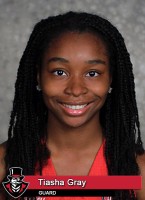 The second half proved to be a defensive struggle, with neither team matching their first half output. UT Martin (17-8, 10-2 OVC) had a golden opportunity to close the deficit in the third quarter during a four minute shooting drought by APSU. But the Skyhawks saw the opportunity slip by as they only scored six points, closing within two points, 59-57, after Katie Schubert's layup with 1:09 left.
Gray responded with the third quarter's final four points, extending the Govs lead back to six points, 63-57, at quarter's end. Austin Peay then used a Banks layup and Rich three-pointer to push the lead to nine points early in the fourth.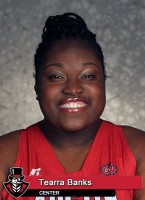 UT Martin closed back to within four points on a 5-0 run, but Austin Peay closed the game with a 8-3 burst that saw it convert on 6-of-8 free-throws in the final 1:05 to secure the win.
Gray finished with a game-high 29 points, making 10-of-22 from the floor and 8-of-9 at the free-throw line. Sophomore guard Madison Rich and Banks each supplied 12 points and Baker added 10 points. Junior forward Beth Rates grabbed a season-high 13 rebounds and had six points.
Ward led UT Martin with 22 points but was held scoreless in the second half. Haley Howard added 12 points on 3-of-11 shooting. The Skyhawks had five players reach double-digit scoring territory.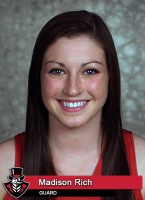 The Skyhawks opened the game making 19-of-31 (61.3 percent) from the floor, including 7-of-12 (58.3 percent) from three-point range.
However, Austin Peay's defense stiffened in the second half and limited UTM to 7-of-31 (22.6 percent) shooting and did not surrender a three pointer on 12 attempts.
Austin Peay prepares to close out the road portion of its regular-season slate when it meets third place SIU Edwardsville in an 11:30am, Wednesday contest in Edwardsville, Illinois.
Video
David Midlick's Governors scored a huge upset against UT Martin in their return to the Dunn Center.
Box Score
UT Martin (17-8/10-2 OVC) 70, Austin Peay (8-18/6-7 OVC) 80
| | 1 | 2 | 3 | 4 | Total |
| --- | --- | --- | --- | --- | --- |
| UT Martin | 27 | 21 | 9 | 13 | 70 |
| Austin Peay | 28 | 25 | 10 | 17 | 80 |
UT Martin 70
Player
FGM
-FGA
3FGM
-3FGA
FTM
-FTA
OFF
-DEF
TOT
PF
TP
A
TO
BLK
STL
MIN
21
Jessy Ward
8-16
6-12
0-0
0-0
0
2
22
0
0
0
1
37
23
Haley Howard
3-11
1-6
5-6
0-5
5
3
12
3
0
0
1
34
4
Emanye Robertson
5-10
0-0
1-4
3-2
5
4
11
1
2
0
0
30
20
Katie Schubert
5-12
0-3
0-0
0-4
4
3
10
1
2
0
0
40
14
Chelsea Roberts
0-3
0-1
3-4
2-7
9
3
3
4
0
0
3
27
33
Myah Taylor
4-6
0-1
2-2
3-2
5
4
10
0
2
0
0
16
44
Shy Copney
1-4
0-1
0-0
0-2
2
1
2
1
0
0
0
16
TM
TEAM
0-0
0-0
0-0
0-2
2
0
0
0
0
0
0
0
Totals
26-62
7-24
11-16
8-24
32
20
70
10
6
0
5
200
Austin Peay 80
Player
FGM
-FGA
3FGM
-3FGA
FTM
-FTA
OFF
-DEF
TOT
PF
TP
A
TO
BLK
STL
MIN
1
Tiasha Gray
10-22
1-8
8-9
0-4
4
1
29
4
3
0
2
40
33
Falon Baker
3-8
3-6
1-1
0-1
1
3
10
1
2
0
0
22
23
Sydney Gooch
3-10
0-0
0-0
4-3
7
2
6
1
0
1
0
32
24
Beth Rates
2-5
0-0
2-2
6-7
13
5
6
2
1
1
0
28
42
Symantha Norton
1-3
0-1
0-2
0-5
5
2
2
1
1
0
1
29
12
Madison Rich
5-8
2-2
0-0
0-3
3
0
12
1
1
0
0
18
25
Tearra Banks
5-8
0-0
2-4
4-1
5
1
12
0
0
0
1
15
11
Brianne Alexander
0-0
0-0
2-2
1-4
5
3
2
1
0
0
0
6
3
April Rivers
0-2
0-2
1-2
1-2
3
1
1
0
2
0
0
10
TM
TEAM
0-0
0-0
0-0
0-0
0
0
0
0
1
0
0
0
Totals
29-66
6-19
16-22
16-30
46
18
80
11
11
2
4
200