APSU Sports Information

Clarksville, TN – Sophomore left hander Michael Costanzo allowed just one hit and struck out 10 and Austin Peay State University's baseball team downed Alcorn State, 12-0, in the Riverview Inn Governors Challenge, Friday afternoon.
A week after taking a no-hitter into the seventh inning, Costanzo (2-0) got off to a quick start against Alcorn State, retiring the first six batters he faced.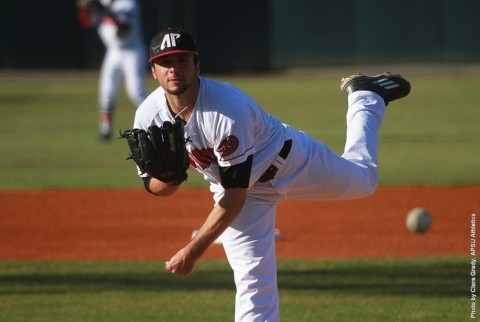 The Chicago native would surrender a leadoff double in the third, but left that runner stranded at third base after inducing a shallow fly out and a strike out.
From there, Costanzo got in a groove and retired 12 consecutive batters. He issued a two-out walk in the seventh but struck out the next batter he faced to end his outing.
Meanwhile Austin Peay's (4-1) offense needed time to solve Alcorn State starter George Helbig. The Govs were held scoreless over the first four innings, leaving runners in scoring position in both the second and fourth frames.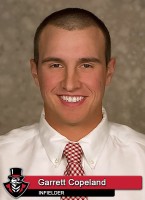 But Austin Peay solved the Helbig riddle in the fifth, striking for a pair of two-out runs. Second baseman Garrett Copeland singled with one out and scored on third baseman Logan Gray's two-out double. Left fielder Cayce Bredlau then drove in Gray with a RBI single to put APSU ahead 2-0 after five innings.
The Govs would add two runs in the sixth before tacking on four runs in both the seventh and eighth innings. Right fielder Ridge Smith had the game's biggest hit with a three-run home run to left center in the seventh that put APSU ahead 8-0.
Costanzo (2-0) struck out a career-high 10 batters over seven innings, allowing one hit and one walk. CJ Burrow and Shane Lantigua retired the side in order in the eighth and ninth innings, respectively.
Smith was one of five APSU hitters to finish with two hits, ending the day 2-for-3 with four RBI. First baseman Dre Gleason added a 2-for-4, two RBI outing. Eight Govs finished the game with at least one RBI.
Alcorn State (1-5) got its lone hit from designated hitter Ashton Lewis, who was 1-for-3. Helbig (0-2) suffered the loss after allowing two runs on three hits in 4.2 innings, striking out five.
The Riverview Inn Governors Challenge continues Saturday with Alcorn State facing No. 12 Missouri State in an 11:30am contest. Austin Peay will meet UConn in a 3:30pm meeting between the two Day 1 winners – UConn defeating Missouri State, 12-4, in the tourney opener.
Box Score
Alcorn State (1-5) vs. Austin Peay (4-1)
| | 1 | 2 | 3 | 4 | 5 | 6 | 7 | 8 | 9 | | | R | H | E |
| --- | --- | --- | --- | --- | --- | --- | --- | --- | --- | --- | --- | --- | --- |
| Alcorn State | 0 | 0 | 0 | 0 | 0 | 0 | 0 | 0 | 0 | | 0 | 1 | 1 |
| Austin Peay | 0 | 0 | 0 | 0 | 2 | 2 | 4 | 4 | X | | 12 | 14 | 0 |
W: COSTANZO, Michael (2-0) L: George Helbig (0-2)
Alcorn State 0
Position
Player
AB
R
H
RBI
BB
SO
LOB
cf
LaDerik Williams
3
0
0
0
0
2
1
ph
Brandon Barna
1
0
0
0
0
1
0
2b
Wallace Rios
4
0
0
0
0
0
0
1b
Collin Carroll
3
0
0
0
0
3
0
c
Walter Vives
2
0
0
0
1
0
0
lf
D. Hamilton
3
0
0
0
0
2
1
rf
Justin Barna
3
0
0
0
0
1
0
dh
Ashton Lewis
3
0
1
0
0
1
0
3b
Cedric Walker
2
0
0
0
0
1
0
ss
Moses Charles
3
0
0
0
0
0
0
p
George Helbig
0
0
0
0
0
0
0
p
Patrick McMahon
0
0
0
0
0
0
0
p
Carlos Lopez
0
0
0
0
0
0
0
p
Jahborous Smith
0
0
0
0
0
0
0
Totals
27
0
1
0
1
11
2
Austin Peay 12
Position
Player
AB
R
H
RBI
BB
SO
LOB
2b
COPELAND, Garrett
4
2
2
1
0
2
0
ph/2b
CONROY, TJ
2
0
0
0
0
0
3
cf
WILLIS, Imani
4
1
1
1
1
2
0
3b
GRAY, Logan
4
2
2
1
1
0
0
pr/1b
WILSON, Josh
0
1
0
0
0
0
0
lf
BREDLAU, Cayce
4
0
1
1
0
0
0
dh
ROBLES, Alex
2
1
1
0
2
0
0
ph
PURCELL, Wesley
1
1
1
1
0
0
0
1b
GLEASON, Dre
4
1
2
2
1
0
2
pr/rf
BLACKBURN, Kyle
0
1
0
0
0
0
0
rf/3b
SMITH, Ridge
3
1
2
4
1
1
0
c
MARIK, T.J.
4
0
0
0
0
3
5
ss
SMITHSON, Clayton
4
1
2
1
0
0
0
p
COSTANZO, Michael
0
0
0
0
0
0
0
p
BURROW, CJ
0
0
0
0
0
0
0
p
LANTIGUA, Shane
0
0
0
0
0
0
0
Totals
36
12
14
12
6
8
10
Alcorn State
Player
IP
H
R
ER
BB
SO
WP
BK
HBP
IBB
AB
BF
FO
GO
NP
George Helbig
(L, 0-2)
4.2
3
2
2
2
5
0
0
1
0
18
21
5
4
85
Patrick McMahon
0.1
1
0
0
1
0
0
0
0
1
2
3
1
0
9
Carlos Lopez
1.2
7
6
6
1
3
0
0
0
1
10
12
0
1
39
Jahborous Smith
1.1
3
4
4
2
0
1
0
1
0
6
10
3
1
34
Totals
14
12
12
6
8
1
0
2
2
36
46
9
6
167
Austin Peay
Player
IP
H
R
ER
BB
SO
WP
BK
HBP
IBB
AB
BF
FO
GO
NP
Costanzo, Michael
(W, 2-0)
7.0
1
0
0
1
10
0
0
0
0
21
23
5
6
91
Burrow, CJ
1.0
0
0
0
0
0
0
0
0
0
3
3
1
2
11
Lantigua, Shane
1.0
0
0
0
0
1
0
0
0
0
3
3
0
2
14
Totals
1
0
0
1
11
0
0
0
0
27
29
6
10
116