APSU Sports Information

Nashville, TN – Austin Peay State University rallied from a 19-point second-half to deficit stun No. 4 seeded Tennessee State, 74-72, Thursday night in the Ohio Valley Conference tournament in Municipal Auditorium. It was one of the most remarkable comebacks in APSU Governors basketball history.
The victory vaults the Governors into Friday's tourney semifinals against No. 1 seed Belmont, 6:30pm.
The fact the Govs are even in that position is unbelievable in itself, considering they seemed to be left in tatters early in the second half. Trailing 38-27 at halftime and struggling mightily on offense, the Governors watched their deficit increase to 19, 48-29, barely two minutes into the half.
It was still 18 points when Wayne Martin scored on a layup with 8:50 left. The Govs had hinted at a rally moments earlier when TSU, reincarnating Dean Smith's five-man substitution pattern from the late 1970s-early 1980s, but the comeback manifested itself, beginning at 8:43 mark when Chris Horton made just one of two free throws.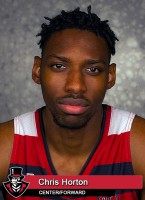 At that point the Governors, who had been bludgeoned defensively by the Tigers, would begin a stand that saw them make stops in 12 of the next 16 possessions.
At the same time, the Governors offense came alive. Sophomore guard Josh Robinson, who had been stymied much of the night, drove the length of the floor with a rebound to score and was fouled. The natural three-point play made the 60-46 with 7:38 left.
Xavier Richards answered for TSU with a dunk before John Murry, who played for the first time in more than month against Tennessee Tech, hit a pair of free throws. Keron DeShields them missed a jumper for TSU before Horton grabbed a rebound off a Robinson miss and dunked it.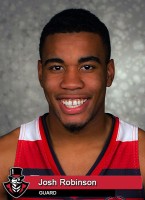 After another TSU miss, Robinson knocked down a jumper with 6:13 left to make it 62-52 and forcing TSU coach Dana Ford to call a timeout. After another TSU miss, Murry was fouled and again knocked down two free throws with 5:30 left—the deficit had shrunk to single digits.
After DeShields missed a running layup, Horton rebounded and immediately got it to Robinson, who in turn found Kenny Jones underneath for a layup with 5:06 left. All-OVC performer Tahjere McCall was fouled and made one of two free throws to push the lead back to seven, 63-56, with 4:57 left—plenty of time for the Governors.
Freshman Jared Savage then stepped to the forefront. After the Tigers had possession following an APSU miss, the freshman guard made a steal and was fouled near the top of the TSU circle.
He stepped to the line and made both free throws and all of a sudden it was a 63-58 game with 3:52 left. A missed Tigers three pointer then was turned into another Jones layup—it was 63-60 with 3:09 remaining.
TSU's Demontez Loman was fouled and he made one of two free throws to elevate the lead to 64-60 with 2:49 remaining. And that is when Savage again emerged, catching a pass from Horton and letting fly a three pointer.
It was a one-point game with 2:32 remaining. McCall then made one of two free throws and on the second one, a miss, that APSU's Jones inadvertently tipped in. It was the second time in two weeks the Governors tipped in an opponent's miss.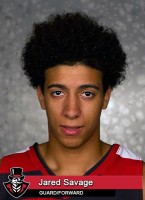 Again the lead was four with 1:42 left. After APSU missed a pair of free throws, McCall missed a jumper. That is when Savage again stepped up, this time nailing a long three pointer from the right wing with 58 seconds left. Again it was a one-point game.
DeShields then missed a three with 41 ticks and the Govs called a timeout. On the ensuing play, Murray was left free left of the circle and rainbowed a three-point attempt, hitting nothing but the net as it fell through. The one-time 19-point deficit was now a 69-67 Govs lead with 24 seconds left.
If the previous eight-plus minutes were excruciating and entertaining, the last 24 seconds waffled from exciting to baffling. After a timeout, McCall was called for walking in the backcourt, giving the ball back to the Govs with 17 seconds left. On the inbounds play, TSU fouled Robinson. The normally efficient free throw shooter missed his third free toss of the night before making the second, making it a 70-67 lead with 17 seconds left.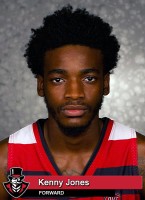 DeShields drove the length of the floor and scored on a driving layup with 10 seconds again to make it a one-point game. Robinson again was fouled with seven second remaining and the sophomore made it four straight free throws, hitting both a second straight time.
The Govs' inexplicably fouled DeShields in the backcourt, putting at the line with six seconds left. He made both and it was a one-point game once again.
Again it was Robinson being fouled on the inbounds play and again he made his free throws with 5.3 seconds left, making it a 74-71 game.
With strict instructions not to foul on a three-point shot attempted and DeShields being well defended by Murry. Jones attempted to block DeShields three-pointer and fouled him with 0.7 seconds left.
If he connects on all three, the game will be tied and in all probability heading to overtime. But the 75 percent free-throw shooter missed the first of the three-shot attempt. After making the second, DeShields intentionally missed the third in hopes TSU would somehow tip in the miss. The ball was swatted out the lane and horn sounded…the improbable Govs victory now a reality.
Robinson finished with 17 points for APSU while Horton added 17 points and 12 rebounds—his 23rd double-double this season. Savage finished with 13, 10 coming in the second half. The Governors were able to win while converting a pedestrian 21 of 38 (55 percent) of its free throws. However, after shooting only 39 percent from the floor in the opening half, they made 13 of 21 (62 percent) in the closing half while concentrating on getting the ball inside.
TSU, which ended its season at 20-10, was led by McCall with 16 points while DeShields and Martin added 15. Martin also had 13 rebounds.
Box Score
Austin Peay (16-17) 74, Tennessee State (20-10) 72
| | 1 | 2 | Total |
| --- | --- | --- | --- |
| Austin Peay | 27 | 47 | 74 |
| Tennessee State | 38 | 34 | 72 |
Austin Peay 74
Player
FGM
-FGA
3FGM
-3FGA
FTM
-FTA
OFF
-DEF
TOT
PF
TP
A
TO
BLK
STL
MIN
Robinson, Josh
5-9
1-2
6-10
0-4
4
4
17
3
4
0
0
36
Horton, Chris
5-9
0-0
5-12
2-10
12
1
15
4
1
3
0
37
Savage, Jared
4-8
3-6
2-3
2-2
4
2
13
1
1
0
2
35
Jones, Kenny
4-5
0-0
1-4
0-5
5
2
9
1
1
0
1
23
Davis, Khalil
1-6
1-4
0-0
2-0
2
1
3
3
4
1
0
28
Porter-Bunton, Chris
2-5
1-1
2-2
0-0
0
3
7
2
1
0
0
16
Murry, John
1-1
1-1
4-6
1-2
3
2
7
1
1
0
0
11
Glotta, Zach
1-3
0-2
1-1
0-2
2
3
3
0
0
0
0
7
Ivory, Tre'
0-1
0-0
0-0
1-0
1
0
0
0
1
0
0
5
Diop, Assane
0-0
0-0
0-0
0-3
3
1
0
0
1
0
0
2
TEAM
0-0
0-0
0-0
1-3
4
0
0
0
1
0
0
0
Totals
23-47
7-16
21-38
9-31
40
19
74
15
16
4
3
200
Tennessee State 72
Player
FGM
-FGA
3FGM
-3FGA
FTM
-FTA
OFF
-DEF
TOT
PF
TP
A
TO
BLK
STL
MIN
McCall, Tahjere
4-9
0-2
8-11
3-1
4
4
16
3
5
0
1
36
Martin, Wayne
7-18
0-0
1-1
3-10
13
1
15
0
0
2
2
33
DeShields, Keron
5-13
0-2
5-9
1-0
1
4
15
2
1
0
2
29
Richards, Xavier
3-3
0-0
0-0
1-5
6
5
6
0
1
0
1
23
Loman, Demontez
1-2
0-0
1-2
1-5
6
5
3
0
0
1
2
18
Roper, Marcus
3-8
1-6
0-0
0-1
1
3
7
2
1
0
1
20
Griggs-Williams, C.
2-3
0-1
1-1
1-1
2
2
5
0
0
0
0
17
Reddick, Darreon
1-5
1-3
0-0
0-1
1
0
3
2
1
0
0
16
TEAM
0-0
0-0
0-0
0-1
1
0
2
0
1
0
0
0
CHANEY, Armani
0-0
0-0
0-0
0-1
1
1
0
0
0
1
1
6
OYEDIRAN, Samson
0-0
0-0
0-0
0-1
1
5
0
0
0
0
0
2
Totals
26-61
2-14
16-24
10-27
37
30
72
9
10
4
10
200