UT Athletics Department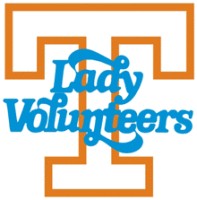 Jacksonville, FL – Diamond DeShields scored 15 points to lead Tennessee to a 68-51 win over Arkansas on Thursday at Veterans Memorial Arena in the second round of the SEC Tournament.
Tennessee (18-12, 8-8 SEC) never trailed and led by double figures for most of the game. Arkansas (12-18, 7-9 SEC) could not overcome a slow start or poor shooting (31.3 percent).
DeShields scored 10 of her 15 points in the third quarter and collected six rebounds. Jordan Reynolds had a strong all-around game, scoring 10 points recording team highs of eight rebounds and four assists. Jaime Nared added 11 points with three assists and three boards.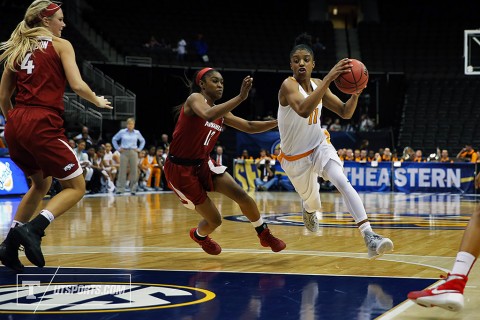 The Lady Vols combined for 17 assists and enjoyed a 43-41 rebounding advantage. UT hauled down 26 offensive boards and scored 13 second-chance points. The Tennessee bench contributed 21 points in the win, including nine from
Te'a Cooper
.
Arkansas' Devin Cosper scored a game-high 20 points on 8-of-19 shooting. Tennessee contained Razorbacks star forward Jessica Jackson, holding her to 12 points on 5-of-18 shooting. Melissa Wolf collected a game-high 12 rebounds.
UT took a 54-35 lead into the fourth quarter. DeShields scored six points during an 8-2 Tennessee run over the final three minutes of the third quarter.
Tennessee shot 53.8 percent from the field in the second quarter and took a 37-22 lead in to halftime. Nared led all scorers with nine points at the half and the Lady Vols enjoyed a 22-15 rebounding advantage. Jackson scored all seven of Arkansas' first-quarter points, but she was held scoreless in the second quarter.
The Lady Vols controlled the first quarter, outscoring the Razorbacks, 17-7. Tennessee jumped out to a 12-2 lead in the first six minutes and Nared and Cooper had five points each as UT limited Arkansas to 25 percent shooting (3-of-12). The Razorbacks stumbled to five first-quarter turnovers.
Series vs. Arkansas
Tennessee is 28-3 all-time against Arkansas and 2-0 against the Razorbacks at neutral sites. UT is 2-1 against Arkansas this season. On January 14th, Arkansas defeated UT, 64-59, in Fayetteville, AR. The Lady Vols took a 75-57 win in Knoxville on February 4th.
UT Lady Vols Step Up On Defense
The Lady Vols held Arkansas scoreless for the first 3:40 of the game and only allowed two points over the first 6:30 to jump out to a 12-2 lead.
Devin Cosper hit a jumper at the 8:35 mark of the second quarter for Arkansas. It was the first basket by a Razorback not named Jessica Jackson, a streak of 11:25 to start the game. By limiting Arkansas to only seven first-quarter points, the Lady Vols held their opponent to single digits in a quarter for the 14th time this season.
The Lady Vols allowed zero fast break points for the second time this season. They previously prevented Vanderbilt from scoring on fast breaks on February 11th. Tennessee held Arkansas to 31.1 percent shooting, marking the 22nd time this season the Lady Vols have held their opponent under 40 percent shooting.
Miscellaneous Notes
With the win, Holly Warlick now has 104 career wins, which ties USC's Linda Sharp for 12th-most by a coach in her first four seasons as a NCAA Division I coach. Warlick is 5-1 against Arkansas. She is also 7-2 all-time in the SEC Tournament, including an SEC Tournament title in 2014.
The victory is the seventh wire-to-wire victory of the season for the Lady Vols. The Lady Vols didn't trail against Central Arkansas, Chattanooga, Stetson, Missouri or in either game against Vanderbilt.
Tennessee is 33-4 all-time in its opening game in the SEC Tournament with all four losses coming in the second round. The Lady Vols have won 23-straight SEC Tournament openers.
Bashaara Graves moved up Tennessee's career free-throw attempts list and into sole possession of ninth place. Graves attempted three free-throws to pass Daedra Charles (539) for ninth place. Graves now has 541 career free-throw attempts.
Up Next
Tennessee next faces Texas A&M, the SEC Tournament's No. 2 seed, in the quarterfinals on Friday. Friday's game will feature a 6:00pm ET tip-off on SEC Network.
UT is 6-2 all-time against Texas A&M. The Aggies took a 76-71 overtime win over the Lady Vols in their only meeting this year on February 7th.