Austin Peay Sports Information

Knoxville, TN – Austin Peay State University men's tennis team saw its three-match winning streak come to an end Sunday afternoon, falling 7-0 to Tennessee.
The Governors (3-8) dropped two doubles matches to begin the day, and could not overpower the Vols (11-12) who later cruised in singles action.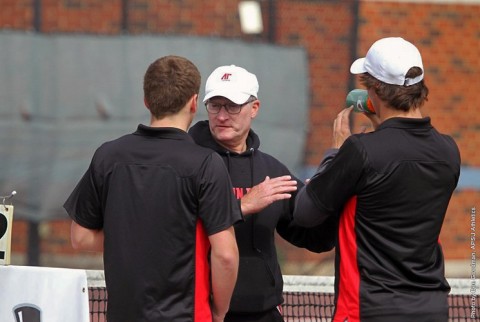 Both of Tennessee's doubles matches ended with a 6-1 line, with 26th-ranked team Jack Schipanski and Luis Valero defeating
Aaron Jumonville
and
Manuel Montenegro
, while Srdjan Jakovljevic and Tomo Stodder topped
Alex Kartsonis
and
Chad Woodham
.
The No. 2 doubles match between Jack Heslin/Preston Touliatos and Aleh Drobysh/Almantas Ozelis was unfinished.
In singles play, UT's Heslin began the competition with a 6-1, 6-2 victory over Woodham, followed by Valero knocking off Jumonville, 6-2, 6-0, at the No. 1 spot. In between places in the order, No. 2 Stodder defeated Ozelis, 6-4, 6-0, Jakovljevic outmatched Montenegro, 6-0, 6-2, Schipanski gained the upperhand over Drobysh, 6-1, 6-3, and Touliatos capped off the day with a 6-2, 6-3 win over Kartsonis.
Austin Peay returns to Ohio Valley Conference play for a three-match homestand beginning 2:00pm, Tuesday against Murray State.
Box Score
Singles
1. Luis Valero (UT-M) def. Aaron Jumonville (APSU) 6-2, 6-0
2. Timo Stodder (UT-M) def. Almantas Ozelis (APSU) 6-4, 6-0
3. Srdjan Jakovljevic (UT-M) def. Manuel Montenegro (APSU) 6-0, 6-2
4. Jack Schipanski (UT-M) def. Aleh Drobysh (APSU) 6-1, 6-3
5. Preston Touliatos (UT-M) def. Alex Kartsonis (APSU) 6-2, 6-3
6. Jack Heslin (UT-M) def. Chad Woodham (APSU) 6-1, 6-2
Doubles
1. Schipanski/Valero (UT-M) def. Jumonville/Montenegro (APSU) 6-1
2. Heslin/Touliatos (UT-M) vs. Drobysh/Ozelis (APSU) 5-3, unfinished
3. Jakovljevic/Stodder (UT-M) def. Kartsonis/Woodham (APSU) 6-1