APSU Sports Information

Clarksville, TN – Austin Peay State University men's basketball team has added size and bulk along the frontline for the 2016-17 season with the signing of Dre'Kalo Clayton, from Northwest Mississippi Junior College.
The 6-6, 245-pound forward is expected to help provide an inside presence with the loss of senior center Chris Horton.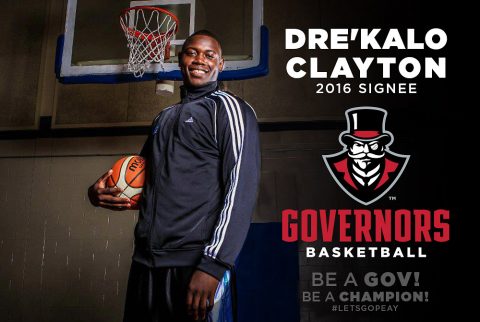 In his only season in Senatobia, Mississippi, Clayton averaged 10.5 points and 6.2 rebounds per game in only 25 minutes per game.
Although effective in the paint, he also was a 39 percent three-point shooter as well this season.
"Dre is a talented guy," APSU coach Dave Loos said. "He is a big body who can score on the block but can step out and make a three—he is a good shooter. And he also can handles it pretty well on the perimeter. But if you ask him, he will tell you he is at home on the block.
"We really like his makeup—he is a solid guy who gets it."
Clayton joined Northwest after two seasons at South Florida, where he signed as a highly recruited prep star from Orlando Christian Prep. But his senior prep season was interrupted by a torn achilles tendon, an injury that also kept him out his freshman season at USF.
In 2014-15 as a redshirt freshman, Clayton played in 28 games for the Bulls, averaging 0.9 points, 1.5 rebounds while playing an average 7.7 minutes per outing. He signed with South Florida after also being recruiting by Florida, Georgia, Auburn, Temple and USC among numerous others.
In high school, Clayton played for Reggie Kohn at Orlando Christian. He was averaging nearly eight rebounds per game his senior season before suffering the achilles injury. As a junior, he averaged 11 points and 7.6 rebounds per game as a junior, helping lead his team to the 2012 Class 2A State Championship. He earned All-Orange County at Evans High School as a sophomore, being rated the state's No. 9 prospect in the 2013 Class.
Originally, Clayton's family was from New Orleans but Hurricane Katrina saw them relocate to the Orlando area in 2005.