Votes for Women Memories Wanted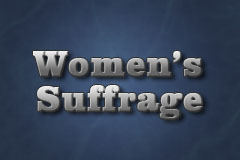 Clarksville, TN – Tennesseans changed the nation August 26th, 1920 by ratifying the 19th Amendment to the U.S Constitution, granting women the right to vote. Although there were ardent advocates both for and against ratification, little is known about local activities and organizations on either side.
Do you know family or community stories of events or individuals involved in this major social and political change? A story about that first vote your grandmother or her mother cast? What people thought would change once women voted? What did change? They are valuable memories that deserve to be preserved and without delay.
2020 Vision is a local group formed to commemorate the 100th anniversary and raise awareness about woman's suffrage: the years of effort needed to achieve it, the special role of Tennessee and the importance of appreciating and exercising the right to vote.
An important part of that appreciation is to preserve memories of that era.
Contact the Montgomery County Archives at 931.553.5159 or mcarchives@mcgtn.net to contribute the memories passed down in your family or community to our local history.
It was an exciting and dramatic time. Almost a tie in the House, the vote of one man made the difference. Young Harry Burn of McMinn County was expected to vote against ratification, but after a letter from his mother urging "Hurrah and vote for suffrage…," he voted yes. That made Tennessee the necessary 36th state to ratify and assure the success of the amendment.
The 2020 Vision Committee welcomes all who are interested in participating. Call 931.553.5159 or 931.647.0087 to be notified of future meetings and events.
For more information about local history of women's suffrage see the article at www.mchsociety.org/Sub-Pages/Hist-Suffrage.html by County Historian Eleanor Williams on the Montgomery County Historical Society website.