APSU Sports Information
Evansville, IN – Junior Ashley Slay finished with a career-high 11 blocks to lead Austin Peay State University's volleyball team to a five-set (20-25, 25-18, 22-25, 25-21, 15-13) victory against Kent State, Saturday morning, in Day 2 action of the Dunn Hospitality Tournament at the Carson Center.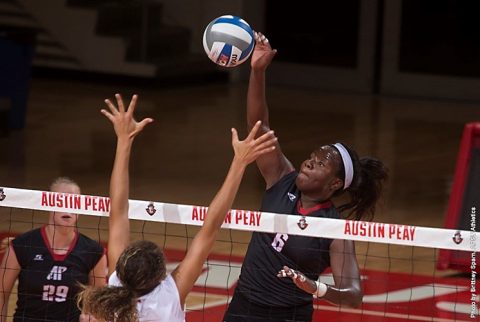 Austin Peay's (5-4) front-row defensive effort made all the difference in a tight five-set affair that was decided by just two points.
Behind Slay's 11-block effort, the Govs finished with 17 blocks in the match while Kent State notched nine blocks.
The Govs team total was the fifth-most in program history and a record under the current scoring format.
Slay got off to a slow start offensively, with just four kills in the first three sets. However, she had six blocks in those opening three sets as the Govs fell behind 2-1 in the match.
However, she discovered her touch in the fourth set, putting down four kills and three blocks. Slay posted two of those kills and a block during a decisive 6-0 run that turned a 10-11 deficit into a 16-10 lead the Govs would not relinquish. In the fifth frame, Slay had just three kills but they each came during a 3-1 APSU lead that set the Govs up for match point, 14-12.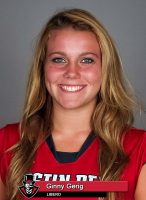 Slay finished with 11 kills and 11 blocks for her season's first double-double. Her 11 blocks were the most by any Governor since 1997 and are tied for fourth most in program history.
The front-row performance was backed up by the Govs best back-row defensive effort this season. Freshman Ginny Gerig's career-best 26-dig effort sparked a season-best 76 digs by the Govs.
Kent State (4-5) posted a 60-51 advantage in total kills, but was charged with 33 errors (17 via an APSU block). The Golden Flashes were also hurt at the service line where their 14 service errors outpaced its six service aces.
Darby Connors led KSU with 16 kills, one of three players to reach double-digit kill territory.
Inside the Box Score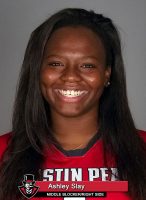 What a Block Party
The Govs 17 team blocks set a program record under the current scoring format. It also was their most since a 17½ block effort in 2013 and stands as the fifth-most in program history. Austin Peay entered the match averaging just 1.43 blocks per set, which jumped to 1.73 per set with the morning's effort.
Slay Blocks Back
Slay got her stay in Evansville off to a slow start with just one block to her credit against Evansville, Friday. Needless to say she made up for the lost time with Saturday's 11 blocks – the most by a Govs player since 1997 and is tied with Diana Hart for fourth-most in program history.
Party in the Back
The Govs defensive part was restricted to the front row, as the back row posted a season-best 76 digs. Freshman Ginny Gerig, who led the team with 77 digs entering the match, paced that effort with her career-best 26 digs.
Five Setters Figured Out
Austin Peay reached the tiebreaking fifth set for the second time this season and now has won both those contests. The Govs own a four-match win streak with a set reaches the fifth frame.
Austin Peay concludes its stay in Evansville with a 4:00pm contest against unbeaten Dayton.