Clarksville, TN – Miss Williamson County, Allee-Sutton Hethcoat, was crowned Miss Tennessee USA Saturday night, October 8th at Austin Peay State University in Clarksville, Tennessee.
Hethcoat accepted her new crown from the reigning Miss Tennessee USA, Hope Stephens of  Livingston, and will compete in the 2017 Miss USA Pageant.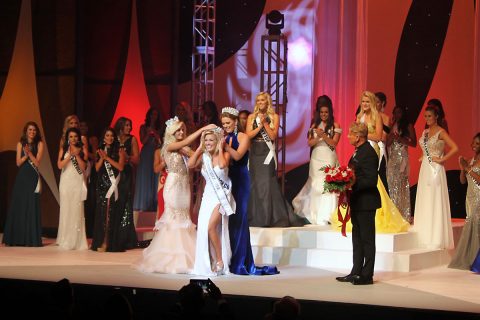 Runners-up for the Miss Tennessee USA pageant were Hannah Sluss, Miss North Knoxville (fourth), Brandi Haralson, Miss Middle Tennessee (third), Sara Cardona, Miss Capital City (second) and Erin Hatley, Miss West Tennessee (first).
Crowned earlier was Miss Tennessee Teen USA, Megan Ski Hollingsworth, Miss Marshall County Teen. She accepted her new crown and title from the reigning Miss Tennessee Teen USA, Savannah Chrisley from Nashville. Chrisley also placed in the top 15 in the Miss Teen USA pageant held this past August in Las Vegas.
Runners-up for the Miss Tennessee Teen USA pageant were Morgan Simpson, Miss West Knoxville Teen (fourth), Desiree' Dyson, Miss Tennessee Valley Teen (third), Samantha Havenstrite, Miss Music City Teen (second) and Elizabeth Graham Pistole, Miss Nashville Teen (first).
The new title-holders, along with the runners-up received numerous prizes and scholarships. The 2017 Miss Tennessee USA and Miss Tennessee Teen USA will have the opportunity to represent Tennessee at the Miss USA and Miss Teen USA Pageants in the summer and fall (respectively) of next year.
The Miss Tennessee USA pageants, under the direction of Greenwood Productions, Inc., are affiliated with the Miss Universe organization and have been hosted in Clarksville since 1999. Information about all delegates can be found at www.misstennesseeusa.com
About Visit Clarksville
The Clarksville-Montgomery County Tourism Commission was established by the State of Tennessee in 1979 to positively influences tourism in the Clarksville-Montgomery County area by promoting tourist attractions, hosting conventions, group tours and engaging in large-scale marketing efforts. In 2015, the organization adopted the Visit Clarksville brand.
Visit Clarksville is governed by nine board of director members who are selected jointly by the City of Clarksville and Montgomery County Mayors, and is funded by a portion of the local hotel-motel tax.