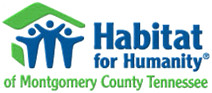 Clarksville, TN – Habitat for Humanity of Montgomery County TN dedicated their 91st home to their newest homeowners Susan and David Grasty, on Sunday, November 6th.

The new homeowners, Susan and David Grasty, thanked all those who worked so hard to help them reach this goal.

After explaining that the Grastys, along with family and friends, performed over 500 sweat equity hours working in our Habitat ReStore and working on their own home as a requirement for becoming Habitat homeowners, Shelby Logsdon, Executive Director, introduced Susan and David Grasty to the crowd gathered to celebrate.

Rick Catignani, Board President, presented the family with a new Bible and Herb Baggett, Founder and Board Member, presented the family with the keys to their new home.

Kay Jay, representing The Quilt Posse, a local quilt guild, presented a Tulip design quilt made by their members in a tearful exchange. She was followed by representatives Amelia Wallace and Cynthia Gray, of the Captain William Edmiston Chapter of the Daughters of the American Revolution, who presented the family with books to help build their library for their new home.

Through donations of money, materials and volunteer labor, Habitat for Humanity of Montgomery County, TN could build the Grasty home and sell it at an affordable price. The Grastys purchased their home with a no-interest loan, and their monthly mortgage payments will be used to build more Habitat houses.

If you are interested in sponsoring a Habitat for Humanity home or learning more volunteering with Habitat, visit www.habitatmctn.org or call 931.645.4222.
About Habitat for Humanity of Montgomery County, TN
Since 1992, Habitat has partnered with 91 qualified applicants who invest sweat equity into building simple, decent and affordable housing to achieve homeownership through a twenty-year, zero-interest mortgage. Habitat collaborates with faith, civic, and business organizations who envision neighborhood revitalization through new home construction. Program applications are accepted daily.
Contact the Affiliate office at 931.645.4222, on our website at www.habitatmctn.org or via Facebook/Habitat for Humanity of Montgomery County, TN.
About Habitat for Humanity International
Habitat for Humanity International's vision is a world where everyone has a decent place to live. Anchored by the conviction that housing provides a critical foundation for breaking the cycle of poverty, Habitat has helped more than 4 million people construct, rehabilitate or preserve homes since 1976.
Habitat also advocates to improve access to decent and affordable shelter and supports a variety of funding models that enable families with limited resources to make needed improvements on their homes as their time and resources allow. As a nonprofit Christian housing organization, Habitat works in more than 70 countries and welcomes people of all races, religions and nationalities to partner in its mission.
To learn more, donate or volunteer visit www.habitat.org
Sections
News
Topics
Amelia Wallace, Clarksville TN, Cynthia Gray, Daughters of the American Revolution, David Grasty, Habitat for Humanity, Habitat for Humanity of Montgomery County, Habitat ReStore, Herb Baggett, Kay Jay, Quilt, Rick Catignani, Shelby Logsdon, Susan Grasty, The Quilt Posse