Tennessee vs. East Tennessee State
Thursday, December 22nd, 2016 | 6:00pm CT
Johnson City, TN | Freedom Hall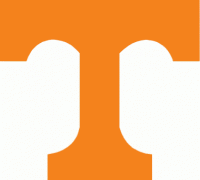 Knoxville, TN – Tennessee goes on the road for a tough, in-state battle when it faces East Tennessee State in Johnson City on Thursday night. Tip-off is set for 6:00pm CT at Freedom Hall.
Thursday's game will be televised locally in East Tennessee. Fans in the Knoxville area can watch the game on MyVLT while fans in the Tri-Cities area can tune into WEMT Fox (please check cable guides for exact channel listings, based on service provider). Fans can also watch online and through their mobile device on ESPN3.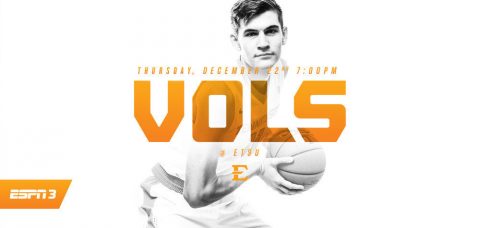 Tennessee (6-5) is looking to bounce back from an 86-76 loss at the hands of then-No. 8 Gonzaga on Sunday night in Nashville. The Vols trailed by as many as 21 in the first half, but were able to whittle the deficit to as little as four thanks in large part to the play of
Detrick Mostella
.
The junior guard scored a team-high 17 points off the bench, 15 of which came in the second half.
UT also got 11 points from freshman forward Grant Williams and 10 points from senior guard Robert Hubbs III.
At 15.9 ppg, Hubbs is the Vols leading scorer through 11 games this season. That figure ranks eighth in the SEC with Hubbs' .543 field-goal percentage and .897 free-throw percentage also ranking among the conference leaders. Williams is the only other Vol averaging double figures in 2016, putting up 10.7 ppg to go along with a team-high 5.2 rpg.
ETSU, picked to finish second behind Chattanooga in the SoCon this year, is 9-2 on the season with its only losses coming on the road at UNC Wilmington and Dayton. The Buccaneers are led by senior guard T.J. Cromer, averaging 17.6 ppg.
The Series
Overall: UT leads, 15-2
In Knoxville: UT leads, 11-2
In Johnson City: UT leads, 4-0
Neutral Sites: No meetings
Current Streak: UT has won nine straight
Last Meeting: UT won, 76-67, in Knoxville, 12/22/15
Barnes vs. ETSU: 1-0
Rick Barnes vs. Steve Forbes: 1-0
A Win Would
Give the Volunteers their first true road win of the season. Be Tennessee's first victory of the season over a top-100 RPI opponent (ETSU is 71).
Extend Tennessee's series win streak over the Bucs to 10 games. Give the Volunteers an 8-0 all-time record in games played in the Tri-Cities.
Eastern Tennessee State
The Buccaneers (9-2) are in their second season under head coach Steve Forbes, who was an assistant coach with the Vols from 2006-11.
Last year, Forbes led the Bucs to a 24-12 mark in his first season at ETSU. The Bucs went 14-4 in league play, advanced to the title game of the SoCon Tournament and participated in the inaugural Vegas 16 postseason tournament.
In a preseason poll of SoCon coaches, ETSU was picked to finish second in the conference this year (behind Chattanooga). The Bucs did receive a pair of first-place votes.
Other former Tennessee staffers on Forbes' staff are assistant coach Jason Shay (UT assistant coach from 2005-11) and assistant coach Brooks Savage (first as a student manager, then as a graduate assistant in 2009-10). Savage earned both his bachelor's (2008) and master's (2010) degrees in Sports Management from UT.
Bucs' strength coach Mike Starke was a graduate assistant strength coach at Tennessee from 2013-14 and assisted with the men's basketball team's performance training during that time. He received an M.S. degree in Sport Management from UT.
ETSU seniors T.J. Cromer (17.6 ppg) and Hanner Mosquera-Perea (9.0 ppg) were both preseason All-SoCon selections.
The Bucs' only losses have come on the road–at UNC Wilmington (Nov. 20) and at Dayton (December 10th).
ETSU posted a 67-65 win at Mississippi State December 14th. The Bucs' last game was a 78-68 victory at Morehead State on Saturday.
Last Meeting Witth ETSU
An impressive final stretch that saw Tennessee hit six of its final seven field goals propelled the Volunteers to a 76-67 victory over in-state foe East Tennessee State on December 22nd, 2015, at Thompson-Boling Arena.
Tennessee started the second half hitting just five of its first 24 shots from the field before the closing stretch, a 15-2 run over the final 3:51 capped by a thunderous dunk from Robert Hubbs III to put an exclamation point on the victory.
Detrick Mostella led the Volunteers with 17 points, tying a career-high. Armani Moore scored 14 (and also grabbed a team-high 12 rebounds for his sixth career double-double), Kevin Punter Jr. scored 13 and Hubbs finished with 11.
Tennessee sprinted out to a strong first half, leading by nine, 42-33, at the break. UT pushed the lead to 10 on a free throw to begin the second half after a technical foul was assessed to ETSU coach Steve Forbes following the halftime buzzer.
After the opening free throw by Punter, the Buccaneers exploded for an 11-3 run capped by a Deuce Bello dunk to give ETSU its first lead, 47-46. From there, neither team would lead by more than four points until UT's final run in a back-and-forth second half that saw 10 lead changes and eight ties.
Ge'Lawn Guyn led all scorers with 22 for ETSU, while A.J. Merriweather contributed 11 for the Bucs.
ETSU Admin Has Big Orange Ties
Scott Carter spent 10 years at the University of Tennessee in various athletic development and fundraising roles before being hired as ETSU's senior associate athletic director/chief operating officer in January 2014.
Carter was a fullback and team captain for the Buccaneers from 1998 to 2002, and he earned both his undergraduate and graduate degrees from ETSU.
Vols 7-0 All-Time In Tri-Cities Hoops Appearances
At tipoff Thursday, 19,372 days will have elapsed since the last time Tennessee played a varsity basketball in the Tri-Cities. The Vols are 7-0 all-time in their previous Tri-Cities appearances.
Vols Seeking First True Road Win vs. Top-10 Team Since 2010
Tennessee's last true road win over an AP top-10 team was an 83-76 victory over third-ranked Pitt at the CONSOL Energy Center (now PPG Paints Arena) as part of the SEC/Big East Invitational on Dec. 11, 2010.
The Vols were ranked 11th in the AP poll at the time.
| Date | Opponent | Score | Site |
| --- | --- | --- | --- |
| Feb. 14, 1911 | Emory & Henry | W, 38-34 | Bristol |
| Dec. 19, 1945 | ETSU | W, 44-24 | Johnson City |
| Dec. 18, 1946 | ETSU | W, 53-23 | Johnson City |
| Dec. 9, 1947 | Washington & Lee | W, 85-49 | Bristol |
| Dec. 13, 1947 | Milligan | W, 52-34 | Johnson City |
| Jan. 2, 1952 | ETSU | W, 59-52 | Johnson City |
| Dec. 9, 1963 | ETSU | W, 48-47 | Johnson City |
Tennessee Playing At Least 20 Games In State This Season
The Vols will play at least 20 games in the state of Tennessee this season (that includes at least one game at the SEC Tournament).
Thursday's game in Johnson City is UT's eighth in-state game of the year and the team's fourth straight.
Bowden Valuing The Ball
Freshman shooting guard Jordan Bowden–who earned an SEC Freshman of the Week award earlier this month–owns a 1.57 assist-to-turnover ratio on the year. But over UT's last five games he has taken even better care of the basketball.
Bowden has committed just one turnover in his last 140 minutes played, spanning the last five games.
Vols Ranked 23rd In FT Shooting
Tennessee ranks 23rd among Division I teams with a .764 free-throw percentage.
Among Vols with at least two attempts per game, four are shooting at least 83 percent.
Robert Hubbs III (.897), Lamonté Turner (.848) and Shembari Phillips (.846) all are shooting a high percentage at the line so far this season.
Freshman Jordan Bowden has only attempted 17 foul shots on the year, but he has made 16 of them for a sterling .941 percentage.
Vol's Five Losses Have Come vs. Top-25 Caliber Teams
The five teams that have defeated Tennessee this season combine to boast a 49-9 (.845) record.
Chattanooga is 8-3 and was picked to repeat as the Southern Conference champion.
Wisconsin is 10-2 and ranked 14th in the AP poll.
Oregon is 10-2 and ranked 20th in the AP poll.
UNC is 10-2 and ranked eighth in the AP poll.
Gonzaga is 11-0 and ranked seventh in the AP poll.
Tennessee Has Already Faced Four Top-20 Opponents
By the time the Vols had played their 11th game this season, they had already faced four top-20 teams.
The Big Orange had good showings in losses to then-16th-ranked Wisconsin and then-13th-ranked Oregon (overtime) in November in Maui. Tennessee then led for more than 32 minutes at seventh-ranked North Carolina on December 11th before falling 73-71.
Most recently, the Vols dropped an 86-76 neutral-site game to unbeaten and then-eighth-ranked Gonzaga in Nashville on December 18th.
Based on the current AP poll, Tennessee stands to potentially play at least four more games against ranked teams this season.