Tennessee Athletics Department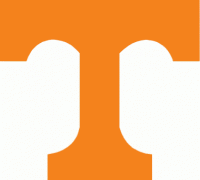 Johnson City, TN – A career-high 25 points from Detrick Mostella led Tennessee to its first true road win of the season, a 72-68 victory over East Tennessee State on Thursday night.
Robert Hubbs III also finished in double figures, scoring 11 for the Vols. UT also got a defensive boost from true freshman forward Grant Williams, who finished the game with a game-high nine rebounds (seven defensive) and four blocks.
A tight one throughout, the Vols (7-5) and Buccaneers (9-3) battled through nine ties and 12 lead changes. Tennessee took its largest lead of the game at the halftime break, leading 32-23 after Mostella reeled of 13 straight points over the final 2:33 of the first half.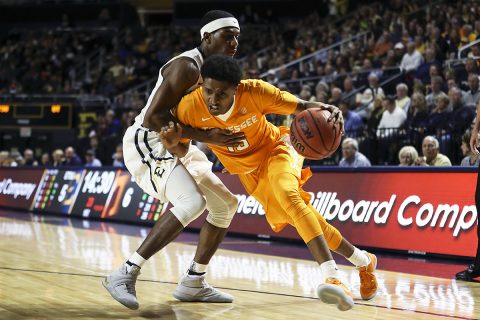 Playing in front of a sell-out crowd at Freedom Hall, ETSU responded quickly after intermission.
The Bucs hit five of their first six shot attempts, leveling the score at 36-36 before the half's first media timeout.
Tennessee was able to stave off the push from the home team, responding with layups from Kwe Parker and Lew Evans to push the lead back to two possessions. That advantage would grow to as many as seven when Mostella hit yet another jumper to situate things at 51-44 near the 12-minute mark.
Refusing to go away, ETSU scored 11 of the game's next 15 points and took its first lead of the second half at 55-54 with nine minutes remaining.
The lead teeter-tottered from there, with neither side gaining more than a two-point advantage until Mostella broke a 65-65 deadlock with two free throws and then a pull-up jumper with 29 seconds to play. Mostella's final points, coupled with some strong defensive possessions down the stretch for the Vols, proved enough to settle the in-state battle.
Williams' Block Party
Tennessee's Grant Williams entered Thursday's game as the Vols' top shot blocker and will retain that title headed into SEC play after recording a game-high four rejections against ETSU. Williams' four blocks matched his previously established season-high, which also came on the road at North Carolina on December 11th.
Each of Williams' blocks came in the second half, including one swat near the 1:30 mark with the score tied at 65-65. That block led to Detrick Mostella's go-ahead free throws on the other end.
Tennessee had nine blocks as a team on Thursday night, its most in a game this season.
Mostella Heating Up
Following Thursday night's 25-point outburst, guard Detrick Mostella will head into the short Christmas break averaging 17.7 ppg over his last three outings. In the four games prior, the junior was averaging just 3.0 ppg and was struggling from the field at 3-for-20 (.150) in that span. Over his current three-game stretch, Mostella is 18-of-39 (.462) from the field and 8-of-21 (.381) from beyond the arc.
Coaching Quotes
Tennessee head coach Rick Barnes
Opening statement
"As those guys (Detrick Mostella and Grant Williams) said, it really was a big win. East Tennessee State is a talented team. We told our guys coming in that they are as talented as, obviously, some teams in the SEC. You look at them on paper, and I think Coach (Steve) Forbes does a great job. His teams know what they are looking for. I thought our defensive effort was terrific tonight. Shembari (Phillips') second half was really good, but Grant's blocks (were great). There were a lot of good things. There wasn't a guy that went in the game who didn't help in some way. It was a really nice win for us."
On how a closely contested game helps the team heading into SEC play next week
"I think the biggest thing is that they know now we need to stay together as a team. A couple of times we got a little ragged, where the game was both teams playing as hard as they can play. We're going to be in close games. We've been in close games. We got this one done. Again, collectively, it was a great team win."
On Detrick Mostella's growth as a player, based on key rebound at the end of the game
"Well, one thing for certain is that he's better when he rebounds the ball, and when he gets into the game. Tonight, it was really neat hearing those guys before I stepped into the huddle to talk to them. It was amazing how they were talking to each other. They haven't had that all year. They were talking and encouraging each other. They were terrific. They really were. That's a sign of where we want to go. We need them to be more vocal. Going into league play, as you said, if we play the way we're capable, we'll be in a lot of close games, obviously. But, these guys know they can close them out. But, it's not going to be easy. We still have to keep growing."
Up Next for UT Vols
Tennessee is off for a one-week holiday break and will return to action on Thursday, December 29th, when it opens Southeastern Conference play at Texas A&M (6:00pm CT, SEC Network).
Video Highlights
Detrick Mostella Postgame