Congressman Marsha Blackburn
7th District of Tennessee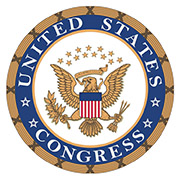 Washington, D.C. Fellow Americans-
I want to extend a very Merry Christmas to you and your families this holiday season. May we all take time to remember true meaning of Christmas, the gift of our Savior Jesus Christ. I hope that you are able to enjoy time with your loved ones and to make many special memories together. Let's look forward to all that 2017 will offer us.
Many of you told me how much you enjoyed the facts from our Thanksgiving report, so I hope that you will enjoy sharing these Christmas facts from the History Channel with your friends and family.
Christmas Facts
Christians celebrate Christmas Day as the anniversary of the birth of Jesus of Nazareth, a spiritual leader whose teachings form the basis of their religion.
December 25th–Christmas Day–was declared a federal holiday in the United States on June 26th, 1870.
Each year, 30-35 million real Christmas trees are sold in the United States alone. There are 21,000 Christmas tree growers in the United States, and trees usually grow for about 15 years before they are sold.
The first eggnog made in the United States was consumed in Captain John Smith's 1607 Jamestown settlement.
The Salvation Army has been sending Santa Claus-clad donation collectors into the streets since the 1890s.
Rudolph, "the most famous reindeer of all," was the product of Robert L. May's imagination in 1939. The copywriter wrote a poem about the reindeer to help lure customers into the Montgomery Ward department store.
Construction workers started the Rockefeller Center Christmas tree tradition in 1931.
We have enjoyed this week in the district. On Monday, I jumped back into DC and pre-taped a New Years Day segment for CNN's State of the Union show, focusing on the legislative agenda and work of Congress in 2017. I hope you will tune in. On Tuesday, I started the day with a roundtable with members of the NFIB Business Council. Tuesday and Wednesday also brought time to meet with many in in the healthcare industry and work with them on how we address the repeal of Obamacare and in its place implement patient centered healthcare.
My hope is that you and your family will enjoy this Christmas week. At our house, we find time to make peppermint brownies, make our favorite Christmas eve meal and bake a few cookies to leave for ole Saint Nick.
Enjoy this Christmas week.
-Marsha