2016 Gas Prices Were Lowest Since 2004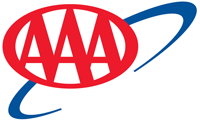 Tampa, FL – The New Year began with increased gas prices reaching today's average of $2.34 per gallon. The national average has moved higher for 34 of the past 35 days, largely due to market reactions to last fall's OPEC deal.
Compared to a week ago, pump prices have risen 5 cents nationwide, 9 cents in Florida, 6 cents in Georgia, and 4 cents in Tennessee.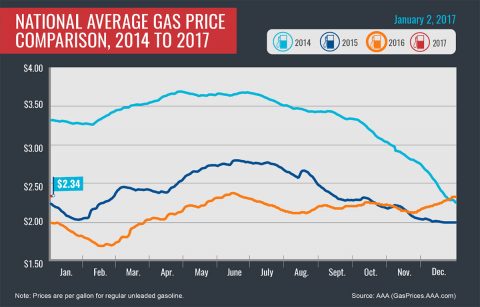 The Southern region remains home to some of the nation's least expensive markets for retail gasoline: South Carolina ($2.10), Alabama ($2.13), Tennessee ($2.13), Mississippi ($2.14), Texas ($2.14), Arkansas ($2.15) and Louisiana ($2.15).
The region saw some temporary inventory declines last week, due to exports and a power outage at CITGO's Corpus Christi, Texas, refinery that resulted in flaring and excess emissions, according to OPIS.
Florida (+9 cents), Arkansas (+8 cents), Texas (+7 cents) and Mississippi (+7 cents) all make the top 10 list for largest weekly increases. Drivers in Florida and Georgia also saw modest gas tax increases of less than a cent at the start of the new year.
Gas prices averaged $2.12 in 2016 – the lowest national annual average since 2004 ($1.84). Also in 2016, the average price for a gallon of regular unleaded was $2.11 in Florida, $2.07 in Georgia, and $1.94 in Tennessee. These state averages were less than 2015 averages by 28 cents nationally, 25 cents in Florida, 22 cents in Georgia, and 23 cents in Tennessee.
"Moving into 2017, retail prices will continue to hinge on the ability of cartel countries to successfully implement production cuts," said Mark Jenkins, spokesman, AAA – The Auto Club Group. "Retail averages will begin to increase, leading up to the summer driving season, as seasonal refinery maintenance gets underway this spring."
Global Market Dynamics
Both crude oil benchmarks closed out the year posting the largest annual gains since 2009, with Brent gaining 52 percent and West Texas Intermediate gaining 45 percent to close the year. These gains can largely be attributed to the OPEC agreement – a deal brokered by OPEC and non-OPEC countries – to cut crude oil production by 1.8 million barrels per day in an effort to re-balance the global oil supply.
Additionally, as 2016 came to a close, U.S. gasoline production reached a record high of 10.537 million bbl for the last week in December. Typically, domestic demand falls in January, so higher gasoline production may lead to a stock build in the coming weeks, which could push pump prices lower.
In 2017, traders will continue to monitor whether participating countries adhere to the OPEC agreement and the rate at which U.S. gasoline production increases. At the close of formal trading session on December 30th on the NYMEX, WTI closed out the year down five cents to settle at $53.72 per barrel.
Motorists can find current gas prices along their route with the free AAA Mobile app for iPhone, iPad and Android. The app can also be used to map a route, find discounts, book a hotel and access AAA roadside assistance.
Learn more at www. AAA.com/mobile
Current and Past Price Averages
Regular Unleaded Gasoline
Sunday
Saturday
Week Ago
Month Ago
One Year Ago
National
$2.342
$2.336
$2.287
$2.162
$1.994
Florida
$2.408
$2.408
$2.318
$2.170
$1.998
Georgia
$2.249
$2.245
$2.185
$2.105
$1.900
Tennessee
$2.132
$2.131
$2.089
$1.975
$1.751
Click here to view current gasoline price averages
AAA updates fuel price averages daily at www.GasPrices.AAA.com. Every day up to 120,000 stations are surveyed based on credit card swipes and direct feeds in cooperation with the Oil Price Information Service (OPIS) and Wright Express for unmatched statistical reliability. All average retail prices in this report are for a gallon of regular, unleaded gasoline.
About The Auto Club Group
The Auto Club Group (ACG) is the second largest AAA club in North America. ACG and its affiliates provide membership, travel, insurance and financial services offerings to over 9 million members across eleven states and two U.S. territories including Florida, Georgia, Iowa, Michigan, Nebraska, North Dakota, Tennessee, Wisconsin, Puerto Rico and the U.S. Virgin Islands; most of Illinois and Minnesota; and a portion of Indiana.
ACG belongs to the national AAA federation with more than 56 million members in the United States and Canada and whose mission includes protecting and advancing freedom of mobility and improving traffic safety.