APSU Sports Information

Murray, KY – What could go wrong seemingly did for Austin Peay State University men's basketball against Murray State, Saturday, as the Govs found themselves on the wrong side of a 102-58 decision at CFSB Center.
Simply put, Austin Peay could not find the range in Murray. After hitting three of their first seven shots, the Governors hit just 5-of-21 the rest of the first half, including 3-of-12 over the final nine minutes of the half.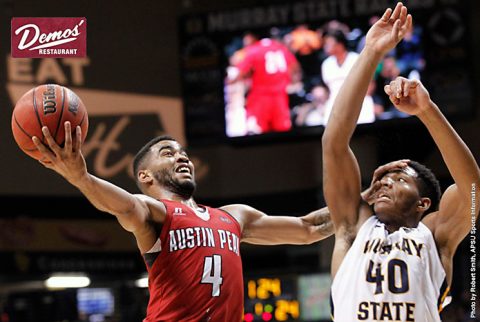 Murray State, meanwhile, hit 22-of-38 first half attempts, including 5-of-9 from beyond the arc.
Although the Governors were able to display a more efficient shooting stroke in the second half, hitting 46.2 percent (12-for-26) as a team, the Racers were able to capitalize with a 65.5 percent (19-for-29) performance from the floor over the final 20 minutes, with six Racers ultimately scoring in double figures.
Three Governors—Josh Robinson (15 points), John Murry (14) and Kenny Jones (12)—scored in double figures, with Jones pulling down four of his team-high six boards in the game's first five minutes.
The Difference
Pick your poison here: Austin Peay was outrebounded 43-21—the season's largest deficit for the Govs— but also allowed Murray State to score 62 points in the paint, most by a Governor opponent in 2016-17.
Notably
The 58 points scored by Austin Peay equaled a season-low, as did the Governors field goals (20), rebounds (21) and steals (one).
Conversely, Murray State equaled a season a low by an Austin Peay opponent in turnovers (six) and set an opponent high in made field goals (41).
Jared Savage hit two three-pointers, becoming the 21st player in APSU history with 100 career three-pointers.
The 44-point margin of victory is the largest in the history of the Austin Peay-Murray State rivalry.
Robinson equaled an Austin Peay season-high by hitting all six of his free-throws. He outscored Murray State's Jonathan Stark 15 points to 13 in a battle of two of the league's top-three scorers.
Robinson passed Lonnie West for 21st all-time with 198 career assists.
Bryce Jones' four steals equaled Fort Wayne's Mo Evans for most by an Austin Peay opponent in 2016-17.
Coaching Quotables
Head coach Dave Loos
Overall thoughts
"We ran into a buzzsaw; that was the biggest part of this. But I kind of saw this coming and hoped I was wrong—we didn't practice well this week. We had days leading up to this game that I felt like we kind of wasted. I kept telling our guys, 'They're going to be ready to play; this is an important game for them, and for us too.' And we just didn't respond."
On the first half
"We were flat. We were not as competitive as we needed to be. We repeatedly said before we came here that we had to guard, we had to rebound and we had to make them guard us deeper into a possession. And we didn't do any of the three."
Up Next for the Govs
Austin Peay returns home for the season's final homestand, hosting Eastern Illinois, 7:00pm, February 16th in the Dunn Center. The night will be a Blackout Night, as the Govs don their black unis for the first time in the regular season.