Tennessee Lady Vols (19-10, 10-6 SEC) vs. Alabama (17-12/5-11)
Thursday, March 2nd, 2017 | 1:30pm CT
Greenville, SC | Bon Secours Wellness Arena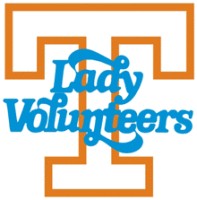 Greenville, SC – The No. 5 seed Lady Vols (19-10, 10-6 SEC) are set to play No. 12 seed Alabama (18-12, 5-11 SEC) at approximately 1:30pm CT on Thursday in the second round of the SEC Tournament at Bon Secours Wellness Arena.
The game will be broadcast on SEC Network and will be available online through WatchESPN. Courtney Lyle (PxP), Tamika Catchings (Analyst) and Steffi Sorensen (Reporter) will describe the action for the SEC Network broadcast of Tennessee's second-round game.
Fans can also tune into their local Lady Vol Network station to catch Mickey Dearstone describing the action.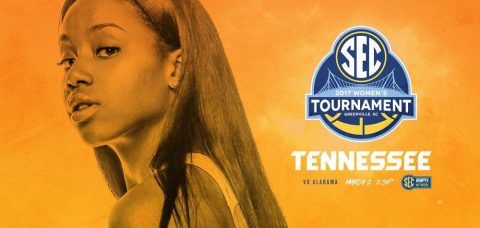 SEC Tournament Opener
#RV/RV Tennessee (19-10, 10-6 SEC) enters the 2017 SEC Tournament as the No. 5 seed and begins play at approximately 1:30pm CT on Thursday at Bon Secours Wellness Arena in Greenville, S.C.
The Lady Vols will face No. 12 Alabama (18-12, 5-11 SEC), who defeated No. 13 Vanderbilt, 77-57, in the opening round of the tournament.
UT enters the week on a three-game winning streak, with eight victories in its last 11 games, after knocking off #3/2 Mississippi State, 82-64, in Starkville, MS, during the regular season finale for both schools on Sunday.
Broadcast Information
Courtney Lyle (PxP), Tamika Catchings (Analyst) and Steffi Sorensen (Reporter) will describe the action for the SEC Network broadcast of Tennessee's second-round game.
The SEC Network will carry the first three rounds of the tournament, with ESPNU airing the semifinal match-ups on Saturday and ESPN2 broadcasting the championship game on Sunday.
All of the games included in the SEC Network (SEC Network, SECN+) package and the ESPN package (ESPN, ESPN2, ESPNU) will be available through WatchESPN, accessible online at WatchESPN.com, on smartphones and tablets via the WatchESPN app, and streamed on televisions through Amazon Fire TV, Apple TV, Chromecast, Roku, Xbox 360 or Xbox One to fans who receive their video subscriptions from affiliated providers.
Mickey Dearstone will handle the call for the IMG College/Lady Vol Network radio/online broadcast. Airtime is 30 minutes prior to tip-off on network stations.
Lady Vols Seeking No. 20 For 41st Time
Tennessee will be seeking its 20th win of the season when it faces off with Alabama on Thursday afternoon.
If UT emerges victorious, this would mark the fifth year in a row under Holly Warlick and the 41st straight season that the Lady Vols have reached the 20-win plateau.
Tennessee In The SEC Tournament
Tennessee enters Thursday's game with a 77-20 (.793) all-time record in the previous 37 years of the SEC Tournament.
UT is 33-4 in its opening game of the SEC Tournament, winning its debut contest the past 23 times.
Tennessee will be seeking to capture its league-leading 18th SEC championship trophy. UT was victorious in 1980, 1985, 1988, 1989, 1992, 1994, 1996, 1998, 1999, 2000, 2005, 2006, 2008, 2010, 2011, 2012 and 2014.
The Lady Vols were runners-up on six occasions, including 1982, 1990, 1991, 1995, 2003 and 2015.
UT has advanced to the title game in two of the past three seasons, winning in 2014 as a #2 seed, 71-70, over #4 Kentucky and falling as a #2 seed to #1 South Carolina, 62-46, in 2015.
The Big Orange women are 22-4 in SEC Tournament play since 2007-08.
Holly Warlick has forged an 8-3 record in SEC Tournament games as a fourth-year head coach, including 1-1 in title games.
Tennessee has had 15 SEC Tournament MVPs through the years, with a Lady Vol winning four of the last seven awards.
Isabelle Harrison (2014), Glory Johnson (2012), Shekinna Stricklen (2011) and Alyssia Brewer (2010) were the past four MVPs from Tennessee.
Holly Warlick was a senior point guard on the Lady Vol team that won the very first SEC Tournament title in 1980, defeating Ole Miss, 85-71, at Stokely Athletics Center in Knoxville.
Fourth Time As No. 5 Seed
Tennessee has never won a tourney title as a No. 5 seed, which the Lady Vols have been on three previous occasions (1986, 1997, 2009).
UT has a 4-3 tourney record as a No. 5 seed, advancing to the semifinals in 1997 and 2009 and falling in the second round in 1986.
Good Memories of Greenville From '05
This marks the second time Greenville has played host to the SEC Tournament.
No. 2 seed Tennessee defeated #1 seed LSU in the tourney title game, 67-56, on March 6, 2005, the last time the event was held here.
Shyra Ely was named the SEC Tournament MVP that year, while Shanna Zolman and Brittany Jackson joined her on the all-tournament team.
UT defeated Auburn in the second round (64-54) and Vanderbilt in the semifinals (76-73).
Warlick has South Carolina Ties
Holly Warlick's mom, Fran, was born in Anderson, SC, which is approximately 30 miles southwest of Greenville.
Holly lived in Anderson until she was two years old, when the family moved to Jacksonville, FL, and later Marietta, GA, before settling in Knoxville, TN in 1962.
Her brother, Will, lives in the Palmetto State.
Trish Roberts Is UT'S 2017 SEC Legend
Lady Vol all-time great Patricia "Trish" Roberts is Tennessee's 2017 SEC Women's Legend.
She will be recognized at halftime of UT's game on Thursday and at the half of the first semifinal game on Saturday.
Roberts helped lead Tennessee to a 28-5 record in 1976-77 and was part of the school's first-ever AIAW Final Four team, a squad that finished third nationally. That team helped propel the Lady Vols to the forefront of women's college hoops.
The 6-foot-1 forward/center became UT's first-ever Kodak All-American in 1977 after she averaged 29.9 points and 14.2 rebounds per game and shot 65 percent from the field. Those remain school records, as do her efforts for most points in a game (51), most points in a season (987), most field goals in a game (24), most field goals in a season (428), highest field goal percentage in a career (64.7%), most rebounds in a game (24) and most rebounds in a season (467).
Roberts was a U.S. Olympic silver medalist in 1976, played in the 1978 World University Games and was captain of the 1979 U.S. National Team. A professional playing career followed, as did a lengthy career as a coach in both the college and professional ranks.
Roberts is an inductee to the Women's Basketball (2000), University of Tennessee (2003) and Georgia Sports Halls of Fame among others.
Big Orange Tailgate Tour
The UT Office of Alumni Affairs' Big Orange Tailgate Tour: Lady Vols Edition will roll into Greenville and call the Carolina Ale House, located at 113 S. Main, its Lady Vol headquarters for the SEC Tournament.
Pregame festivities are set to take place from 10:30am to 12:30pm on Thursday.
If the Lady Vols advance, additional events would be slated for Friday (10:30am-12:30pm), Saturday (2:00pm-4:00pm) and Sunday (Noon-2:00pm).
Located about 10 min. (approx. one mile) from Bon Secours Wellness Arena, participants may park for the game and then join the gathering. Guests may order from the menu.
One Of Three To Beat Four Top-10 Teams
Tennessee is one of only three teams this season who have beaten four or more top-10 teams, and UT was unranked in all four wins.
Included are wins over two top-5 teams, marking the first time the Lady Vols have done that in a season since 2004-05 (two also).
The four top-10 wins are the second most during the Holly Warlick era behind five in 2014-15.
UT had two wins over top-10 teams a year ago, including vs. #9/9 Ohio State (78-62) on March 25th in the NCAA Sweet 16 and at #7/7 Oregon State (53-50) on December 19th.
The Lady Vols came from 11-down to defeat #10/10 Stanford in Knoxville on December 18th (59-51). UT came from 15-down (14 in the third quarter) to beat #6/6 Notre Dame in Knoxville on January 16th (71-69). UT also came from nine down to defeat #4/4 South Carolina in Columbia on January 30th (76-74) and cruised past #3/2 Mississippi State on Senior Day in Starkville on February 26th (82-64).
The others team accomplishing that feat are South Carolina (4) and UConn (4).
South Carolina, which Tennessee defeated in Columbia, has four top-10 wins, including #7 Ohio State, #4 Louisville, #9 UCLA and #4 Mississippi State.
UConn has beaten four who were ranked in the top-10 at the time, including #2 Baylor, #2 Notre Dame, #4 Maryland and #6 South Carolina.
Sizing Up The Lady Vols
Tennessee ranks #15 in the most recent NCAA Women's Basketball Rating Percentage Index (RPI).
The Lady Vols stand #5 in the latest NCAA Toughest Schedule Report behind UConn, Notre Dame, Texas and Kentucky.
The February 28th edition of Charlie Creme's Bracketology has the Lady Vols playing in College Park, MD, as a No. 6 seed facing #11 seed Dayton in the first round of the NCAA Bridgeport Regional.
UT and South Carolina have played the most ranked teams of any SEC schools (8), and UT has the second most wins over ranked teams (5) and is tied for the most over top-10 teams (4) in the league.
South Carolina is 7-1 vs. AP-ranked teams, while UT is 5-3, Kentucky is 3-4, Texas A&M is 3-3, Missouri is 3-4 and Mississippi State is 2-3. USC is 4-1 vs. top-10 teams, while UT is 4-2.
Tennessee vs. Alabama
Tennessee is 0-1 vs. Alabama this season.
Bama defeated UT, 65-57, on February 16th in Tuscaloosa. The Lady Vols played almost the entire game without Diamond DeShields, who was taken from the court on a stretcher and to a local hospital in the opening minutes of the game.
The Lady Vols have a 9-2 record vs. Alabama in the SEC Tournament, last playing in 2009 in tourney play.
UT, also a No. 5 seed in 2009, won that first-round contest over #12 Bama, 68-49, in Little Rock on March 5th.
Coming Up On The Schedule
The winner of the Tennessee vs. Alabama game advances to the quarterfinals and will meet No. 4 seed Kentucky (20-9, 11-5 SEC) at approximately 1:30pm CT on Friday.
UT-Alabama Series Notes
The Lady Vols hold a 49-4 all-time record vs. Alabama, dating back to January 22nd, 1977.
Tennessee is 9-2 vs. Alabama at neutral sites.
Against the Tide, the Lady Vols are 22-0 in games played in Knoxville and are 18-2 in Tuscaloosa.
UT is 16-1 vs. Alabama in Coleman Coliseum, losing for the first time there earlier this season, when Alabama won, 65-57, on February 16th.
From 2011-16, Crimson Tide women's basketball played in Foster Auditorium, where UT was 2-1, including a 54-46 loss on February 25th, 2016.
That loss in 2016 ended a 42-game UT win streak.
Prior to that victory, the last Alabama win was on March 3rd, 1984, at the SEC Tournament in Athens, GA, by a score of 85-66.
The other came at the 1981 SEC Tournament, as the Tide knocked off #10-ranked Tennessee, 77-71, on January 30th.
First-year Tennessee assistant coach and recruiting coordinator Sharrona Reaves played at Alabama (1995 grad.) for head coach Rick Moody.
Tennessee Vice Chancellor and Director of Athletics Dave Hart played basketball for the Crimson Tide and is a 1971 Alabama grad.
Diamond DeShields has been held scoreless in her last two games vs. Alabama.
About the Alabama Crimson Tide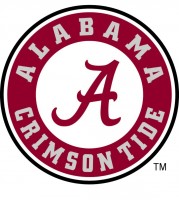 The Crimson Tide finished 17-12, 5-11 in SEC play this season, going 2-2 in its last four games entering the tournament .
Meoshonti Knight leads Alabama in scoring at 11.3 per game, followed by Hannah Cook at 11.2.
Alabama returned four starters and seven total letterwinners from a squad that went 15-16 last season.
The 2015-16 unit placed 12th in the SEC with a 4-12 record but claimed a win over Tennessee.
Alabama was picked to finish 13th in both the AP and Coaches SEC Preseason Polls this year.
Kristy Curry is in her fourth season at Alabama, sporting a 57-61 record. She is 366-210 overall in her 18th year of coaching, with an NCAA Final Four appearance in 2001 while at Purdue.
Brian Johnson, who joined the Alabama staff on May 10th, 2016, as coordinator of player development, recruiting and video operations, previously served on the Tennessee staff as a manager for Holly Warlick.
Last Meeting Between UT and Bama
Schaquilla Nunn recorded her first double-double of the season, but it wasn't enough as Tennessee fell short against Alabama, 65-57, at Coleman Coliseum on February 16th, 2017.
Nunn finished with 15 points and 15 rebounds to lead the Lady Vols (16-10, 7-6 SEC). Mercedes Russell and Alexa Middleton also cracked double-digit scoring, with 17 and 14, respectively.
Coco Knight led the Crimson Tide (16-10, 4-9 SEC) with 18 points and eight rebounds. Hannah Cook finished with 16 points and nine rebounds.
The Lady Vols' offense took a blow early in the game. Diamond DeShields, UT's leading scorer, went down with an injury in the middle of the first period and was out for the remainder of the game. Jaime Nared got in early foul trouble and had to sit the majority of the first half.