Nashville, TN – The National Weather Service in Nashville says cold air will filter into the Clarksville-Montgomery County and change rain this afternoon into snow tonight across the mid-state.
While the higher snowfall amounts will likely be relegated to the southern Cumberland Plateau region, the rest of Middle Tennessee can expect to see anywhere from a dusting up to 1 inch of snow.
Snowfall could begin as early as 9:00pm and begin to trickle off after 3:00am Sunday morning.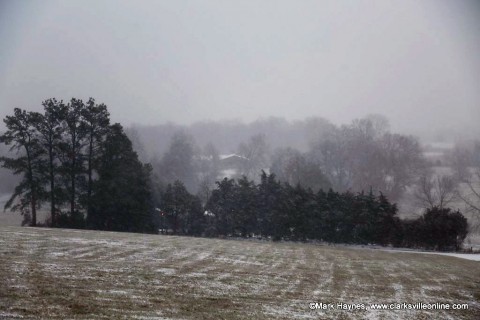 Temperatures will rebound rather quickly Sunday morning.
Together with expected sunny skies, any snow on the ground will melt quickly.
Therefore, any travel impacts should be short lived, however some slick spots on area roads could occur prior to sunrise.
Counties Affected
Stewart County, Montgomery County, Robertson County, Sumner County, Macon County, Clay County, Pickett County, Houston County, Humphreys County, Dickson County, Cheatham County, Davidson County, Wilson County, Trousdale County, Smith County, Jackson County, Putnam County, Overton County, Fentress County, Perry County, Hickman County, Lewis County, Williamson County, Maury County, Marshall County, Rutherford County, Cannon County, De Kalb County, Wayne County, Lawrence County, and Giles County.