Sounds avoid back-to-back shutout losses with run in eighth inning
Nashville, TN – The Nashville Sounds' bats remained silent for the second consecutive night as they were defeated 8-1 by the Oklahoma City Dodgers. The Sounds lit up the scoreboard in the eighth inning to snap a streak of 16 consecutive innings without scoring a run.
Justin Masterson (1-0, 2.25) was masterful on the mound for the Dodgers (4-4). The Sounds (3-5) had no answer for the 32-year-old who gave up just two hits in five innings of work and fanned five batters on just 69 pitches.
The Dodgers opened the scoring in the second inning off Zach Neal (0-1, 4.15) when third baseman, Rob Segedin, led off the inning with a base hit and came around to score on a Brett Eibner sacrifice fly to left field.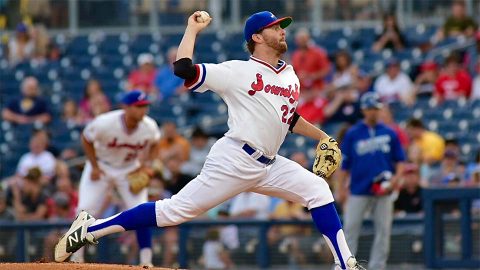 Oklahoma City extended its lead in the next inning when Dodgers top prospect, Cody Bellinger launched a ball into the seats in right center field.
In the top half of the fifth inning the Dodgers hitters continued to put bats on balls. Chris Taylor legged out a infield base hit and advanced to second after Renato Nunez's errant throw. The error also allowed Bobby Wilson to move up to third base after he was walked with one out in the frame. Left fielder, O'Koyea Dickson then scorched a ball past Nunez and down the left field line to double the Dodgers' lead.
Neal wrapped up his evening after 4.2 innings having surrendered four runs on five hits and passed the ball to Tucker Healy (0-1, 2.08) who stuck out three and walked two in 1.2 innings of work.
The eighth inning rolled around and the Dodgers' lead swelled to 8-0. Aaron Kurcz (1-1, 5.79) began the inning and allowed back-to-back singles by Segedin and Alex Verdugo before being replaced by Ross Detwiler who immediately allowed an RBI single from Willie Calhoun. Chris Taylor then ripped a two-run double down the left field line.
In the home half of the eighth, Nashville finally plated a run. Andrew Lambo drilled a double into the left center field gap to begin the frame. Kenny Wilson followed that up with a base hit of his own to put runners on the corners. Franklin Barreto drove in his team-leading eighth run of the season with a line drive single to left field.
The Sounds and Dodgers will wrap up their four game series Friday night at First Tennessee Park. Right-hander Cesar Valdez (1-0, 3.60) starts for the Sounds against right-hander Jair Jurrjens (1-0, 1.50) for the Dodgers. First pitch is scheduled for 6:35pm.
The 2017 season is the Sounds' 40th in franchise history and their third as the Oakland Athletics' top affiliate. Season ticket memberships are available now by calling 615.690.4487 or by visiting www.nashvillesounds.com