State project will improve water quality and park's design
Clarksville, TN – Work is expected to begin soon on two projects to improve Swan Lake, one of the attractions at Dunbar Cave State Park in Clarksville.
The Tennessee Department of Environment and Conservation released a conceptual plan recently that outlines the two projects. One is a water quality project to restore the lake, and the second is a dam repair project in and around the Swan Lake spillway.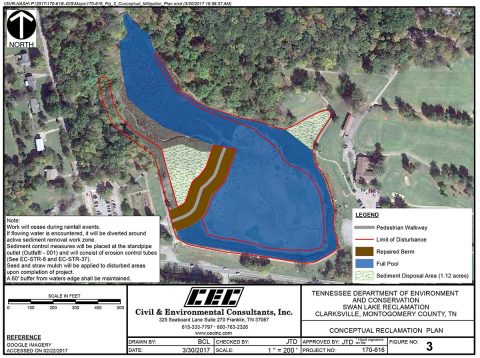 "The goal of these projects is to reestablish healthy water quality in Swan Lake, an area that Clarksville residents have enjoyed for over 50 years, as well as provide a more functional design for Dunbar Cave State Park," said TDEC Deputy Commissioner of the Bureau of Environment Shari Meghreblian.
The first project is being performed by TDEC; the second is via STREAM – the State of Tennessee Real Estate and Asset Management Division within the Department of General Services.
"We are pleased TDEC is moving forward with these necessary improvements to Swan Lake," Clarksville Mayor Kim McMillan said. "While the lake is part of Dunbar Cave State Park, and under state control, we know the cave and lake are unique recreational assets for families in the City of Clarksville, as well as for visitors from across Tennessee and beyond.."
Swan Lake is a man-made reservoir in front of Dunbar Cave and adjacent to the City of Clarksville's Swan Lake Golf Course. The lake is part of Dunbar Cave State Park, which is owned by the State and managed by TDEC.
According to TDEC, the lake has seen a slow accumulation of sediment, which has affected water quality, recreational use and wildlife habitat. Over time, the spillway started leaking, and this problem was made worse by the 2010 flood, making it difficult for the lake to maintain a suitable water level.
Under the plan released by TDEC, sediment will be removed, but the pool of the lake will be reduced by about 15 percent, allowing more area to be managed as park space with additional wetlands. A new berm and walkway will be built, extending from near the interpretative center into the lake. A 60-foot buffer from water's edge will be maintained.
The dam repairs will include installing sediment measures, known as erosion control tubes, at the standpipe outlet near the spillway. Both projects are slated to begin this summer and be completed by fall 2017.