Written by Maria Yager
Blanchfield Army Community Hospital Public Affairs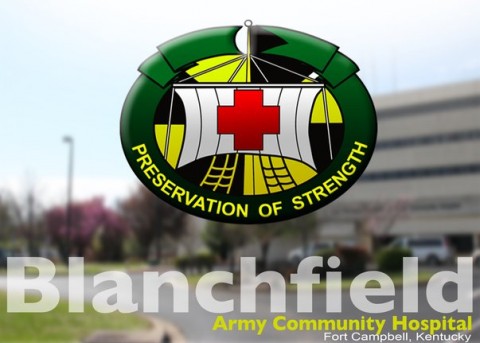 Fort Campbell, KY – Blanchfield Army Community Hospital medical service corps officers organized a 100th anniversary celebration for all MSC officers at Fort Campbell June 29th, 2017.
"The event today, celebrating 100 years of medical service to our Army, was a humbling experience. It was an honor to spend it with the Medical Service Corps officers serving here at Fort Campbell," said Col. Anthony L. McQueen, BACH commander and senior MSC officer at Fort Campbell.
Established June 30th, 1917, the medical service corps was initially named the World War I Sanitary Corps. It was created to relieve doctors from administrative, technical and scientific duties. Today, that mission continues as more than 4,300 Soldiers fill the MSC ranks.
"Medical Service Corps officers serve a vital role at the battalion level as medical platoon leaders or at the brigade or division level serving as medical plans and operations officers; brigade medical supply officers; aeromedical evacuation officers; and preventive medicine officers," said McQueen.
Covering 24 distinct areas of concentration within the Corps, MSC officers today bring a variety of capabilities to the fight. At BACH, they are running the day-to-day administrative duties for the facility, enabling patient care, managing medical logistics operations, running the pharmacy, laboratory, optometry and nutrition services.
According to McQueen, MSCs bring a tremendous amount of skill to BACH and to Fort Campbell. On post, MSCs work in operational units such as a Brigade Combat Team, Combat Aviation Brigade, and a Combat Support Hospital. Their responsibilities involve unit medical readiness and being prepared to deploy in support of operations where they will provide medical care and execute medical evacuations for wounded service members from the battlefield.
"We go down to the combat units and we pick up wounded patients and we either evacuate them by ground or by air to a combat support hospital or all the way up to a hard standing hospital, said MSC and platoon leader, 2nd Lt. Gregory Tarman, Jr. 626th Brigade Support Battalion, 3rd Brigade Combat Team.
Tarman, the junior MSC officer present at the ceremony joined McQueen to cut the anniversary cake. According to tradition, the most senior officer is invited to cut the cake, signifying honor and respect accorded to experience and seniority. The junior-most officer is also included to signify the MSCs commitment to nurturing and developing junior MSCs who will one day fill the senior ranks.