APSU Sports Information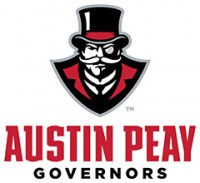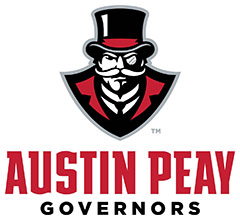 Clarksville, TN – Pairings have been announced for Friday's Austin Peay State University/Echo Power Engineering Governors Golf Classic fundraiser, presented by Hand Family Companies and the APSU Governors Club, is set for August 4th, 2017 at the Clarksville Country Club and Swan Lake Golf Course.
New this year is a Women's Division, which includes breakfast at the course courtesy of Bojangles, teeing off at 8:00am at the Clarksville Country Club. The Open Division – lunch included, with Dairy Queen provided on the course – tees off at 12:30pm from both courses.
Following golf, participants can join Austin Peay coaches and staff for a Partner Celebration Dinner at the Clarksville Country Club, sponsored by Outback Steakhouse, Texas Roadhouse, Nicoletta Catering, Chartwells and Bojangles.
Dinner is open to all golfers, community and corporate partners, with donated items from Austin Peay sponsors available for bid via silent auction. Cindy McElroy and Ivan Colon will provide the evening's musical entertainment.
2017 APSU Governors Golf Classic Pairings
Women's Division – 8:00am – Clarksville Country Club

1
Donna Ruggles, Lynn Osborn, Karen Richards, Dottie Dube
18
Cindy Taylor, Tonya Wells, Gena Deere, Christy Glaser
17
Paula Palmier, Marcy Maurer, Cinda Haddon, Linda Devine
16
Sharon Grimes, Nancy Howell, Sun Swanson, Jane Brake
15
Lindsey Radcliff, Kelsey Schutt, Holly Batey, Tala Mumford
14
Margaret Jones, Path Bath, Missy Rye, Joy Ogles
13
Cheryl Holt's team
10
Larae Davenport, Mary Beth Morgan, Michelle Martin, Patty Shaffer
9
Margie Turner, JoAnn Baggett, Sherry Pennington, Mallory Saleh
Open Event – 12:30pm – Clarksville Country Club

1
Bert Covington, Jamie Webb, David Chesney, Doug Weiland
1A
Tom Creech, Kyle Luther, Eric Hawkins, Jim Jobe
2
Landon Brake, Larry Dean, John Towell, John Wallace
3
Steve Griffy, John Hadley, Clark Nicholson, Jamie Lankford
4
Greg Goodley, Taylor Goodley, Ashton Goodley,
4A
Matt Bucy, Bradley Sandifer, Antonio Murgas, Jeremy Means
5
Todd Peters, Terry Yarbrough, Rich Taylor, TBA
5A
Phillip Hagewood, Rick Scott, Jim Durrett, Brian Barger
6
Steve Glass, Curry Glass, Bryan Smith, Mark McClintoch
7
Rudy Johnson, John Morgan, David Gregory, Dave Loos
7A
Edmound Terrell, Ron Morton, Dickie Rye, Dan Rohlston
8
Hal Matthews, Stephen Oaks, Doyle Robertson, Riley Cooper
9
Steve Kemmer, Tom Parnin, Marty Martin, Alex Martin
9A
Mark Ethridge, Jennifer Ethridge, Dean Webster, Michelle Webster
10
Don Jenkins' Team
10A
Hayes Wellington, Derek Heiar, Josh Lewis, Matt Hinton
11
Dewey Browder, Mitch Robinson, David Kanervo, Al Irby
11A
Jostens' Team
12
Tom Kane, Tom Denney, Rick Hackwell, Brian Dever
13
John Harris, Stephen Wofford, Tim Wheeler, Johnny Baggett
14
Joe Maynard's Team
14A
Billy Wall, Matt Sinks, Will Adams, Jacob Kasbrick
15
Harold Ragor, Richard Shifflett, Brad Ragor, Joey Wells
15A
Scott Candrige's Team
16
Kelly Napier's Team
17
Jim Hite, Michael Patterson, Harold Stafford, Tom Oliver
18
Lance Morgan, Seth Morrision, Josh Jones, Max Green
18A
Jeff Waggoner, Boone Myers, Michael Massey, James Pitman
Open Division – 12:30pm – Swan Lake GC

1
Doug Griffen, Drew Cole, David Midlick, Ryan Ivey
1A
Ken Goble's Team
2
Casey Shepherd, Lamar Clift, Bobby Morgan, Jimmy Mann
3
Terry Griffen, Chris Davis, Jonathan Sewell, Kurt Keene
4
Coy Baggett, Dan Molan, Alfred Byard, Dicky Seay
5A
Kevin Judish, Jack Pruitte, Pat Sawyer, Price Hopson
5B
Alan Groves' Team
6
Josh Baggett, Mike Hyams, Rusty Hagenbuch, Trevor Brittingham
7
Jeff Burkhart, Jerry Myers, Burt Singletary, TBD
8
Len Rye's Team
9A
Harold Roberts' Team
9B
Sean Craft's Team
10A
Wayne Ard, John Hadley, Bobby Hancock, Bobby Perdue
10B
Billy Hadley's Team
11
Gail Scillian, Tom Scillian, Livy Leavell, Brian Duerr
12
Chick Fil A's Team
13
Russell Crosby, Lynn Crosby, Ron Molnar, Judy Molnar
14A
Aaron Hayes, Doug Hayes, Matt Monday, Corey Cornell
14B
Tommy Bates, Ryan McIntyre, Rick Cabrera