APSU Sports Information

Murray, KY – After two overtime matches last weekend, the Austin Peay State University women's soccer team dropped a close match with Murray State, Thursday, in the Heritage Bank Battle of the Border.
The Governors defense was busy most of the afternoon, fending off five corners and 23 shots in the Govs final road match of the season.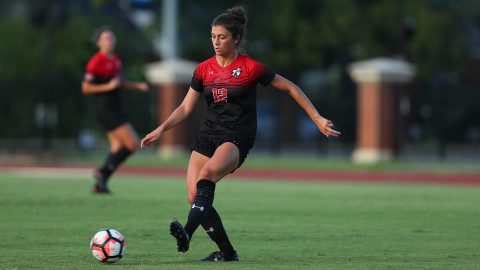 Murray State had several early breakaways stopped by sophomore keeper Mary Parker Powell who managed to cut down the angle on a Racers forward three one-on-one chances.
Powell made a diving save to keep the match even in the 33rd minute when Murray State possessed the ball at the top of the 18-yard box and managed to get a shot off between defenders. Powell again came to the rescue on a bouncing ball inside the six-yard box when she made a stop on a point blank shot from a Murray State attacker.
The second-half opened with both teams looking to play forwards in over the top of the backline as players sprinted end-to-end looking to break the 0-0 deadlock. The Govs had several set pieces early in the second period, but were unable to get it through the stingy Murray State defense.
On the other end freshman Abby Therrell worked to shut down the Racers leading scorer Harriet Withers, who had 14 goals on the season coming into the match.
The Racers opened the scoring in the 80th minute when Emma Heise tracked down a blocked shot slotting past the defense and into the back of the net.
The Governors pressed numbers forward, but were unable to find an equalizer before time expired.
Notably
The scoreless first-half is the eighth time this season that the Govs have blanked their opponents in the opening period.
Powell pulled in 8 saves bringing her season total to 48 in her 14th straight start.
The Govs are one of five teams to hold Withers scoreless this season.
Midweek Warriors: Powell, junior Jennifer Smith, sophomore Renee Semaan and freshman Abby Therrell played all 90 minutes after a short week to recover from two overtime matches.
Up Next for APSU Soccer

The Govs will return home to Morgan Brothers Soccer Field for the regular season finale 1:00pm Sunday, October 22nd against Morehead State.