Clarksville, TN – On September 19th, 2017 around 9:20pm, Clarksville Police responded to a call about a child in pajamas, walking barefoot in the area of Tiny Town Road and Needmore Road.
When officers arrived in the area, they were flagged down by Mr. Willie Austin who told them he had found the 10 year old male walking on Needmore Road in the dark without any adult supervision.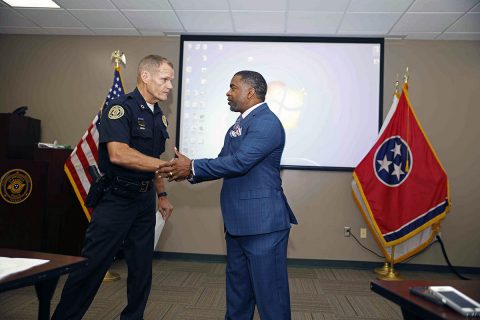 Mr. Austin was able to convince the child to get into the car with him and his wife and then contacted Police.
The officer observed the child was frightened, did not know where he lived, or his current location. The child provided a phone number so officers could contact a parent. It was later determined the child had left the house without his parent's knowledge.
Chief Ansley, Clarksville Police Department, presented a Citizen Commendation to Mr. Willie Austin which read:
"For your unselfish willingness to help an autistic child who was alone, lost, walking barefoot, and wearing pajamas on Needmore Road in the nighttime hours on September 19th, 2017. Needmore Road is an extremely busy roadway with a large volume of traffic and the potential for disaster for a child walking alone nine o'clock in the evening was extremely high.

Through your patience and kindness, you were able to convince the child to get in your car and be transported to a safe area until Police arrive enabling the child to be reunited with, without harm or injury, with his family. On behalf of the Clarksville Police Department, I commend you for your actions and extend a sincere thank you for your valuable assistance".
Mr. Willie Austin was presented the commendation at CPD Headquarters, October 13th, 2017.