Clarksville, TN – During a special alumni awards ceremony on Saturday, October 21st, 2017, Austin Peay State University honored six distinguished individuals as part of its 2017 Homecoming celebration.
This year's honorees were Outstanding Service Award recipients Joe Shakeenab ('04) and Dave Loos; Outstanding Young Alumnus Award recipients Trent Caffee ('11) and John Swigart ('00); and Outstanding Alumni Award recipients Steve Harmon ('83) and Mike Krause ('07).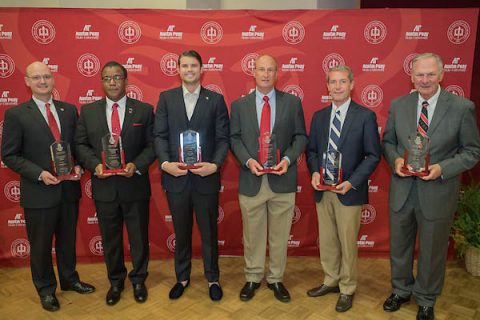 Joe Shakeenab
A 2004 graduate of Austin Peay State University, Shakeenab is a passionate builder of young adults, especially in the area of character development.
Through his business, Shakeenab Consultant Services, Shakeenab uses the insightful sessions of engagements and continued interactions to groom the current and next generation of sustainers and leaders. He conducts training sessions to create growth that elevates individuals, organizations and aspects of the community.
Former U.S. Special Forces, Shakeenab spent 20 years of service with the 5th Special Forces Group as a Green Beret. During his years of military service, he traveled extensively to the Middle East and the Horn of Africa, training others to influence their conditions in order to facilitate better opportunities. Today, he continues to apply this concept of higher order thinking, especially when presenting to and coaching our young adults.
Shakeenab continues to serve both Clarksville and APSU in a number of roles, including serving as president of the APSU Military Alumni Chapter and as vice president of the APSU National Alumni Association.
In these roles, Shakeenab has led a number of initiatives, including the creation of two endowment scholarships at $25,000 each over a three-year period: The Military Alumni Chapter Scholarship and the CSM(R) Sidney Brown Scholarship. Shakeenab also has served as vice president of the Montgomery County Veterans Coalition, as well as chair of the advisory board of L.E.A.P. Organization Clarksville, supporting area youth with structured mentoring and personal development.
Shakeenab earned a Master's in strategic leadership from APSU in 2014.
Dave Loos
Loos, known as the "Dean of the Ohio Valley Conference" during his 27-year coaching career, retired as head coach of the APSU men's basketball team following the 2016-17 season. The winningest coach in APSU and OVC history, he accumulated 420 victories at Austin Peay to go along with four OVC Tournament championships, five OVC Coach of the Year honors, four NCAA Tournament appearances and six 20-win seasons.
Only the second coach in program history to lead Austin Peay to both an OVC regular season title and an NCAA Tournament berth, Loos finished his 31-year coaching career with 502 victories.
For more than 16 years, Loos helped APSU thrive off of the court, serving as the University's athletics director in addition to his coaching duties. Before stepping down from the position in 2014, his dual role aptly pointed out the respect Loos garnered both on and off campus. He applied the same common-sense approach to his athletics director's duties that have been representative of his APSU basketball tenure.
To honor such achievement, then-outgoing APSU president, Dr. Sherry Hoppe, at the behest of several longtime basketball supporters, named the basketball floor Dave Loos Court. Loos was inducted into the Austin Peay Athletics Hall of Fame in February 2008.
Trent Caffee
Caffee is a senior trader with the Dorado Trade Group, a full-service trading group focused on physical metals trading by making a two-way market in all major gold, silver, platinum and palladium bullion products. Prior to that, he worked with Elemental Capital as a trader of precious metals.
An accomplished football coach, Caffee has worked in a number of positions for a number of programs, including a stint as quarterback coach at Austin Peay State University from 2011-12. Caffee has also coached wide receivers and special teams for two Texas high school programs, as well as serving as a wide receiver coach for USA Football's U-16 team.
A four-year letter winner for Austin Peay State University, Caffee was a 2010 team captain for the Governors, as well as an Ohio Valley Conference Offensive Player of the Week and a two-time Athletic Director's Honor Roll member. While a student, Caffee was a founding member and offensive of the Alpha Tau Omega fraternity. Caffee graduated from Austin Peay in 2011 with a bachelor's degree in health and human performance.
John Swigart
Swigart is the president of Spartan Chemical Company, Inc., a recognized leader in the formulation and manufacture of sustainable cleaning and sanitation solutions for the industrial and institutional market. Swigart graduated from Austin Peay State University in 2000 with a bachelor's degree in marketing.
Swigart began his career with Spartan in 2000 as an area sales representative working with distributors in Clarksville. He would be quickly promoted to distributor relations manager, working his way through the company before being appointed to Spartan's board of directors in 2007.
In his current role, he is responsible for the development and implementation of the company's strategic direction. He also serves as president for Spartan do Brasil, Spartan's wholly owned subsidiary in Campinas, Brazil, and works closely with the company's international affiliates.
Passionate about advancing the professionalism and success of the cleaning industry, Swigart has held various leadership positions for the industry's principal trade association, ISSA, including board appointments. Swigart is also active in the local community and serves on the board of directors for the Toledo Mud Hens, Toledo Walleye and the Inverness Golf Club.
Steve Harmon
Harmon is editor of Morning Read, a golf newsletter that targets over 1 million golf industry insiders and consumers. In his role, Harmon steers the editorial direction of the newsletter, as well as manages a network of freelance writers. Before joining Morning Read, Harmon served as deputy editor, and later, editor of Golfweek Magazine from 2007-2016.
At Golfweek, Harmon served as a news and assignment editor for the magazine's editorial staff, covering major professional golf tours, as well as college, amateur and junior tours.
From 1993-2007, Harmon served in a number of positions with the Orlando Sentinel, including senior desk editor, senior desk chief and news production editor, a position he held from 1998-2007. In that role, Harmon supervised a 40-person universal desk that edited and designed more than 50 news, business and feature sections weekly.
A veteran news writer, Harmon has worked for a number of newspapers, including the Cincinnati Post, the Winston-Salem Journal, the Asheville Citizen-Times and the Kentucky New Era. Harmon got his start in sports journalism at APSU, serving as sports editor for The All State for three years.
Harmon graduated from Austin Peay State University in 1983 with a bachelor's degree in political science. A three-year letterwinner ('80-'82) on the Govs' men's golf team, Harmon was a member of the program's 1979 OVC championship team.
Mike Krause
Krause was appointed as the Executive Director of the Tennessee Higher Education Commission and Tennessee Student Assistance Corporation by Tennessee Governor Bill Haslam in August 2016.
Prior to assuming this role, he served as the founding Executive Director of the Tennessee Promise and Drive to 55, where he coordinated the launch of the nation's first free community college program and an array of other programs focused on increasing state higher education attainment.
During the Tennessee Promise launch, he led work to build an entirely new outreach structure for 74,000 high school students, prepare a financial aid pipeline to support disbursement of $33 million annually, and traveled tens of thousands of miles across the state to ensure students and communities understood the opportunity that lay ahead.
Krause previously served as the assistant executive director at the Tennessee Higher Education Commission. His work at the Commission focused on reducing the need for math remediation at community colleges, enhancing access to higher education via technology, and bridging the gaps between K-12 and postsecondary education.
Krause served eight years in the U.S. Army and Tennessee Army National Guard, where he completed three combat tours with the 101st Airborne Division and was awarded the Bronze Star Medal during Operation Iraqi Freedom. An eighth generation Tennessean, Krause earned his bachelor's degree in public administration from Austin Peay State University in 2007.
The October 21st Alumni Awards Lunch also served as an opportunity for alumni and friends to meet and mingle. For more information on the event or this year's award recipients, contact Alumni Relations Office at 931.221.7979 or 1.800.264.2586.