APSU Sports Information
Clarksville, TN – Austin Peay State University's Volleyball team's Ashley Slay and Brooke Moore had 17 kills apiece but the Govs saw its nine-match win streak halted in a four-set (25-19, 19-25, 21-25, 21-25) contest against Murray State, Wednesday night at the Dunn Center.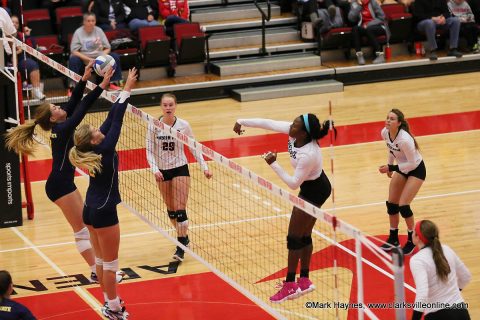 Austin Peay (26-5, 13-2 OVC) rolled late in the first set, using a 8-1 run to turn a 12-12 tie into a 20-13 Govs lead with Slay providing three kills during the burst.
Austin Peay would churn out 16 kills in the set, Slay finishing with nine kills, while holding Murray State to 13 kills.
Murray State (19-8, 11-4 OVC) turned the tables in the second and third sets. In the second frame it was a 9-2 Racers run that turned the set around while in the third they used an early 6-1 run to build an 8-5 lead they would nurse to the finish line.
Murray State never trailed in the fourth set, fending off a pair of late Governors bursts to hold on for the win.
Moore's 17-kill performance was her best in an OVC match this season and she tacked on 13 digs. Slay's 17-kill outing was her second-best effort in league action this season, her .378 attack percentage extending her streak to seven consecutive contests hitting .300 or better.
Murray State's Rachel Giustino led all hitters with 18 kills and tacked on a match-best 29 digs. Rachel Holthaus added 15 kills and Dacia Brown chipped in 14 kills.
Set by Set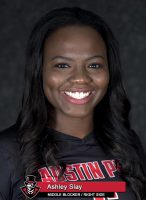 SET 1 | GOVS 25-19
Murray State opened with a 5-2 run but slowly Austin Peay reigned in the visitors, tying the set for the first time at 7-7. After three more ties, the Govs gained control with a 8-1 run to take a 20-13 lead with Slay providing three kills in the burst. Austin Peay exchanged points the rest of the way to win 25-19.
Slay opened with an impressive nine-kill, .667 attack percentage mark as the Govs notched 16 kills in the opening frame.
SET 2 | RACERS 25-19
Neither team enjoyed a comfortable margin in the second set until the Govs scored three straight points to take a four-point, 11-7 lead. But Murray State scored eight of 10 in a crucial stretch to take a 18-15 lead before closing with a 7-4 run to win 25-19.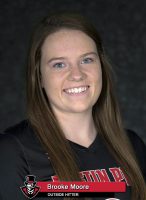 Brooke Moore paced the Govs with four kills in the frame but APSU was held to 15 kills and a .200 attack percentage. However, the Racers romped to 19 kills and a .319 attack percentage.
SET 3 | RACERS 25-19
Austin Peay and Murray State traded points early with five ties and three lead changes in the opening 10 points. The Racers gained some control with four-straight points, 8-5, but could only extend their lead to six points at 22-16. Austin Peay slashed the deficit to two points, 23-21, thanks to a 5-1 burst paced by two kills from Moore.
However, MSU's Giustino hit back-to-back kills to end the threat. Austin Peay posted its own 19-kill set but hit just .164 on the attack. Moore notched six kills to lead the Govs.
SET 4 | RACERS 25-21

While Murray State did not trail in the fourth, Austin Peay did not go quietly. The teams traded big runs down the stretch, Murray State opening with a 6-1 burst before the teams traded four-point runs. The Govs scored four of five to get withing two points, 23-21, but Katrirah Johnson had a kill and chipped in on a match-sealing block to end the Govs threat.
Austin Peay was held to 11 kills (.184 attack percentage) in the set but Murray State hit just .170 while scoring 15 kills.
Govs Notably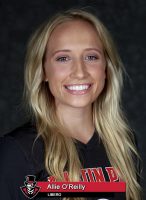 O'REILLY HITS 1,000
Entering the night needing just 16 digs to reach 1,000 career digs, Allie O'Reilly posted a career-high 32 digs. She opened the match with 13 digs in the first set alone and followed that with 10 kills in the second to hit the 1,000 dig mark. O'Reilly has 689 digs in two seasons at Austin Peay.
BIG DEFENSIVE NIGHT
The Governors 108-dig performance in the four-setter was their best in a match this season and not by a small margin. Austin Peay's previous best was 101 digs in five sets against Georgia State. APSU's previous four-set best was 93 against South Florida in September.
MOORE'S 17-KILLS
Moore backed up her second adidas® OVC Newcomer of the Week honor by posting 17 kills against Murray State, her best offensive effort in league play. It was her second best total in her rookie season, falling just shy of her 19 kills against Mercer in September.
ACES STILLED
After rolling to 58 service aces in its previous eight matches, Austin Peay was credited with just one ace against Murray State. They had been held to one ace only one other time this season, a four-set loss to Northern Iowa in August.
Next Up for APSU Volleyball
Austin Peay wraps up its regular-season slate with a 2:00pm, Saturday contest at Morehead State.
Photo Gallery