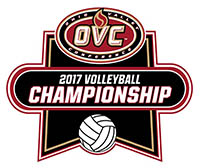 Clarksville TN – Third-seeded Murray State defeated seventh-seed Eastern Illinois, Friday, November 17th, 2017 at the Dunn Center, to advance to the Ohio Valley Conference Volleyball Tournament finals with a 3-1 (21-25, 26-24, 25-19, 25-17) victory.
Much like their quarterfinal match, Murray State (22-8) got off to a slow start despite jumping out to a quick 3-0 lead before Eastern Illinois (15-15) rallied back to take a 7-4 lead.
The Panthers would extend that lead out to as many as four points, 10-7, with Laurel Bailey picking up a couple of kills during the run. Bailey would lead the Panthers with 12 kills.
Murray State would make a charge to tie the game for the second time, 12-12, with Dacia Brown picking up two kills for the Racers, but the Panther followed with a 4-0 run to force a Murray State timeout trailing 16-12.
But the timeout did little to slow the Panthers, who built its lead out to as many as five points, 20-15 following an attack error by Murray State.
But the Racers keep on grinding, scoring four straight points points – including two aces by Courtney Randle — to tie the game for the third time, 20-20.
EIU kept its composure though, closing the opening set by scoring five of the final six points — including a block by Allie Hueston and Taylor Smith — for the decisive point in the 25-21 win to go up 1-0. Smith finished with 10 kills for EIU.
Set two begin like set one ended with EIU continuing its hot streak, running off the set's first seven points – including back-to-back kills from Bailey in the opening burst.
But Murray State would regroup, scoring seven of the next eight points – including two kills by Katirah Johnson — to cut the Panthers lead down to a single point, 8-7, forcing an EIU timeout.
The set would then become a back-and-fourth affair, with four ties and lead changes, before EIU got a little breathing room with 5-0 run to go up four, 16-12. Johnson was one of four Racers to record double-figures in kills, finishing with 11.
Murray State wouldn't go away though as they slowly clawed its way back to a one-point game, 21-20 following a kill by Rachel Holthaus to force an EIU timeout. Holthaus led Murray State with 15 kills and a .577 attack percentage.
But the Panther couldn't slow the Murray State charge, as the Racers rallied to Eastern Illinois, 26-24, to even the match at one set each.
Set three had the two teams both have a couple of mini runs to open thing up, before Murray State started to get on a roll by going up 8-4 and forcing an EIU timeout.
Murray State would extend its lead out to five points, 11-6, the Panthers would claw its way back into the lead by running off six straight points – including two kills by Taylor Smith — to take the lead 12-11.
The two team would trade the next five points before Murray State would put together a run of six out of eight points to take control of the set, 20-16, and forcing EIU into its final timeout.
But the dye had been cast in the set, with Eastern Illinois unable to stem the tide and Murray State taking the set, 25-19, to go up two sets to one.
Set four would see Murray State get out early, 3-0, but see EIU rally to tie the game three times before taking its first lead of the set, 9-8.
But that would be the final lead the Panthers would have with the Racers rolling down the stretch, including scoring the sets final five points for the 25-17 final and a 3-1 win.
Murray State will now face either top-seeded Austin Peay or fourth-seed Eastern Kentucky in the tournament final on Saturday, November 18th at noon in the Dunn Center.
Photo Gallery