APSU Sports Information

Clarksville, TN – Austin Peay State University women's basketball team fell to Morehead State 66-59, Saturday, in the final contest of their two-game homestand.
Both squads looked to be aggressive early down low, with Austin Peay (12-9, 5-5 OVC) feeding off of dribble penetration out of their four-guard set, scoring 12 points in the paint in the first quarter.
The trio of Bri Williams, Brianne Alexander and Arielle Gonzalez-Varner took over the Govs' offense in the first period, each scoring four points.
The Governors quickly made up the first quarter deficit going on a 9-0 run to start the second quarter.
The offensive explosion was led by back-to-back three-point shots by Falon Baker, and topped off with a deep shot by Shelbe Piggie that swished through the nets, giving the Govs a five-point advantage.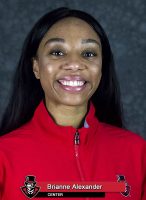 The second period was a tale of two runs, as the Govs held Morehead State to 1-14 shooting after the quarter break, only to have the Eagles go on a 10-point run of their own. Austin Peay's defense tightened up, and the Governors headed into the locker room down by five points.
Out of the halftime break, the Eagles doubled their lead before Brianah Ferby's and-one opportunity sparked the Governors offense. Alexander scored nine points in the third period, going 5-for-5 from the free throw line, as Austin Peay doubled Morehead State's points in the paint. Even with an early flurry of shots from the Eagles, the Govs pulled within three going into the final quarter.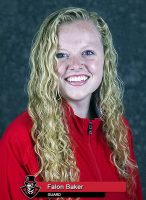 Despite a four-point lift from the bench and only one turnover in the last 10 minutes, the Governors could not pull away from Morehead State, falling to the Eagles 66-59, ending their five-game home winning streak in conference play.
Alexander led the Govs with 17 points and 11 rebounds, recording her second career double double. Coming off a career high 25 points against Eastern Kentucky, Baker posted 11 points, five rebounds and four assists in 35 minutes on the floor.
Keisha Gregory scored nine points and pulled down nine rebounds, while Bri Williams added four points, three assists and three steals.
Game Notes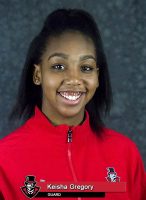 Alexander is 35-for-39 from the free-throw line in the last six games, shooting 89.7 percent to lead Austin Peay.
Alexander pulled down a season high six offensive rebounds.
Govs streak of shooting 50.0 percent or better during the third quarter ends at five games.
Alexander's double double is the second of her career, and the second for any Gov this season (Gregory 10 rebounds and 14 points at Lipscomb, November 26th, 2017).
The Govs recorded nine defensive rebounds in the second half, only giving Morehead State one offensive rebound in the final two quarters.
Two Governors scored in double digits: Alexander (17) and Baker (11).
Alexander had a season high 11 rebounds, while Gregory pulled in nine rebounds to go along with nine points.
Austin Peay had two leads in the game, a one-point advantage after Baker's opening free throw and a five-point lead after Piggie's three-point shot in the second quarter.
David Midlick's Musings
Third-quarter drought
"They had an 11-point lead and we called timeout and were able to cut it to three going into the fourth, I thought we got stops and only gave up one offensive rebound the whole second half and I thought we played good enough defense to give ourselves a chance in the second half."
Alexander's Outing
"She had a really strong performance, I know it wasn't a great shooting percentage, but she battled the entire game being a little under the weather and a double double speaks for itself."
Four-game Road Swing
"We have to get better for three-straight days before we head to UT Martin, we will obviously prepare for what they do offensively and defensively, but we have some things to clean up."
Next Up for APSU Women's Basketball

The Governors open a four-game road trip 5:30pm, Thursday, February 1st at UT Martin.