#11 Tennessee Lady Vols vs. Alabama
Thursday, February 15th, 2018 | 5:32pm CT
Knoxville, TN | Thompson-Boling Arena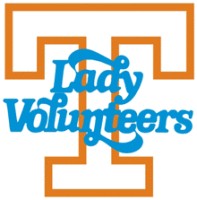 Knoxville, TN – No. 11/11 Tennessee (21-4, 9-3 SEC) closes out a two-game home stand Thursday, February 15th welcoming Alabama (15-10, 5-7 SEC) to Thompson-Boling Arena for another conference clash at 5:32pm CT.
The 55th meeting between the Lady Vols and Crimson Tide is an important one, as UT tries to maintain its second-place position in the league standings, while the Crimson Tide tries to improve its chances of earning an NCAA Tournament bid with a quality win on the road. The Lady Vols, who lead the series, 49-5, also look to end a three-game losing skid vs. Bama.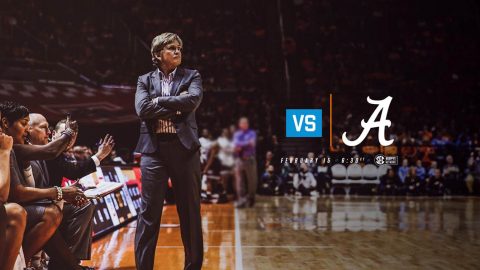 Tennessee has won four straight and five of its last six games to improve its position for seeding in the SEC and NCAA Tournaments.
The most recent feather in Tennessee's cap was a 62-46 win over #18/18 Georgia on Sunday afternoon in front of a "Live Pink, Bleed Orange" crowd of 12,523 in Knoxville, improving UT's record against ranked teams to 6-3 this season.
Alabama, meanwhile, has lost four of five and six of its last eight games after standing 13-4 following a 65-51 home victory over LSU on January 11th. The Crimson Tide went on the road to end a four-game skid on Sunday, edging Ole Miss in Oxford, 82-79, by outscoring the Rebels by 10 in the second half after trailing by seven at the break.
Broadcast Information
Paul Sunderland (play-by-play) and Debbie Antonelli (analyst) will describe the action for the UT-Alabama television broadcast on the SEC Network.
Mickey Dearstone is handling the call for IMG College/Lady Vol Network radio/online broadcasts for the 19th season. A link to the live audio stream can be found on each game's Hoops Central page or the Lady Vol schedule on UTSports.com.
Air time for games on the Lady Vol Radio Network generally occurs 30 minutes prior to tip-off.
Promotions For Thursday Night
Postgame autographs with Anastasia Hayes at section 116 on the concourse.
High-five tunnel for first 50 kids every game! Pick up a wristband for the tunnel at section 113 on the concourse.
Free parking & shuttle service from UT's Ag Campus.
Halftime performance by Something Ridiculous.
UT'S Upcoming Schedule
After facing Alabama to close out a two-game home stand, the Lady Vols will hit the road for two contests before returning home to close out the 2017-18 regular season slate.
On Sunday, the Lady Vols are in Columbia to take on #13/13 Missouri at 1:00pm CT (2:00pm ET) on ESPNU.
The Lady Vols then head to Gainesville on February 22nd to take on Florida at 6:00pm CT in a contest carried online via SECN+.
UT closes out the schedule on February 25th with South Carolina on Lady Vol Senior Day. Tip-off has been set for 3:00pm CT on ESPN2.
Remember Where We Started?
As we head down the stretch with UT at 21-4 overall, 9-3 in the SEC, No. 11 nationally and in second place in the league, it seems like a good time to recall the outlook Tennessee had at the beginning of the season.
UT was predicted to finish fourth in the SEC by the media and fifth by the coaches.
Tennessee opened the season ranked No. 11 in the AP Poll and No. 14 in the USA TODAY Coaches Poll.
UT had lost two starters and three other players with starting experience from last year's team.
Holly Warlick returned five players from a year ago, but only three with extensive minutes.
The Lady Vols welcomed five new players, including the No. 1-ranked 2017 signing class and a JUCO All-American coming off a redshirt year after having knee surgery.
Tennessee was coming off 22-14/8-8 SEC and 20-12/10-6 SEC records with league finishes of seventh and fifth, respectively, the past two years.
Bracketology
ESPN's Charlie Creme has UT projected for a No. 3 seed in the NCAA Tournament and slotted in the Lexington Regional in his February 12th edition of Bracketology.
Creme has the Lady Vols hosting a first round game vs. No. 14 American and meeting either No. 6 Oregon State or No. 11 South Dakota State in the second round.
The Latest On Tennessee
Rennia Davis was named the SEC Player of the Week on Feb. 12, averaging 22.0 ppg., 11.0 rpg. and 3.5 apg. It was her second honor this season.
Two other UT freshman (Evina Westbrook, Anastasia Hayes) have earned the honor this season as well, while Jaime Nared has twice been named the SEC Player of the Week.
Nared also was named the College Sports Madness National and SEC Player of the Week on two occasions this season.
Jaime Nared and Mercedes Russell have been included as members of the Wade Trophy Award Midseason Watch List and Citizen Naismith Trophy Late Season Watch List. Nared is among the top 10 for the Cheryl Miller Awards, while Nared is in the same company for the Lisa Leslie Awards.
Mercedes Russell crossed the 1,000-rebound mark vs. Georgia with her eighth rebound en route to 15 for the afternoon.
She stands one point short of 1,500 for her career.
Russell will become only the sixth Lady Vol to reach 1,500 points and 1,000 rebounds. The others in that club are Chamique Holdsclaw, Glory Johnson, Bashaara Graves, Sheila Frost and Tamika Catchings.
Against Alabama, Holly Warlick will coach her 200th game and seek the 150th win of her career.
UT has led every game this season at the half except for two. UT trailed Mississippi State by 13 and was tied vs. Auburn.
UT's roster features seven players 6-2 or taller, tying the 2004-05 team as the second tallest in Lady Vol history behind the 2014-15 unit that boasted eight.
UT is 18-0 when leading with 5:00 left in the game, 2-0 when tied and 1-4 when trailing.
The Lady Vols have allowed only six opponents to score more than 71 points (Marquette – 99, Texas – 75, Vandy – 73, A&M – 79, Notre Dame – 84, Arkansas – 85) and have allowed only seven teams to shoot better than 41 percent from the field (Vanderbilt in Knoxville, .491; Texas A&M, .484 in Knoxville; Notre Dame, .478; Arkansas, .477; Vanderbilt, .469; Marquette, .437; and Miss. State, .418).
Tennessee is averaging 77.1 points and giving up 73.6 vs. ranked teams, and those numbers shift to 81.9 to 60.2 vs. unranked foes.
On the boards, the Lady Vols have 46.8 to 34.1 advantage vs. unranked teams but only a 42.2 to 38.7 edge vs. ranked programs.
UT is averaging 81.9 points and allowing 59.7 in home games. On the road, it's 75.1 to 68.5.
UT has three starters averaging double figures in scoring, including seniors Jaime Nared (17.3) and Mercedes Russell (16.2), and freshman Rennia Davis (11.8). Freshmen Anastasia Hayes (9.5) and Evina Westbrook (8.7) are on the brink of double digits.
Tennessee has outscored its opponents in the points-in-the-paint category in 16 of 25 games, averaging a 40.1 to 34.6 difference.
The Lady Vols bested their foes in second chance points 16 times and tied on three occasions.
Tennessee has won the points on fast break war in 18 games, averaging 12.4 per contest. In losses, that number is 8.4.
When UT has more fouls than its opponent, the Lady Vols are 2-3, losing to Texas A&M, Notre Dame and LSU, beating Marquette in OT and winning by 14 at Kentucky.
Putting Turnovers In Perspective
Tennessee is averaging 80.2 points, 17.1 turnovers per game, has seven games of 20+ turnovers and two more with 19 miscues.
Mistakes are more likely to happen with an uptempo team, vs. aggressive guard-oriented opponents and with three of Tennessee's top performers being freshmen.
Nobody likes turnovers, but this year's numbers are in the ballpark (in some cases fewer) than those recorded by some of Tennessee's finest (NCAA title) teams.
YEAR / PPG / TOPG / 20+ TOs / 19 TOs
'17-18 / 80.2 / 17.1 / 7 / 2
'88-89 / 81.5 / 19.1 / 17 / 4
'96-97 / 77.3 / 18.2 / 16 / 2
'90-91 / 78.5 / 17.5 / 11 / 3
'86-87 / 81.1 / 17.1 / 12 / 1
'97-98 / 88.8 / 16.6 / 5 / 6
'07-08 / 76.7 / 16.4 / 7 / 6
'95-96 / 77.9 / 15.5 / 6 / 2
'06-07 / 73.6 / 15.4 / 8 / 1
UT-Bama Series Notes
The Lady Vols hold a 49-5 all-time record vs. Alabama, dating back to January 22nd, 1977.
Against the Tide, the Lady Vols are 22-0 in games played in Knoxville and are 18-2 in Tuscaloosa.
UT is 16-1 vs. Alabama in Coleman Coliseum, losing for the first time there on Feb. 16, 2017, 65-57, on February 16th.
Tennessee is 9-3 vs. Alabama at neutral sites.
From 2011-16, Crimson Tide women's basketball played in Foster Auditorium, where UT was 2-1, including a 54-46 loss on February 25th, 2016.
That loss in 2016 ended a 42-game UT win streak.
Prior to that victory, the last Alabama win was on March 3, 1984, at the SEC Tournament in Athens, GA, by a score of 85-66.
The other came at the 1981 SEC Tournament, as the Tide knocked off #10-ranked Tennessee, 77-71, on January 30th.
Second-year Tennessee assistant coach and recruiting coordinator Sharrona Reaves played at Alabama (1995 grad.) for head coach Rick Moody.
Alabama coordinator of player development, recruiting and video operations Brian Johnson is a 2016 Tennessee graduate who served as a manager on Holly Warlick's staff for four seasons.
Last Meeting Between UT And UA
Despite a double-double by Mercedes Russell, Tennessee was never able to get in a consistent groove against Alabama in the second round of the SEC Tournament at Bon Secours Wellness Arena, falling 72-64 on March 2nd, 2017.
Russell finished with 16 points and 12 rebounds in the contest, both of which were game highs. Diamond DeShields posted another all-around performance, totaling 15 points, six rebounds, five assists and three steals.
Jordan Reynolds and Jaime Nared also cracked double-digit scoring, with 14 and 11, respectively. Nared also added seven rebounds and three assists.
Five players reached double-digit scoring for the Crimson Tide, who were led by Meoshonti Knight's 16 points and six rebounds. Ashley Knight posted a double-double with 10 points and 11 rebounds as well as six blocks in the contest.
Last Time In Knoxville
Jaime Nared had a double-double with 17 points and 10 rebounds, Te'a Cooper scored 17 points and No. 19/23 Tennessee stormed past Alabama, 70-42, on January 31st, 2016, at Thompson-Boling Arena.
The Lady Vols (13-8, 4-4 SEC) extended their win streak to 42 straight games against the Crimson Tide (13-9, 2-7 SEC), marking (then) the third-longest active in-conference winning streak in NCAA Division I.
The victory gave Tennessee head coach Holly Warlick her 99th career victory.
Alabama's 42 points were its fewest of the season and the fewest allowed by Tennessee since UT beat Georgia, 75-41, on March 6th, 2015.
Mercedes Russell registered her eighth double-double of the season with 12 points and 13 rebounds. She also had two blocks and a career-best three assists in the win.
Tennessee limited Alabama to its worst shooting performance of the season at just 27.5 percent (14-of-51). The Crimson Tide was 2-of-14 from 3-point range, marking its second-worst performance on the year.
Meoshonti Knight led Alabama with 11 points and five rebounds.
More About Alabama
Alabama was picked to finish ninth by both the coaches and media in preseason polls, and the Crimson Tide currently sits in eighth place.
Alabama returned all five starters from last year's squad, which finished 22-14 overall, 5-11 in the SEC, and placed 11th in the league.
The Tide beat UT in Tuscaloosa during the regular season and in the SEC Second Round in Greenville last season after defeating the Lady Vols the previous year in Tuscaloosa as well.
Kristy Curry is in her fifth season at Alabama and stands at 79-75 with a 3-3 mark vs. UT.
Alabama has three players sharing the last name Knight — Coco, Meoshonti and Ashley.
Roger Hoover, a 2010 Tennessee graduate, is the radio play-by-play voice of Alabama women's basketball.
First-year Tennessee head football coach Jeremy Pruitt was the defensive coordinator on Alabama's 2018 football national championship team, served on the staff during the 2009, 2011 and 2012 title years and played two seasons under Gene Stallings for the Crimson Tide.
Alabama Last Time Out (UA 82, UM 79)
Trailing by one with 36 seconds to go, junior Shaquera Wade converted on a layup after a timely steal, and sophomore Jordan Lewis followed with a pair of free throws moments later to seal the 82-79 victory for Alabama at Ole Miss in women's basketball action on Sunday.
Lewis finished with a career-high 23 points, converting 11-of-13 from the free throw line, along with a game-high seven rebounds and game-best three steals. The Crimson Tide's four other starters also had double-digit points in the win as senior Quanetria Bolton ended with 16, senior Hannah Cook with 15, senior Ashley Williams with 11 and Wade with 10.
For the Rebels, junior Torri Lewis led the way with 26 points, 21 of which came from beyond the arc, while sophomore Shelby Gibson added 20.
Alabama (15-10, 5-7 SEC) trailed by as many as nine points in the game but outscored the Rebels by 10 in the second half. Ole Miss (11-14, 1-11 SEC) knocked down 15 threes in the contest, however the Tide took advantage of its 34 trips to the free throw line, hitting 28 to finish at 82.4 percent for the game. Alabama also outrebounded the Rebels by two, 32-30, and forced 15 Ole Miss turnovers, 10 of which were steals by the Tide.
Tennessee Last Time Out (UT 62, UGA 46)
Mercedes Russell collected the 1,000th rebound of her fantastic career, leading No. 11/11 Tennessee to a 62-46 victory over No. 18/18 Georgia on Sunday at Thompson-Boling Arena.
The 6-foot-6 senior center became the sixth Lady Vol to reach the 1,000-rebound mark, joining all-time greats Chamique Holdsclaw (1,295), Glory Johnson (1,218), Bashaara Graves (1,044), Sheila Frost (1,043) and Tamika Catchings (1,004). The redshirt senior finished with 13 points and a game-high 15 boards to help UT (21-4, 9-3 SEC) move into a tie for second place in the SEC standings.
The Lady Vols put on a stellar defensive performance in holding Georgia to a season-low 46 points and 29.5 percent shooting (18-of-61) from the field. UT dominated on the glass throughout the game, finishing with a 50-30 rebounding advantage, and forced UGA into 20 turnovers.
Senior forward Jaime Nared contributed 15 points for the Lady Vols, while Meme Jackson and Rennia Davis added 11 apiece. Taja Cole and Mackenzie Engram scored 12 each to lead the Lady Bulldogs (21-4, 9-3 SEC).