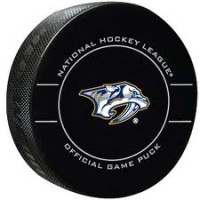 Clarksville, TN – The Nashville Predators stormed out to an early 2-0 lead against the Detroit Red Wings tonight, only to have to hang on for a 3-2 win on the road. The win avenges a 3-1 loss this past Saturday night in Nashville to these Red Wings.
Scott Hartnell got the Predators on the board first at 4:18 of the first period with his tip in at the net of Red Wings goalie Jimmy Howard. Ryan Ellis and Roman Josi assisted on the goal.
Kyle Turris gave the Predators a 2-0 lead at 9:35 of the first period with his wrist shot, assisted by Josi and Craig Smith. Nashville looked to be off to the races with the early 2-0 lead, but Detroit would come storming back.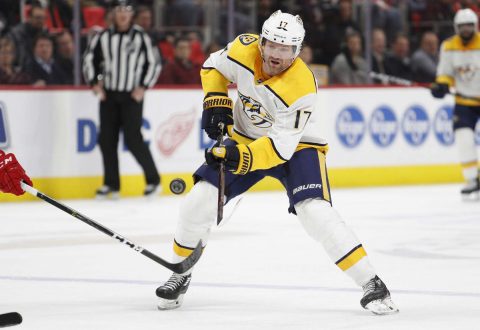 After Nashville's Viktor Arvidsson failed to score on a one-on-one attempt against Howard, Detroit stormed back down the ice and Andreas Athanasiou scored at 10:12 of the second period, and suddenly the Red Wings cut the lead in half, 2-1.
Entering the third period, Detroit turned up the heat on Nashville forcing Predators' goalie Juuse Saros to fight for his life to keep the Red Wings out of the net.
Viktor Arvidsson continued his torrid pace on goal at 4:50 of the third period scoring on a quick wrister to give the Predators a 3-1 lead. The breakaway goal was set up with an assist from P.K Subban and Ryan Ellis.
Detroit would keep the pressure on Nashville as time was winding down in the third period.
At 7:54, Tomas Tatar would bring the Red Wings within a goal, scoring on a wrist shot, with a pile of bodies in net, to make it 3-2. Nashville would challenge the goal on goalie interference, but the challenge was denied and the goal brought Detroit to within one.
A fast a furious finish would see the Red Wings throwing everything they could at the Predators, including a six on four power play with 27 seconds left to play after P.K Subban was called for interference.
Nashville would hold on for the win and sweep the back-to-backs, including last night's win over Ottawa in Nashville
The Predators will play host to the San Jose Sharks on Thursday night in Nashville. Puck drops at 7:00pm at Bridgestone Arena.