Clarksville, TN – The All State, student newspaper at Austin Peay State University, earned two first place awards in Best News Editorial Artist/Illustrator and On-site Op-ed Writing and eight additional awards from the annual Southeast Journalism Conference during on Friday, February 16th, 2018.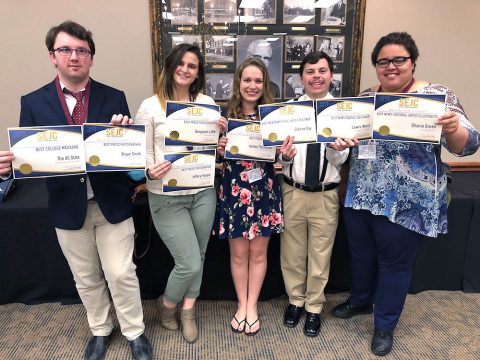 The conference was hosted at Harding University in Searcy, Arkansas.
There were 412 entries from 30 colleges and universities across the southeast in this year's Best of the South competition.
The On-Site competition had 170 entries across 15 categories.
The All State earned the following awards:
Ranked 1st for Best News-Editorial Artist/Illustrator
Shania Green, sophomore and senior graphic designer
Ranked 1st for On-site Op-Ed Writing
Aaliyah Mitchell, senior and managing/perspectives editor
Ranked 2nd for Best Newspaper Page Layout Designer
Glavine Day, alumna and former sports editor
Ranked 3rd for Best Press Photographer
Benjamin Little, junior and staff photographer
Ranked 3rd for On-site Arts & Entertainment Writing
Andrew Wadovick, senior and features editor
Ranked 4th for Best News Graphic Designer
Lewis West, senior and former graphic designer
Ranked 5th for Best College Magazine
The All State, 2016 Summer Edition
Ranked 5th for Best Feature Writer
Ashley Thompson, sophomore and senior staff writer
Ranked 5th for Best Press Photographer
Jeffery Hooper, junior and former staff photographer
Ranked 8th for Best Press Photographer
Bryan Smith, senior and staff photographer
Green's entries for the news-editorial artist/illustrator category included illustrations of the total solar eclipse over APSU, President Donald Trump as a Twitter-like bird and a gun control graphic in response to the Las Vegas shooting. She placed first out of 13 entries.
The newspaper page layouts Day entered depicted former Men's Head Basketball Coach Dave Loos earning his 500thwin, and when his retirement was announced and a replacement was named. Day placed second out of 19 entries. She was previously recognized at the national level in the fall with three Honorable Mentions from the Associated Collegiate Press and College Media Association for her layouts. Day currently works for the Robertson County Connection as a sports reporter.
"The final images are usually enough of a reward, but to have my work recognized at a larger level feeds the passion that I have for photography," Little said. The images he submitted were from a #MeToo student protest, and a Govs football and soccer game.
Out of seven entries, West placed fourth for his news graphics on Coach Loos' 500th win, hidden voices of sexual assault and the media's response to President Trump's treatment toward the First Amendment.
Thompson's stories covered a wide-range in the features writer category, including how bees react to a total solar eclipse, an alumna presenting her life story and a history professor exploring cultures of the world.
"With so many competitors, I didn't think I'd place at all," she said. "Winning this award was really exciting and a new experience for me. I love working for The All State and have learned a lot up to now." Thompson placed fifth out of 30 entries.
She also said this experience has helped her writing grow and improve for next year's competition.
"It also makes me feel like I really helped show what working for The All State is all about and show my higher ups I care about what I'm learning," she said.
Hooper's submissions for press photographer were all from the Gov's historic-winning football season.
"The All State allowed me the opportunity to harness my skills in a variety of environments, along with furthering my work ethic and ideas for my career," he said. Hooper has interned with the Nashville Film Institute, and is currently working full-time as a photographer for Lifetouch Studios.
Smith submitted photographs from a transgender student-support rally and service dogs offering emotional support during finals week. Out of 28 entries, three photographers from The All State earned third, fifth and eighth, respectively. This was also the most entries a school could enter in the same category.
Students attending the conference from The All State were:
Miya Haney, freshmen and staff photographer
Noah Houck, junior and sports editor
Aaliyah Mitchell, senior and managing/perspectives editor
Ashley Thompson, sophomore and senior staff writer
Andrew Wadovick, senior and features editor
Earlier this year, The All State earned eight national awards at the 2017 Fall National College Media Convention, including four from the Associated Collegiate Press and four from the College Media Association. The SEJC wins increase their total to 18 awards for the 2017-18 academic year.
"I am so proud of the staff for receiving these 10 awards," Celeste Malone, editor-in-chief, said. "The All State has continuously raised the bar and has maintained a reputable force in college media."
The newspaper, housed in the Office of Student Publications in the division of Student Affairs, publishes each Wednesday in print, and distributed on APSU's Clarksville and Fort Campbell campuses. It also publishes regularly online at www.theallstate.org. Readers can also connect with The All State on Facebook, Instagram (@TheAllState_APSU) and Twitter (@TheAllState).