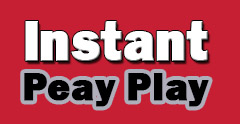 Clarksville, TN – Austin Peay State University has had several outstanding hitters go through its softball program, over its 33-year history, but the current year at the plate that third baseman Danielle Liermann is having this spring may be the best season by any player to ever wear the Red and White.
Liermann, a junior from Simi Valley, CA, is batting .410 this season for the Govs (26-11, 8-2 OVC), after the April 8th sweep of fellow Ohio Valley Conference member Tennessee Martin, with eight doubles, 15 home runs and 44 RBIs.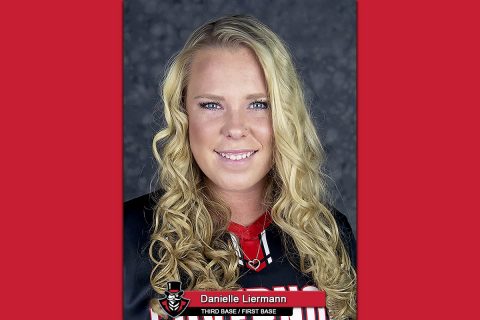 The amazing thing is that home run and RBI totals are already program single-season records — with the former single-season RBI record of 40 standing for 30 years before she pasted it over the weekend – and she still has a possible 18 regular-season games left on the schedule.
Her batting average is currently the third-best in the program's history, and her slugging percentage of .914 is just under.150 points better than the current single-season all-time best of .765 set my Austin Peay Athletics Hall of Fame member Andrea Miller, set back in 1995.
And her numbers aren't just good for Austin Peay, they're good among NCAA teams across the nation in general, with the last national rankings (April 2nd) having her in the Top-10 nationally for home runs per game (4th), total home runs (4th), slugging percentage (6th), while being 16th in RBIs per game, 26th in total bases and 27th in total RBIs.
Liermann is also ranked nationally in total bases, on-base percentage and batting average.
And coaches in the OVC are taking notice too, with Liermann being only the second player in program history to be named OVC Player of the Week twice is the same season – the other coming back during the 1994 season.
While Liermann deserves a lot of the credit for this outstanding season, there is also a lot of credit due to her teammates around her in the lineup (Natalie Schilling, Kacy Acree, Morgan Rackel among others) that have given her RBI chances, extra at bats and cover behind her spot in the lineup, so opponents can't pitch around her as much as they would otherwise.
So, as Austin Peay heads into their final month of play in their regular-season, Liermann has a chance to set herself up for a senior campaign where more than a few all-time school career marks could be in her sights and the title of best hitter in program history with-in her grasp.