Clarksville's Customs House Museum

Clarksville, TN – The Customs House Museum and Cultural Center is located in historic downtown Clarksville, Tennessee. Come explore an entire city block featuring large gallery spaces filled with fine art, science and history.
Some of the events in August at the Museum are: Fantastical Patterns: Best of Tennessee Craft, International Reflections: The Art of Women Artists Mentors, Our Town: Stories Within Clarksville's Doorways, and Model Trains Special Run.
Customs House Museum Exhibits
Leslie Haines: Animal Abecedary
August 1st – September 2nd | Planters Bank Peg Harvill Gallery
Original animal alphabet artwork created by graphic designer Leslie Haines explores unusual imagery juxtapositions by transforming something ordinary, like an alphabet book, into a fanciful flight of unusual and amusing pairings.
Letterpress type, engravings, original drawings, found objects, photography, and old book pages all blend together digitally to become something unexpected. This exhibition is sponsored in part by Nashville Arts Magazine.
Annual Staff Art
August 3rd – October 28th | The Leaf Chronicle Lobby98
See art in a variety of mediums created by the staff of the Customs House Museum and Cultural Center.
Best of Tennessee Craft
August 4th – October 14th | Crouch, Orgain, & Bruner Galleries
The Best of Tennessee Craft Juried Exhibition represents a full range of media from artisans throughout the state. Juror Kathryn Hall reviewed 172 entries to create the show that is on display through October 14th. The awards for this show are sponsored by the Ayers Foundation.
Along with the juried work, the Museum will showcase Tennessee Craft's Master Artist Collection of craft representing the finest work of Tennessee artists. Begun in 2001 to preserve and promote excellence in Tennessee craft for future generations, the collection grows by special invitation to master artists for signature works.
Interpreting the Familiar: The Art of Hattie Marshall Duncan
June 6th – August 19th | Jostens Gallery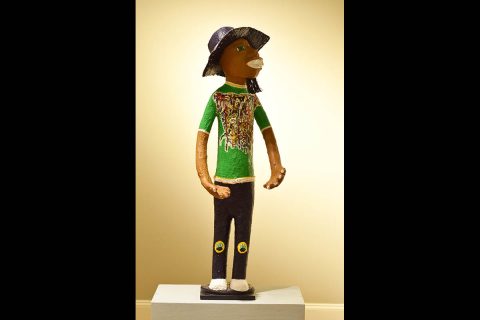 African American folk sculptor Hattie Marshall Duncan creates expressive sculpture that offers a loving, humorous portrayal of her hometown community in Jackson, Tennessee. She uses common household items such as wire hangers, plastic bottles and old stockings to build the frames.
After molding the figures, she adds texture and detail by applying coffee grounds for hair, pine cones for hats, and broken egg shells for clothing. This exhibition is sponsored in part by the West Tennessee Regional Art Center.
International Reflections: The Art of Women Artists Mentors
July 5th – September 2nd | Kimbrough Gallery
This exhibition represents five women artists who come together in the spirit of friendship and to support each other's art careers. Women Artists Mentors (WAM) members meet once a month in a video chat online.
Each has different levels of experience in pursuing a career in the arts. In May 2016, all five members finally met up in Venice, Italy. Since, they have enjoying spending time together in Montreal, Canada.
The bonds formed that week in Venice not only solidified a group that is committed to helping each other in art and business, but resulted in lasting, lifelong friendships. The group consists of Virginia artist Debra Keirce, Helen K. Beacham (South Carolina), Maria Bennett Hock (North Carolina), Kim Minichiello (Florida), and Carrie Waller (Japan).
Our Town: Stories Within Clarksville's Doorways
February 28th – September 30th | Memory Lane
An exhibition of regional stories featuring photographs and artifacts from our collection, including: the jail, Trinity Episcopal Church, the Court House, the Capitol Theater, and more.
Customs House Museum Activities
Book Sale at Seasons: The Museum Store
We're celebrating our new Book Nook with 20% off any one book purchased during the month of August at Seasons: The Museum Store. No other discounts apply. Come see our selection, with new arrivals and books by local authors!
First Thursday Art Walk
Thursday, August 2nd, 5:00pm-7:00pm
The museum is open to the public with free admission as part of Downtown Clarksville's First Thursday Art Walk.
Model Trains Special Run
Tuesday, August 7th | 10:00am–12:00pm & 2:00pm–4:00pm
No School Today! Make it a day of fun at the Museum with a special extra run of the model trains.
The Best Educational Toy of All Time: The Cardboard Box
Sunday, August 19th | 1:00pm-4:30pm
Join us on Explorers' Landing anytime from 1:00pm–4:30pm. We'll be playing with, and in, cardboard boxes of all sizes. Tape and crayons will be provided for this group or individual activity. Imagination Required.
August in the Family Art Studio: Paper Alphabet Collage
Take a look at Leslie Haines exhibit "Animal Abecedary", located in the Planters Bank Peg Harvill Gallery. Be inspired.
Choose a letter of the alphabet. Cut or tear some paper, select some cut-out magazine pictures, and glue them all onto a sheet of paper. This is fun and do-able by any age!
August on Explorers' Landing: Low-tech Toys & Games of the Past
Play a game of hop-scotch, twirl a hula-hoop, play with some 1970s toys, and more! These toys will be made available every day in August.
For more information contact Ms. Sue at sue@customshousemuseum.org or 931.648.5780.
About the Customs House Museum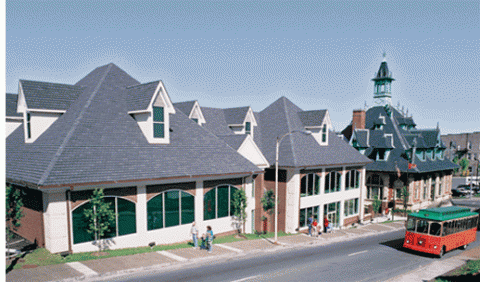 Located in the heart of historic downtown Clarksville, Tennessee, the Customs House Museum and Cultural Center is the State's second largest general museum. The original portion of the building was constructed in 1898 as a U.S. Post Office and Customs House for the flourishing tobacco trade. Incorporating a number of architectural styles, the original structure is one of the most photographed buildings in the region.
With over 35,000 square feet of the region's best hands-on activities and special events…people of all ages agree – the Customs House Museum is well worth the stop!
The Explorer's Gallery is packed with fun, learning and fantasy in Aunt Alice's Attic, McGregor's Market and kitchen, and of course – the Bubble Cave! Finally, get "all aboard" to see our fantastic model trains. Our volunteer engineers "ride the rails" every Sunday afternoon from 1:00pm to 4:00pm.
Regular museum hours are 10:00am to 5:00pm Tuesday through Saturday, and 1:00pm to 5:00pm on Sundays. Adult admission is $7.00, Senior Citizens and College ID $5.00, Ages 6 to 18 $3.00, and under six years and Museum members are free.
The Customs House Museum is located at 200 South Second Street. For more information, call 931.648.5780 or visit their website at www.customshousemuseum.org