Austin Peay State University Sports Information

Clarksville, TN – The Austin Peay State University football team wrapped up practice Friday ahead of its first scrimmage of fall camp, set for 10:00am, Saturday, August 11th, at Fortera Stadium
The scrimmage will be free and open to the public, and fans will be able to sit in the west (home) grandstand of Fortera Stadium.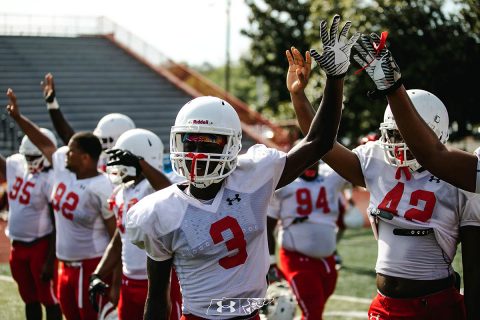 After a week of practice, defensive coordinator Brandon Cooper is encouraged by the depth across the board for the defense. He said he is hoping to see energy, effort and good technique displayed by the defensive players at tomorrow's scrimmage.
"What I've seen this first week is that we have a lot of guys out here that can play football at this level," Cooper said. "It makes it hard as a coach just being able to distribute the reps out there to everybody to see who can be on the two-deep.
"For us, we had a great of week of energy, excitement and running to the football, but we still have some things we have to fine-tune as far as techniques, understanding leverage, some checks."
On the other side of the ball, offensive coordinator Wesley Satterfield has noticed a smooth transition from returning players getting back into form. He will be watching closely how the newcomers fare being put into game-like situations.
"For the scrimmage tomorrow, we're just looking forward to seeing some people who haven't been put in situations and some of the young guys and watch and see what they do," Satterfield said. "We want to see how they handle not having a coach behind them, getting a signal from the sideline, and line up and see if they can execute."
Following the scrimmage, the Governors will have an off day on Sunday, followed by practices starting at 8:00am Monday through Friday at Fortera Stadium. They will host their second scrimmage at 2:30pm, Saturday, August 18th at Fortera Stadium.
At the conclusion of the scrimmage on August 18th, there will be the "Meet the Govs" event, presented by Echo Power Engineering, where fans can meet and take pictures with members of the football, volleyball and soccer teams.
The Governors open their season on the road against the Georgia Bulldogs, the reigning SEC Champions and national FBS runner-up, on Saturday, September 1st at 2:30pm on ESPN.
Season tickets for Austin Peay's five-game home schedule remain available. Reserved seating is available today and may be purchased by contacting the APSU Athletics Ticket office by phone at 931.221.PEAY [7329] or online at LetsGoPeay.com/SportTix. Fans interested in joining the waiting list for club seating should visit LetsGoPeay.com/Tickets.
Week 2 Schedule
| | | | |
| --- | --- | --- | --- |
| Date | Time | Event | Location |
| Sun., Aug 12 | | Off Day | |
| Mon., Aug. 13 | 8 a.m. | Practice 9 | Fortera Stadium |
| Tue., Aug. 14 | 8 a.m. | Practice 10 | Fortera Stadium |
| Wed., Aug. 15 | 8 a.m. | Practice 11 | Fortera Stadium |
| Thu., Aug 16 | 8 a.m. | Practice 12 | Fortera Stadium |
| Fri., Aug 17 | 8 a.m. | Practice 13 | Fortera Stadium |
| Sat., Aug 18 | 2:30 p.m. | Scrimmage 2 | Fortera Stadium |