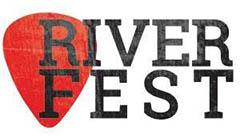 Clarksville, TN – Hundreds came out for the annual Riverfest Juried Art Show at Wilma Rudolph Event Center Thursday night, the official beginning of Clarksville's Riverfest 2018, one of Clarksville's most anticipated events.
Artists of all ages, working in many mediums, were invited to submit their work. Multiple categories allowed for a wide variety of creative expression, and at 6:15pm, this year's awards winners were announced.
Clarksville Mayor Kim McMillan was on hand to view the work and meet the artists.
"This has been part of Riverfest for quite some time," McMillan said. "A few years back, we combined the juried art show, formerly known as Tour D'Art with Riverfest, and now we do it all at the same time.
"We are so proud of all the artists who have submitted paintings, photography, and other wonderfully creative items for this show. It really shows the amazing level of talent that we have here in Clarksville, and it's such an honor for me to be surrounded by so many wonderful artists."
McMillan says she is "in awe of the talent on display here every year." She also recognizes the important function of the City of Clarksville-sponsored show, which gives people who might not normally have the opportunity, a chance to come out, share their work, and show off their talents.
"Riverfest is an event that we are really proud of," McMillan said. "We usually expect 30,000 – 40,000 people to attend this event, and that should hold true this year. Hopefully, the weather will hold up for us. And, once again, we have some great musical acts lined up. This year's headliner is Sister Hazel."
"We're so excited for people to come out and enjoy McGregor Park and the riverfront, and bring their families. This is a free event that we are happy and proud to present every year to our citizens."
Clarksville Parks and Recreation's Rob Rayburn brought in Lucas Chambers to help with this year's art show. Chambers acted as this year's Juried Art Show Coordinator.
Two middle Tennessee artists acted as this year's jurors, facing the difficult task of selecting, from 150 entries, the 101 pieces that would be in the show.
"This year's show features works submitted in four categories; Youth, Senior, Professional, and Amateur," Chambers said. "Entrants did work in Photography, Painting/Watercolor, Drawing, and 3D Art.
"The work coming from the students really impressed me. We have some great art programs at our local high schools. The graphic design work and the creativity of the pieces they presented this year were amazing."
Winners of this year's Riverfest Juried Art Show were:
Youth Division
3D Sculpture & Fiber Arts
First: Danny Kitrell – West Creek High School
Second: Kenady Estes – Christian County High School
Drawing
First: Ty Ford – Rossview High School
Second: Chloe Chavez – Rossview High School
Third: Laura DeLoach – Christian County High School
Painting
First: Ana Cannon – West Creek High School
Second: Megan Hook – West Creek High School
Third: Destiny Crist – Home School
Photography & Digital Media
First: Katie Boyer – Rossview High School
Second: Sore Bueker – Rossview High School
Third: Crystal Clevesy – Christian County High School
Overall
First: Ty Ford – Rossview High School
Second: Khloe Chavez – Rossview High School
Third: Laura DeLoach – Christian County High School
Best in Show: Ty ford – Rossview High School
Senior Division
Painting
First: Carolyn Loyd – Rose
Second: Carolyn Loyd – Blissful
Third: Leroy Price – Gorillas in Love
Best in Show: Carolyn Loyd – Rose Painting
Amateur Division
3D Sculpture & Fiber Arts
First: Beatrix Brockman – The Bard
Second: Jackie Lewis – Woman of the Woods
Third: Beatrix Brockman – Madonna and Child
Painting
First: Gracie Hogue – Tree Branch
Second: Karley Davis – Red Curtains Blue Sky
Third: Ashley Perusquia – Eternal Vision
Photography & Digital Media
First: Samantha Stoffregen – Grit
Second: Samantha Stoffregen – Remembering
Third: Denise Haley – In the Moment
Overall
First: Gracie Hogue – Tree Branch
Second: Jackie Lewis – Woman of the Woods
Third: Ashley Perusquia – Eternal Vision
Professional Division
3D Sculpture & Fiber Arts
First: Susan Lawless – Reliquary
Second: Susan Lawless – Brown Rabbit
Drawing
First: Allison Lee – Raven Axe
Second: Janet Felts – Spring at Carlisles
Third: Samantha Black – Untitled
Painting
First: John Sharp – Untitled
Second: Dolly Georgieva-Gode – Untitled
Third: Craig Greene – Live in Memory
Photography & Digital Media
First: Stephen Schlegel – Thirteen at Seven
Second: Natasha Cole – Tea Time
Third: Lisa Kemmer – RiverFest
Overall
First: Susan Lawless – Brown Rabbit
Second: John Sharp – General @ Boyd Elks Lodge
Third: Allison Lee – Raven Axe
Best in Show – Adult Divisions: Alexis Jones GM
Photo Gallery