APSU Sports Information

Clarksville, TN – Austin Peay State University (APSU) women's soccer team came from behind to defeat Chattanooga, 2-1, Sunday, at Morgan Brothers Soccer Field.
The game was played in less than ideal conditions, with the field being very wet with spots of standing water due to the rain that had been in the area.
It did not slow down the Govs (5-2) though, who came out hot. While the Govs did not have any huge chances, they controlled the pace of the game and routinely had shots on the UTC goal.
However, the Mocs (3-4-1) struck first, as Hollie Massey picked up the ball, dribbled past a couple defenders, and struck a high-arching shot that went over the head of Mary Parker Powell.
The Govs did not let their heads go down, as McKenzie Dixon nearly scored right after kickoff, but her shot, similar to Massey's, was tipped over by the UTC goalkeeper.
The Govs outshot the Mocs 15-3 in the first half, but simply could not find the back of the net. That did not stay true for much longer when the second half started. Dixon hit the post in the 47th minute and the Govs were starting to wonder if this was not to be their day.
Step up Morgan Drawdy. The sophomore midfielder volleyed in a cross from fellow sophomore Katie Kenward to level the scores in the 51st minute.
Chattanooga started to feel the pressure, but produced many counter-attacks that stretched the Govs defense at times. In fact, the Mocs outshot the Govs in the second half, 5-4. However, it was a counter-attack from the Govs that broke the game open. After a swift counter, UTC was whistled for a handball in the box and Drawdy put away the penalty kick to give the Govs the lead for good.
Austin Peay returns to the field next Friday, as they take on Belmont.
APSU Notably
Head coach Naomi Kolarova has used a different starting lineup in every game this season.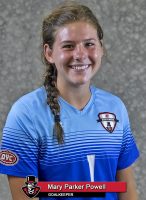 Drawdy's brace was the second multi-goal game by a Gov this season.
Drawdy is now one of only four players in program history to score multiple penalty kicks in a season.
The Govs have now won the last eight of nine matches against the Mocs.
Kenward now has the team lead for assists with two.
Mary Parker Powell earned her 14th career victory, good for 5th all-time.
The Govs are on a 19-game home unbeaten streak.
Naomi Kolarova's Thoughts
On the match overall:
"It was important to fight for the ball in these conditions. When it is wet and sloppy like it was today, it is harder to try and actually play soccer, as in getting the ball down and knocking it around. I told the girls to fight for 50/50 balls and to step in front more and I think we did that well. I thought we fought hard the entire game and to comeback when down 1-0 at halftime really took perseverance and persistence and the girls showed that."
On her team:
"I made an emphasis to tell the girls to fight for possession and to step in front for 50/50 balls. For the majority of the game, we did that well. I thought we played and fought hard the whole game. (Morgan) Drawdy got two nice little goals and hopefully we can keep going."