APSU Sports Information

Malibu, CA – Lidia Yanes Garcia, of Austin Peay State University (APSU) women's tennis team, fell in the first round of the Oracle ITA Masters, Thursday, September 20th at Pepperdine University.
Yanes Garcia teamed up with Belmont's Hendrik Inno in the mixed doubles competition, but narrowly fell (6-4) to Michaela Bayerlova (Washington State) and Sven Lah (Baylor).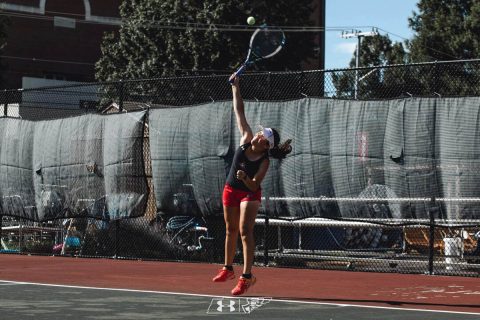 Yanes Garcia then started her singles tournament against Michigan's Giulia Pairone, who received an At-Large bid, but was the tournament's No. 8 overall seed.
After the two players traded games back and forth, Yanes Garcia had chances to prolong the first set, but Pairone was able to take the first set, 6-4. Pairone got off to another quick start in the second set, going up 2-0 early on.
Yanes Garcia was able to strike back and hold her next service game after winning on deuce, but Pairone won her next service game and then broke Yanes Garcia again the following game. Pairone also won another game on deuce and ended up closing out the match with a 6-1 second-set victory.
"I was pleased with how Lidia competed and am very proud of her," said Governors head coach Ross Brown. "I want her to be more assertive on game points. She had three of them to level the first set and was a little passive and that hurt her. After the first set when her opponent was in front, it became hard to stop her momentum. However, whoever Lidia plays tomorrow will be in for a physical match."
Yanes Garcia moves to the consolation draw, where she will play Maria Siopacha of George Washington University. A time for the match has not been released, but it will take place in the morning.