Clarksville Police Department (CPD)

Clarksville, TN – The Clarksville community came out, in mass, with their hearts and wallets open in support of the Tip A Cop fundraiser for Special Olympics held at O'Charleys, 674 North Riverside Drive.
There was $3539 raised for Special Olympics in a single day. The Clarksville community raised the bar by donating the largest amount ever raised in Tennessee during a Tip A Cop lunch event–$1990, thus raising awareness for Special Olympics Tennessee and the Polar Plunge.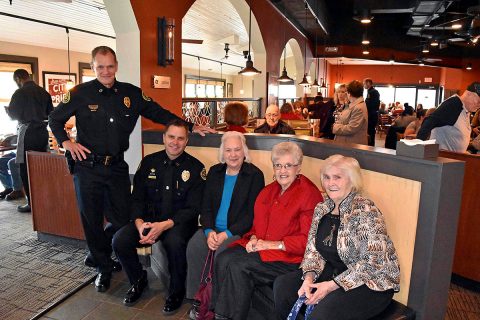 The officers were busy hustling to serve soft drinks, clearing tables and anything else needed to help the amazing O'Charleys' staff who welcomed the event with open arms and great attitudes.
The patrons chatted freely with the officers and also had the opportunity to meet some of the Special Olympics athletes who proudly displayed their Olympian medals.
Additionally, Amy Parker, Special Olympics Tennessee, worked tirelessly from morning to night to keep things rolling throughout the day and coordinated efforts to help to make the event a success.
We wanted to remind folks there is still plenty of time to sign up or support the Polar Plunge, February 2nd at the APSU Foy center. If you go to the website www.polarplungetn.com/clarksville you can sign up to be "Freezin for the Reason", donate to someone who has already signed up, or get more information how you can help.
The Clarksville Police Department is so fortunate to be part of such a generous and supportive community and hope they will accept our sincere thanks.
Let's keep the momentum rolling and make the Polar Plunge, Clarksville a huge success. All the funds raised will be donated to support Special Olympics.
Photos