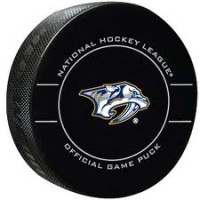 Sunrise, FL – The Nashville Predators started the home stretch of the NHL season tonight with a convincing 4-1 victory over the Florida Panthers. Juuse Saros got the win in net and Viktor Arvidsson scored two goals to lead their team to the win.
Both teams looked a little rusty coming off the NHL All-Star break and it was Florida that held the 1-0 lead going to the third period. Saros got the start in net to rest Pekka Rinne who played in the all-star game, and had never beaten the Panthers until tonight.
Jonathan Huberdeau scored the Panthers only goal of the night, firing a laser past Saros who was screened on the play and the Panthers took a 1-0 lead.
Nashville started the final frame still trailing by the one goal, when THE captain, Roman Josi evened the score at 5:29, taking a pass from Filip Forsberg and firing a shot over the shoulder of Roberto Luongo and the teams were tied, 1-1.
Then Viktor Arvidsson got started at 7:44, when his slap shot from the top of the circle goes in off the post to give the Predators the 2-1 lead.
Kevin Fiala managed to light the lamp at 14:10 of the final period, dodging a Florida defender, then ripping a shot past Luongo and Nashville had their two goal lead, 3-1.
With three minutes remaining in the contest, the Panthers pulled Luongo in net for the man advantage and at 18:04, Arvidsson scored his second goal of the night with the wrist shot into the empty net. Final score, 4-1 and Predators fans celebrated their free Frosty!
Nashville had 26 shots on goal while the Panthers had 28.
The penalties did not favor the Predators tonight as they had to face 6 power plays while the Panthers had to defend 2.
The Predators are back in action tomorrow night in Nashville as the Dallas Stars are in town for a 7:00pm contest at the Bridgestone Arena. The Predators and the Stars were announced last week as the teams to play in the 2020 NHL Winter Classic.