Written by Maria Yager
Blanchfield Army Community Hospital Public Affairs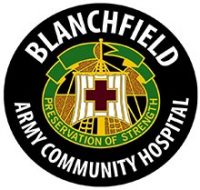 Fort Campbell, KY – The director of the Defense Health Agency's Transitional Intermediate Management Organization visited staff at Blanchfield Army Community Hospital recently, to discuss the hospital's transition as an Army managed facility to a DHA managed facility later this year.
"For our patients it should be invisible. Whether it's the Department of the Army, who has [medical] responsibility for this community now, or the Defense Health Agency, our collective requirements, responsibilities, authorities, are all the same," said Major General Ronald J. Place, who also serves as the director, National Capital Region Medical Directorate, for DHA. "Patients will receive the same great care, same access, same everything. They shouldn't see any difference."
The National Defense Authorization Act of 2017 called for transitioning the management of the three separate military health systems of the Army, Navy and Air Force to one, managed by a single Defense Health Agency.
Medical treatment facilities in the National Capital Region; Fort Bragg, North Carolina; Naval Air Station Jacksonville, Florida; and Keesler Air Force Base, Mississippi have already transitioned.
For the more than 400 Soldiers and 1,500 federal service employees who work at Blanchfield, Place's visit was a good opportunity to learn what the transition would mean for them. Place held a town hall meeting for Soldiers and civilian staff to discuss the way ahead, giving employees an opportunity to ask questions.
"I felt very positive about it. I think the ideas presented were great," said Donna Faulkner, a federal service employee assigned to the hospital's managed care division.
Place said under the transition the hospital's mission will remain the same, to support medical readiness of warfighters, provide medical care for their families and all patients seen at Blanchfield. Because the mission is virtually the same, Place said he doesn't expect the transition to have any negative impact on Blanchfield's civilian workforce.
"This place is probably not going to look much different. Same mission set, same people, it's all Army," said Place.
Blanchfield is scheduled to transition from an Army Medicine managed military treatment facility to a DHA managed MTF in October 2019.
Beneficiaries may learn more during the hospital's next Facebook Live Town Hall, February 25th at 11:30am. Hospital commander, Col. Anthony McQueen will provide an update on the transition and other topics important to beneficiaries.
Visit www.facebook.com/BACH.Fort.Campbell to view the Facebook Town Hall.