Nashville Sounds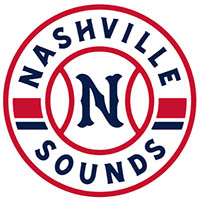 Nashville, TN – The Nashville Sounds Baseball Club has announced its participation in Minor League Baseball's Copa de la Diversión (Fun Cup™) event series. For three games against the Memphis Redbirds from May 3rd to 5th, the Sounds will change their name to Vihuelas de Nashville, complete with specialty jerseys and hats.
Copa de la Diversión started in 2018 with nearly half of the teams in Minor League Baseball participating. The campaign is designed for teams to authentically connect with their Latinx communities and embrace and celebrate the culture and values that resonate most with Latinx fans nationwide.
"We're excited to participate in the Copa de la Diversión in 2019," said Sounds General Manager Adam Nuse. "One of the primary goals with our Remastered rebrand this offseason was to include all of Nashville. Copa de la Diversión has inspired us to embrace the Latinx community in Middle Tennessee."
Vihuelas de Nashville was chosen as the Nashville Sounds' name for the Copa de la Diversión event series. A vihuela is a classic Mexican guitar and is typically of higher pitch than the classic guitar you might hear on Broadway. The lettering and details of the lettering in the Vihuelas de Nashville logo are popular in Latin countries and mimic a style of woodcarving made famous in Mexico. Paired with the letters is a vihuela that has been decorated. Many vihuelas are decorated to provide a personal touch not only to the user's instrument but to their music style as well.
The skeletons represent the Hispanic culture, specifically the holiday of Dios de la Muertos, or Day of the Dead. The multi-day holiday focuses on gatherings of family and friends to pray for and remember friends and families who have died and help support their spiritual journey.
As part of the Copa de la Diversión event series, fans can purchase the Vihuelas Bundle for the Saturday, May 4th game at 6:35pm or the Sunday, May 5th game at 2:05pm. The $60.00 bundle (tax not included) includes an all-you-can-eat taco bar, complete with unlimited draft beer. The all-you-can-eat taco bar will be open for 1.5 hours (when gates open) and the unlimited beer will go until the seventh inning.
The Vihuelas Bundle includes a seat in the Vanderbilt Health Picnic Place located above right-center field and a Ole Smoky moonshine margarita served in a souvenir mason jar.
On Sunday, May 5th, the first 2,000 fans receive the Sugar Skull Bobblehead presented by DEX Imaging.
Tickets for all three games of the Copa de la Diversión event series are on sale now and can be purchased at www.vihuelasdenashville.com
The 42nd season of Nashville Sounds baseball officially begins on Thursday, April 4th, when the Sounds host the Iowa Cubs at 6:35pm. Season ticket memberships for the 2019 season are available now by calling 615.690.4487 or by visiting www.nashvillesounds.com