Austin Peay State University Sports Information

Clarksville, TN – The Austin Peay State University (APSU) softball team hit seven home runs in its Ohio Valley Conference home opener versus Belmont, Friday at Cathi Maynard Park, as the Govs swept the Bruins 9-1 and 6-3.
Leading the Govs power display was Morgan Rackel, who hit two in the second game – with the first one tying the game 3-3 in the fifth inning, then put the Govs ahead for good, 5-3, in the sixth.
Carly Mattson would add two home runs on the day, with Drew Dudley and Danielle Liermann also recording home runs.
Liermann's home run in the bottom of the sixth inning of Game 2 was her 200th career hit, just the fourth Gov in program history to reach 200 hits in a career.
Game 1
Austin Peay 9, Belmont 1
The Governors (18-14, 3-1 OVC) opened their scoring in the second inning with a solo home run by Mattson, followed an inning later by another solo shot by Dudley to go with an RBI triple by Kelsey Gross to make it 3-0.
Belmont (19-12, 2-4 OVC) would cut the Govs lead to 3-1 in the top of the fourth inning, but that would be as close as they would get, as Rackel shut the Bruins down after that, not allowing another run, while giving up just one hit and a walk over her last two innings of work.
Overall, Rackel (13-5) allowed five hits and the one walk to the Bruins, while striking out six.
The Govs would add a single run in the fifth inning, on a single by Mattson, before closing out the game by scoring five runs in the bottom of the sixth inning – highlighted by a three-run homer by Rackel and a two-run homer by Mattson — for the 9-1 final.
Game 2
Austin Peay 6, Belmont 3

Belmont jumped out to a 3-0 lead after two innings, but Rackel would spearhead the Govs rally after that recording five RBIs in her last three at bats, including two, two-run homers – coming in the fifth and sixth innings — to go along with an RBI single in the third.

Liermann would also add a home run in the sixth inning – her 200th career hit — for the game's final run in the 6-3 Govs victory.

Gross (2-1) got the win in relief, throwing four shutout innings versus the Bruins, allowing one hit and two walks while striking out one.
Inside the Boxscore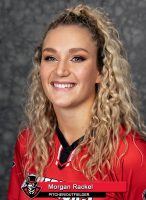 With her second of six total strikeouts in Game 1, Morgan Rackel passed Morgan Brewer (2010-13) for fourth-place all-time in career strikeouts by a pitcher, currently at 333.
Kacy Acree recorded three hits versus Belmont, giving her 184 for her career, tying her with Amanda Travis (1996-99) for fifth all-time in program history.
Carly Mattson drove in four runs versus Belmont, giving her 87 RBIs in her career and moving her past Natasha Anderson (2004-07) and Amanda Travis (1996-99) for seventh place all time in program history.
With her two stolen bases, Kacy Acree moved past Laurel Burroughs (2013-16) for fifth-place all-time with 34 career stolen bases.

Morgan Rackel and Carly Mattson's multi-home run games versus Belmont marks the eighth and ninth time this season a Gov player has hit at least two home runs in a game.

Carly Mattson's two home game has her fourth multi-home run game of the career, a program record.

Kacy Acree and Morgan Rackel both have team season-long nine-game hit streaks.

Kacy Acree's two hits in Game 2 versus Belmont was the 50th multi-hit game of her career.

Morgan Rackel's five RBIs in Game 2 was a career single-game high, while also being the first five-RBI game by a Govs player since Danielle Liermann drove in five versus Arkansas-Pine Bluff on February 26th, 2018.

On Morgan Rackel's day at the plate
"Morgan went up to the plate every time today with confidence and hit the ball hard. Each time she had a chance to drive in a run she came through today. She's such a competitor in the batter box or in the circle."

On Kelsey Gross' effort out of the bullpen
"I'm super excited for Kelsey and the way she performed in relief today. She is a kid that comes out each day and works hard at what she does, whether it's with her hitting, or her defense at first base or in the circle with her pitching."

On the energy from the fans
"It was fun to be at home and playing in front of our fans. Our fans are like a 11th man in our lineup and our kids just feed off their energy and draw from their support."



Sections
Sports
Topics
APSU, APSU Athletics, APSU Softball, APSU Sports, APSU Women's Softball, Austin Peay State University, Belmont, Bruins, Carly Mattson, Cathi Maynard Park, Clarksville, Clarksville TN, Danielle Liermann, Drew Dudley, Kacy Acree, Kassie Stanfill, Kelsey Gross, Lady Govs, Laurel Burroughs, Morgan Rackel, Ohio Valley Conference, OVC