APSU Sports Information

Clarksville, TN – Austin Peay State University track and field will spend two days in the Peach State for the Georgia Tech Invitational. It began Friday night in Atlanta at George C. Griffin Track.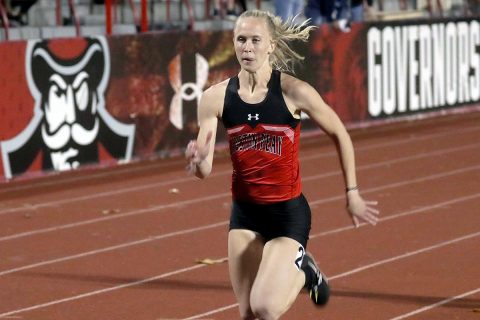 The Governors portion of the weekend didn't truly get underway until 5:00pm (CT), Friday, with a limited selection of running events seeing Austin Peay competitors slated to go in the 100m hurdles, 100m dash and 5000m run, while the 6:00pm long jump will be Austin Peay's lone Friday foray into the field.
Saturday dawns at 10:00am (CT) with the high jump and pole vault, with running events slated for a noon start.
Junior Maya Perry-Grimes is going to be busy over the weekend. Friday, she'll take part in the second flight of the long jump alongside freshman Jessica Kelley and she'll be one of six Govs overall and three in heat five to run the 100m dash. That's the tough day; she'll return for the triple jump on Saturday could factor into the relays after running the 4x100m last month at the Florida Relays.
One of Perry-Grimes' counterparts in the 100m will be Tymeitha Tolbert, who finished 12th overall in the event in Atlanta last season and was sixth among collegiate runners. Another 100m runner, freshman Kyra Wilder, enters the weekend on the heels of wins in the 100m and 200m at last week's home event and looks to recapture that success this weekend.
Senior Nia Gibbs-Francis will be in the high jump, as she usually is and especially after a spring that has seen her reach new heights. She'll also compete in the 400m hurdles, a discipline she's just recently taken up with consistency but has yielded good results for her and rewarded head coach Doug Molnar's faith in her abilities.
Junior Amelia Thiesing and Atlanta native Sabrina Richman will line up in the fastest heat of the 400m dash, taking their place in the blocks alongside two members of the region's top-100 in Brown's May Stern and Western Kentucy's Juannae Lewis. Richman set personal-bests in the 400m and 200m in her hometown last season.
In the 100m hurdles, sophomore Lennex Walker will line up alongside five other athletes in the region's top-200 competitors in the event. Walker herself ranks 101st, one-thousandth of a second from the top-100 and less than four-tenths from the top-50.
Live results for this event will be provided courtesy of Delta Timing and a complete recap of each day's action will be available at www.LetsGoPeay.com