Clarksville, TN – When recent Austin Peay State University (APSU) graduate Jordan Miller starts at Arizona State University this year, she'll also enter a cutting-edge National Science Foundation-backed smart homes and cities program.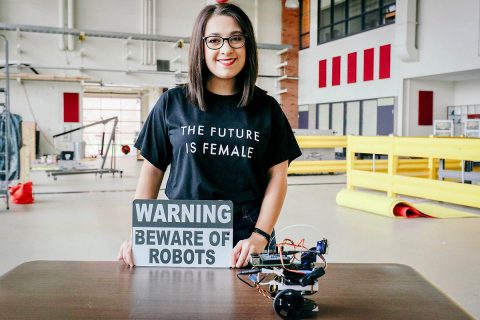 "I will be working on developing assistive robotics that live and work in people's homes, taking care of them and helping them around the house," the 2018 computer science graduate said. "I imagine a world where robots live with the elderly population, helping them complete tasks they may find more difficult such as making the bed, getting dressed, setting the table or even doing the dishes."
The program is part of the National Science Foundation's (NSF) Research Traineeship (NRT) program, designed to encourage the development of new models of STEM graduate education training.
The $3 million grant will help Arizona State launch the program, called "Citizen Centered Smart Cities and Smart Living."
"I will be working on developing technology for smart homes and smart cities," Miller said. "I will be working with the local elderly population in order to develop the kind of technology they feel will help them the most."
Miller thinks the program will help her pursue a career in smart living. She'll also complete internships in human-robot interaction while she's at Arizona State.
"I honestly could not believe that I am going to be a fellow working on these kinds of problems because they are so under-researched right now," she said. "This is an amazing opportunity, and I could not be more excited to work on these kinds of problems."
Before starting at Arizona State, Miller will work on an artificial intelligence project at Oak Ridge National Laboratory. She's pursuing a Ph.D. in computer science at Arizona State.
Opportunities At APSU
"Austin Peay has given me so many opportunities to excel and grow in computer science," she said. "The faculty has worked so hard to help me get where I am today, and I can say I could not have done it without their help and dedication to the students."
Miller also credits her adviser, Dr. John Nicholson, with encouraging her to pursue research opportunities as an undergraduate, "not only at Austin Peay, but at two different universities through Undergraduate Research Opportunities, which have prepared me for graduate school."
"I am very excited and grateful for this opportunity," she said. "I cannot wait to see where this research takes me throughout my career and am eager to start."
To Learn More
To learn more about APSU's Department of Computer Science and Information Technology, go to apsu.edu/csci.
To read more about Arizona State's smart cities project, click here. NSF describes the project here.
To read more about the NSF NRT program, click here.