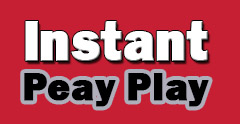 Clarksville, TN – With the Ohio Valley Conference Football Media Day taking place in Nashville, TN, July 22nd it marks the unofficial start of fall sports for Austin Peay State University (APSU).
Along with the football team, men's and women's cross country, soccer and volleyball will be starting their 2019 season's over the next month, or so, while baseball softball, men's and women's tennis and men's and women's golf will be seeing action during their non-traditional season's during the fall semester.
Some things to be looking for with Governors:
Football: This will be the first season under new head coach Mark Hudspeth, as he takes over a squad that finished the 2018 season with a 5-6 overall record and a 3-5 mark in OVC play.
The Govs are predicted to finish fourth in the OVC standing in the media's pre-season poll this past week, with the official preseason prediction from the conference's head coaches and sports information directors being announced during the OVC Media Day.
Coach Hudspeth will also be shooting for his 100th career win, coming into the season with 95 career wins.
The Govs open their schedule at Fortera Stadium on August 29th versus North Carolina Central.
Volleyball: The Govs will be heading into the season looing to defend their back-to-back regular-season OVC championships, but will have to be road warriors this fall, with only eight home matches among their 30-match schedule – including six versus Power 5 Conference opponents (NC State, Maryland, Kansas State, Northwestern, Texas Tech).
Austin Peay went 27-5 last fall, including a 14-2 record in conference play, but will be looking to replace three All-OVC First-Team selections — including Kristen Stucker – the conference's three-time setter of the year.
Head coach Taylor Mott, who is entering her eighth year as head coach, will be looking to move past the 450 career-win mark, needing 11 to reach 450.
The Govs open their season August 30th at the Wolfpack Invitational, while their home opener at the Dunn Center comes on October 4th versus Southeast Missouri.
Cross Country: This will be the first season under new head coach Valerie Brown, who also took over the reins of the indoor and outdoor track and field team this year, after being an assistant coach on the staff since 2011.
Brown will be looking to improve both the men's and women's team overall standings in the conference, with both teams coming in 10th out of 12 teams in last year's OVC Championship.
Soccer: This will be the second season under head coach Naomi Kolarova, who saw first team at APSU go 8-8-1 overall, but missed out on making the postseason with a 3-6-1 mark in OVC play.
Kolarova will have 19 returnees from last year's roster – including a pair of All-OVC Second-Team selections (Claire Larose, Renee Semaan) to go along with 12 newcomers, including four transfers to go with eight true freshmen.
The Govs open their schedule on August 12th with an exhibition match versus Georgia State at Morgan Brothers Field.
Baseball, Softball, Golf, Tennis: All four of these sports – six total teams – will see action this fall in their non-traditional season's, with only the men's golf team having released their schedule for 2019-20, with five tournaments on tap during the fall — including their home event the F&M Bank APSU Intercollegiate on Oct. 14th-15th.
This fall will also see a new head coach for the women's golf team, in former three-time All-OVC selection Jessica Cathey returning to take over the program.