Clarksville, TN – It will be a busy first week for Austin Peay State University (APSU) men's golf as the 2019 fall season gets underway. Head coach Robbie Wilson will take his top-five to Hattiesburg, Mississippi for the 2019 Sam Hall Intercollegiate, while a select trio also will compete closer to home as individuals.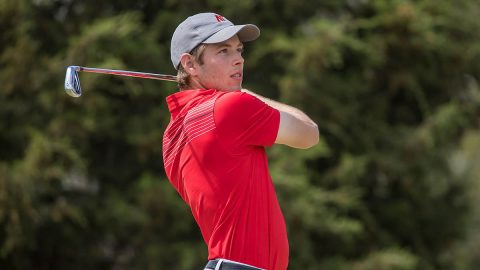 First, the main event—the Sam Hall Intercollegiate, a 15-team diaspora of teams from as far west as San Antonio (University of the Incarnate Word) and as far east as Troy, Alabama (Troy).
It will serve largely as a meeting of the Southland Conference, with eight of the programs in attendance—McNeese State, Sam Houston State, Central Arkansas, Nicholls, Incarnate Word, Southeastern Louisiana, New Orleans and Houston Baptist—scheduled to be in attendance, along with the Govs, Troy, host Southern Miss, Missouri State, North Alabama, Oral Roberts and Samford. The tournament will be held at the par-71, 6,902-yard Hattiesburg Country Club.
Four vets and a fresh-faced freshman will represent Austin Peay's interests in Hattiesburg this week.
Junior Chase Korte—last seen earning All-Tournament honors at the 2019 Ohio Valley Conference Men's Golf Championship—slots in as the No. 1, while senior trio Michael Busse, Austin Lancaster and Alex Vegh will be Nos. two, four and five, respectively; Lancaster in particular had an immense summer, defending his Clarksville City Amateur Championship, advancing to the quarterfinals at the state Match Play Championship and briefly holding he lead at the 71st Tennessee State Open.
The No. 3 spot will belong to freshman Tate Dickerson, who won his second high school title in the state of Mississippi and earn a top-10 finish at the 2019 Mississippi Junior Amateur.
In addition, freshman Morgan Robinson, sophomore Micah Knisley and redshirt sophomore Jay Fox will be at Miller Memorial Golf Course for the Murray State Invitational as individuals, also beginning 8:30am, Monday.
The Govs will be paired with Central Arkansas, Nicholls and Southeastern Louisiana in Hattiesburg, also beginning with an 8:30am, Monday, shotgun start. Live scoring will be available via GolfStat.com.