Clarksville, TN – The earliest start to a football season in Austin Peay State University history will be set when the Governors travel to Western Kentucky for an August 27th, 2022 contest at Houchens Industries-L.T. Smith Stadium in Bowling Green, Kentucky.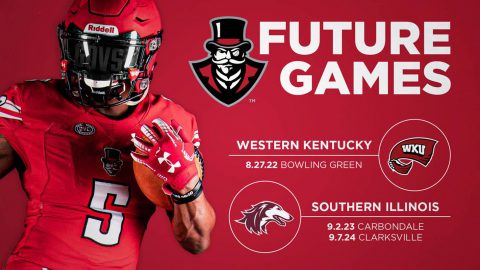 In addition, Austin Peay and Southern Illinois have agreed to a home-and-home series to take place during the 2023 and 2024 seasons.
The Governors would visit Carbondale, Illinois for a September 2nd, 2023 contest before the Salukis return to Clarksville for a September 7th, 2024 affair.
"Soon after arriving at Austin Peay we decided to take a deep dive into our future football schedules," said Director of Athletics Gerald Harrison.
"Two of our scheduling objectives include seeking opportunities to play quality regional opponents that allow our loyal supporters to follow the Govs and unique opportunities like nontraditional dates. By agreeing to play Southern Illinois in a home-and-home series and Western Kentucky on Week 0 we have accomplished both of these goals," Harrison stated.
The 2022 opener against the Hilltoppers will be a "Week Zero" contest, taking place the Saturday prior to Labor Day. The game utilizes an NCAA rule for teams that play in Hawaii, with WKU scheduled to travel to Honolulu for a game against Hawaii in 2022.
It also will be the earliest start to a football season in program history by one day. Austin Peay has twice started a season on August 28th – the 2003 and 2008 openers in seasons that had 12 possible dates available. It also will be the first meeting between the Govs and Hilltoppers since the 2012 season.
The Governors and Salukis last met on the gridiron in 1992. They have played home-and-home series three times – 1938-39, 1986-87 and 1991-92.