Clarksville, TN – Clarksville Police say a 17 year old juvenile was caught after stealing a 2019 Jaguar, which was unlocked and keys left inside, from a business parking lot in the 1600 block of Fort Campbell Boulevard; this occurred September 30th, 2019 around 7:30pm.
The vehicle was spotted around 8:00pm, with two males inside at a parking lot on the 800 block of Lafayette Road.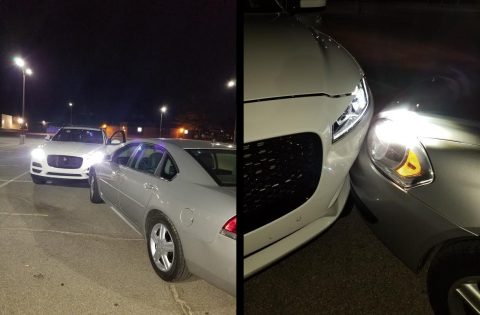 When Clarksville Police Officers activated their emergency equipment to conduct a traffic stop, the males jumped out of the stolen vehicle, left it in gear, and the vehicle rolled forward and struck a patrol car, causing minor damage.
One of the juveniles was caught and charged with: Theft of a Motor Vehicle, Evading Arrest and Leaving The Scene Of A Crash. He was transported to a juvenile detention facility.
The investigation is ongoing and the lead investigator is Detective Koski.