Clarksville, TN – A short weekend for Austin Peay State University (APSU) soccer features the conclusion to a three-game road trip when the Governors travel to Jacksonville State for a 7:00pm Friday match at JSU Soccer Complex.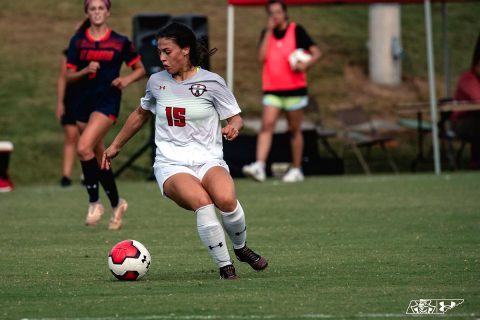 Last weekend the Governors picked up their first Ohio Valley Conference win, Friday, by knocking off Eastern Kentucky, 2-1.
Sunday the Govs fell to Tennessee Tech, 2-1, and will look to close out the three game road trip with a winning record when they trek to Jacksonville, Alabama, on Friday.
Opponent
Jacksonville State
APSU vs. Gamecocks All-Time: 7-7-2
Last Meeting: September 28th, 2018 (W, 4-1)
Record in Jacksonville: 1-6-1
Last Meeting in Jacksonville: September 29th, 2017 (L, 2-3)
Claire Larose had a career day in last season's match against the Gamecocks, scoring a career high two goals. However, Larose's four point outing was bested by her teammate and former Gov Caroline Wistrom, who scored twice and added an assist on a Larose goal to tally five points in the match. Mary Parker Powell made a first half save, before giving way to Peyton Powell, who added one more save, once the game was in hand late.
Jacksonville State enters Friday's match on a seven-game losing streak, including losing their last three OVC matches on the road. The Gamecocks have yet to win an OVC game this season, and the Governors will look to keep it that way Friday night.
On the offensive end, the Governors will continue to turn to Larose, who became the first Gov to score multiple goals this season when she found the back of the net in the 15th minute against Eastern Kentucky. Currently she leads the Govs in shots (26), shots on goal (9), goals (2), and is tied for the lead in assists (2).
Freshman Abigail Gemza moved into second on the team in points, dishing out assists on both goals in Friday's win over Eastern Kentucky. Tied for third, with three points apiece, are Ashley Whittaker and Anna McPhie, each has scored once and assisted on another goal.
Despite dropping the match late, Mary Parker Powell made a season-high six saves against Tennessee Tech on Sunday. The senior keeper had made five saves four times this season, and finally bested that total against the Golden Eagles.
Friday's game at Jacksonville State will be streamed live on ESPN+ for fans to enjoy. If you do not have an ESPN+ account, follow along on Twitter (@AustinPeaySOCR) for scores and updates.